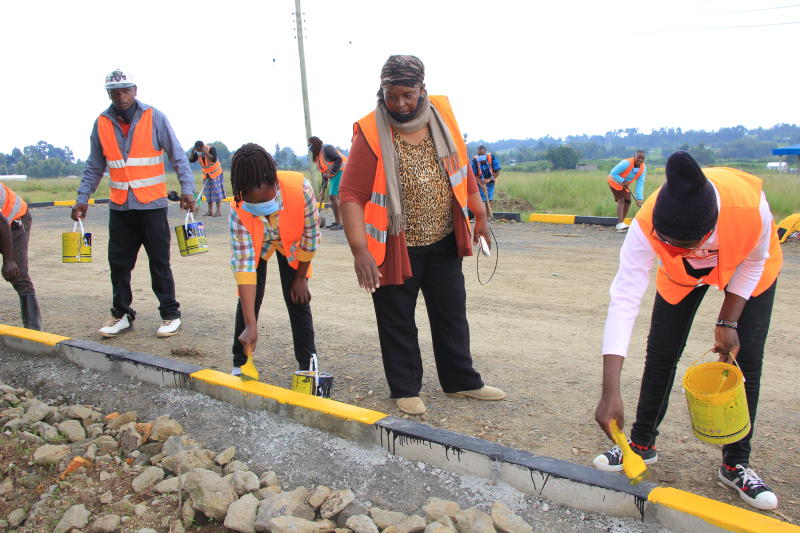 Despite being a Standard Two 'graduate', Hannah Nyambura is admired for carrying out professional paving work that has changed the face of Ol Kalou town.
At the advent of devolution, Ol Kalou town, the headquarters of Nyandarua County had no designated parking lots, tarmac roads and street lighting. Today, motorists are happy because they park their cars on bays paved with cabros, which means their vehicles remain clean.
Nyambura, who is popularly known as "Cucu" (grandmother) is among the few people who had foreseen devolution bringing fruits closer to the people. "I did not go far in education as I dropped in Class Two after people started calling me Cucu for repeating," she said.
"I then started farming in Kinangop but in the meantime I used to admire road construction works because those doing it looked moneyed," she said.
Nyambura approached some people who were working on new roads in her home area, wanting to know how to get into the business of building roads.
Read More
"By the time counties were created, I had already registered my company – Nepy Limited. Since I was the only woman with a registered company in Nyandarua, it was easier to win tenders," she said.
She is thankful to former Governor Daniel Waithaka and current county boss Francis Kimemia for supporting her in the challenging field of road construction.
She terms road construction as a challenging task in Nyandarua because of rains that regularly interrupt work progress.
"I thank the county government because it understands and extends my timelines," Nyambura said.