Stringent by-laws to stem virus spread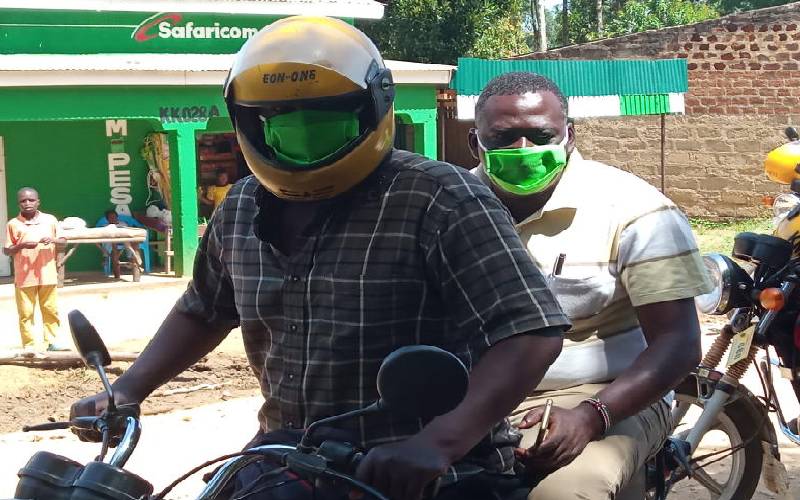 Violators of the country's rules to contain the spread of the novel coronavirus will be forcefully quarantined for two weeks.
This is among a raft of measures the county has taken to help fight the spread of the virus, which has infected more than 200 people and killed nine countrywide.
Health executive Joseph Mbai said yesterday boda boda riders and traders in market centres across the county were a potential weak link in the fight against the virus and called for caution.
He warned the two groups of arrest if they fail to wear face masks and maintain social distance, measures set by the State.
"We have seven centres that will hold those contravening the anti-corona directives. You will be held there for medical scrutiny for the entire duration," he said.
Mbai urged boda boda riders to adhere to the directive of ferrying one passenger at any given time, as it was a timely measure in containing the pandemic.
He advised that the desire for business profits should not override that of maintaining good public health, adding that those found exceeding the passenger carrying limit would be dealt with by the new by-laws.
The executive called for sobriety as people gathered for social activities like funerals, saying some social activities like discos were of no value at the moment.
This comes after County Commissioner Mohammed Barre issued similar warnings to bar owners who continue to sell liquor clandestinely.
"We have intelligence that some bar owners have remained defiant and are selling alcohol to people locked up inside bars," he said.
"Other barmaids have converted their rental rooms to makeshift bars where they host beer parties. Your days are numbered."
Mr Barre added those nabbed in such arrangements would undergo mandatory coronavirus checks and when found wanting, undergo the 14-day quarantine for further scrutiny or treatment.
"We will not allow a few suicidal alcoholics who cannot get it right that our intention is to save their lives to deter us from protecting the general public. It has reached a point where we will quarantine all of such if need be," Barre said.
President Uhuru Kenyatta last week announced a raft of measures seeking to flatten the gradually rising curve of coronavirus infections in the country.
Among these are isolating Nairobi Metropolis as well as Mombasa, Kwale and Kilifi counties.
A national curfew of between 7pm and 5am is also in operation.