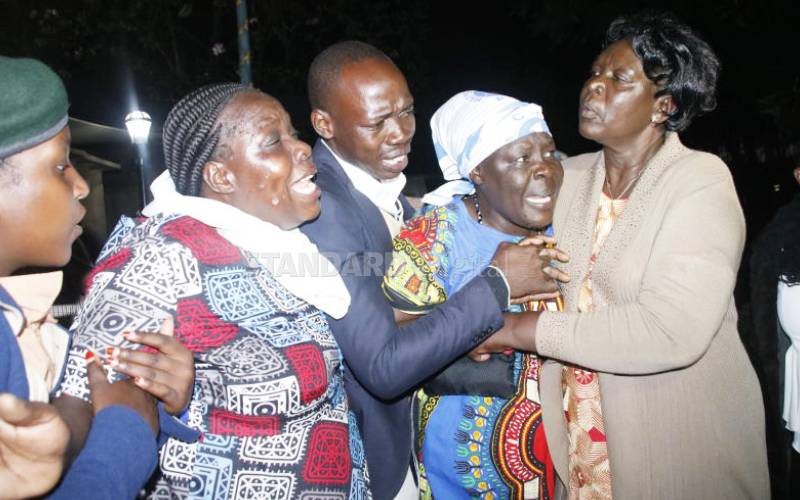 Wails and sobs rent the air as the body of Kahawa Wendani MCA Cyrus Omondi arrived at the Jomo Kenyatta International Airport in Nairobi from Mumbai, India, on Sunday night.
Mr Omondi is said to have died from a heart attack last Wednesday at his hotel room. He was attending a workshop in Mumbai alongside other members of Kiambu County's Education Committee.
The body arrived at the JKIA at 8.45pm aboard an Emirates plane and was immediately taken to the Lee Funeral Home in Nairobi.
An uncontrollable crowd of grieving family, friends and hundreds of Kahawa Wendani residents filled both the airport and funeral home, mourning and demanding to view the body, nearly causing a stampede.
Also at the airport to receive the body were Kiambu Governor James Nyoro, nominated Senator Isaac Mwaura, and other leaders from Kiambu County.
A postmortem that had been planned for yesterday was rescheduled, according to family sources. However, no reason was given for the postponement. It is still not clear when the autopsy will be done.
Last Thursday, a section of Kahawa Wendani residents held protests on Thika Superhighway, demanding investigations to be conducted on Omondi's death.
Some Kiambu County leaders have also expressed skepticism over the cause of the MCA's death.
"We want to know who were the last to be seen with Cyrus," said Senator Mwaura.