Panic as locusts now spotted in Kirinyaga County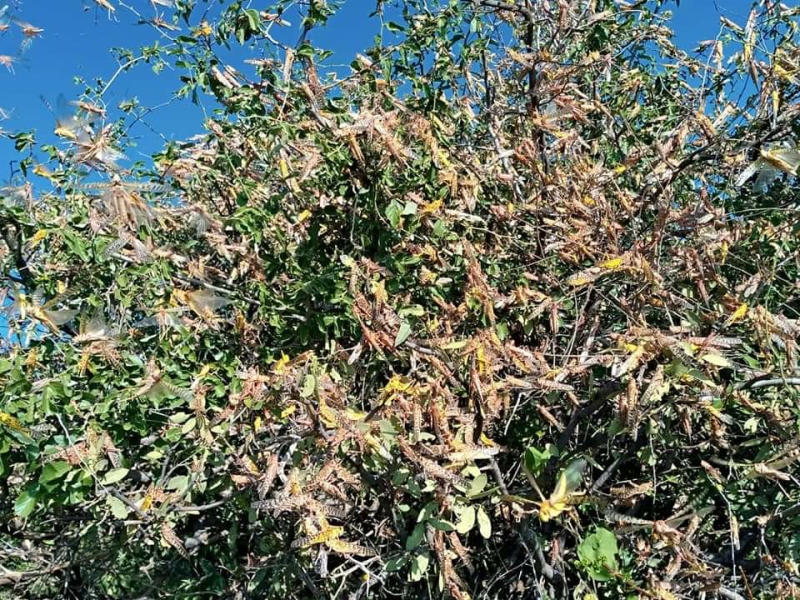 Panic has gripped residents of Kirinyaga and Embu Counties after a swarm of insects believed to be desert locusts were sighted.
Residents have appealed to the government to deploy experts to confirm the insects and to commence mitigation measures to protect crops in their farms that are nearing maturity.
The suspicious swarm was sighted at the farm of Isaack Ndung'u in Riandira, Mutithi ward, Kirinyaga County on Sunday evening.
Ndung'u alerted family members and neighbours who thronged the place as the place wondering if those were locusts or grasshoppers.
"They were nestling on trees and fence devouring the leaves. Even as the government confirms if that is desert locust or not, they should be sprayed immediately before they turn on our crops," he said.
Farmers feared for their maize, rice, nappier grass, vegetables and other crops that are thriving due to abundant rainfall.
Kirinyaga Majority Leader Kamau Murango who made a tour of the village said he was sure those were locusts and appealed to the government not to waste any more time before combating them.
"Slow response by the government may lead to invasion of farms and the destruction of crops. This would be a double loss to farmers who are already grappling with poor returns from coffee, tea, and milk," he pointed out.
In Kyeni, Embu County, a swarm was sighted on Sunday evening. Yesterday, officers from the county government were deployed to the area to establish the insects.
Runyenjes MP Eric Muchangi has raised concern about the poor response by the government, saying all measures should be urgently undertaken even if that means asking for international help.
He said that few aircraft were deployed to spray desert locusts whereas the BBI forum in Kisii had dignitaries taken by five choppers.