US pledges to support Uhuru's Big Four agenda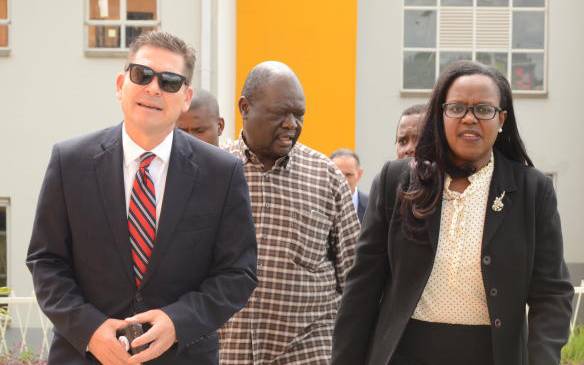 The United States has pledged to support efforts geared towards realisation of the Big Four agenda.
US Ambassador Kyle McCarter said his government will assist in areas dealing with innovation, education and affordable homes.
McCarter said the targeted areas would impact positively in technology and job creation, as outlined in the Big Four agenda. The areas covered by the Big Four are affordable healthcare, housing, food security and manufacturing.
Ambassador McCarter was speaking after touring Tatu City where US companies have invested more than $150 million (Sh15 billion) in innovation and education.
The envoy said the US will work closely with private investors.
"The US is a friend to Kenya and we want to see Kenya being self-reliant, that is what a friend does," he said.
Saying Kenya should not rely on aid, the envoy said the country should utilise its diverse natural resources to open up the East Africa regional bloc's special economic zone in e-commerce and education.
"The US will prove that they are the best friends Kenya will ever have," he said.
He emphasised that he will continue encouraging US citizens to invest more in the country, saying that Kenya's future was bright.
He said US will continue supporting Kenya to confront her problems in the region. "We want prosperity for this country," said McCarter
Jaqueline Maigua, head of urban management at Tatu City, said investors from the US, Norway and the UK had pumped over US$150 million in Tatu City infrastructure.
McCarter toured the Copia Global, an e-commerce company that delivers goods in rural and urban areas comprising of middle-income earners.
He also toured the Nova Pioneer School, Tatu Campus, which was started in 2018 and offers innovation lessons to pupils.
He praised the school for educating young innovators and leaders who will shape the future of Kenya.