Mt Kenya roads where every turn and bridge is a death trap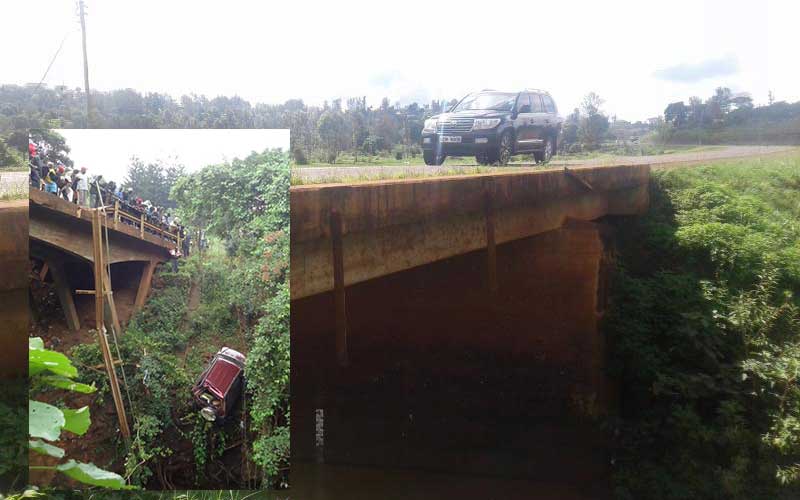 Driving past Rupingazi River on the border of Kirinyaga and Embu counties is one of the riskiest tasks a motorist can undertake.
Reason? Guardrails that are supposed to cushion motorists in case of an accident as they cross the gigantic Rupingazi bridge do not exist.
The guardrails were ripped off months ago after a driver lost control of his car and rammed into them.
Authorities are yet to collect the wrecked rails, repair them, or put up new ones. Motorists have been left to navigate the hilly area around the river with utmost care, lest their vehicles plunge into the torrents below.
To make matters worse, there are no road signs warning motorist that the bridge has no guardrails.
Any new driver will be forced to approach the bridge completely oblivious of its dangers. The bridge is literary a death trap.
The situation at the Rupingazi River bridge is replicated across the entire Mt Kenya region. Here, street furniture - traffic barriers, streetlamps, traffic lights, traffic signs, among others - have either been destroyed or vandalised.
Uprooted road signs
Some road signs erected along the busy Nyeri-Nairobi highway have been uprooted, while several bridges remain with no guard rails.
Vandalism or neglect by authorities after they have been destroyed following accidents are to blame.
For motorists driving from Nairobi to Nyeri, a road sign signaling the end of the climbing lane at Kangocho area has not been put up.
This means a new road user may find himself getting into the single lane motorway without warning.
Also affected by the vandals' criminal activities is the Makutano-Embu-Meru road, and the Marua-Kiganjo-Nanyuki highway. Surprisingly, despite pleas from motorists, the bridges remain neglected; standing without guardrails, as authorities watch.
In the Rupingazi case, the bridge is the gateway to Embu, Tharaka-Nithi, Meru, Isiolo and Marsabit counties.
Every day, workers and school going children walk across the bridge and face the danger with an oblivious nerve.
Several motorists interviewed by The Standard opined that not only should the authorities install new guardrails on these bridges, but the rails should be protected by concrete walls.
Eliud Njiru, an Embu resident, said many lives had been lost near bridges after drivers lost control of their vehicles and plunged into rivers.
Expand stretch
Mr Njiru suggested that the stretch of the highway from PI area to Embu town should be expanded. He said the bridge should also be expanded and a wall built around it to keep vehicles from plunging into the river.
Embu Governor Martin Wambora said he was concerned that lives were being risked along the Makutano-Embu-Meru road.
He said he had contacted Kenya National Highways Authority (KeNHA) to urgently have signs put up and guardrails repaired.
"This road (Makutano-Embu-Meru) has become very dangerous. The Rupingazi river's bridge is under the national government and we are pursuing KeNHA for a quick and permanent solution," Mr Wambora said.
Contractor dilly-dallying
"We learnt that the contractor given the maintenance work was dilly-dallying. He is in the process of being replaced."
In Murang'a, theft of the guardrails, needed for their scrap metal, has left many motorists exposed.
Most of the guardrails have been uprooted and sold to scrap metal dealers.
Among the guardrails that have been vandalised are those that had been erected at Saba Saba and Nyaga rivers bridges in Maragua and Gatanga sub-counties.
More so, there are no road signs warning motorists who are approaching the rivers. A spot check revealed that only guardrails that are in major highways are urgently repaired.
Robert Mwangi, a matatu driver, said sign posts did not last for more than three months in many smaller roads. Mr Mwangi said lack of sign posts was to blame for rising number of road accidents in Murang'a.
"Signs warning drivers about bumps have been vandalised, which is proof that there is a ready market for the metal," said Mwangi.
Murang'a County Police Commander Josphat Kinyua said police were aware of the vandalism.
Kinyua said road signs were vandalised by individuals connected with the scrap metal market. "We are aware, but so far, no arrests have been made," said Mr Kinyua.
KeNHA contracts
Central Region KeNHA Manager Francis Kimata said road infrastructure was now eerily becoming a casualty of the scrap metal industry.
He said most of the vandals targeted metallic guardrails, road signs and handrails for their businesses.
"We have resorted to Performance Based Contracting (PBC) to ensure that contractors guard their road construction sites and report vandals to police," Mr Kimata said.
Under the PBC, KeNHA can monitor and track cases of vandalism and deal with them immediately.
Kimata stated that the regular patrols by KeNHA officers were a key part of reducing vandalism.
He said it took about a week for KeNHA to start the process of replacing vandalised or destroyed street furniture.
Working on it
However, when asked about the case of Rupingazi river bridge, where guardrails were destroyed after a car rammed into them a few months ago, Kimata just said: "KeNHA was working on it".
"I can confirm that the contractor has already been recalled to the site. He will be there anytime from now," Kimata added.
-Additional reporting by Boniface Gikandi.