Fear as foot and mouth death hits county again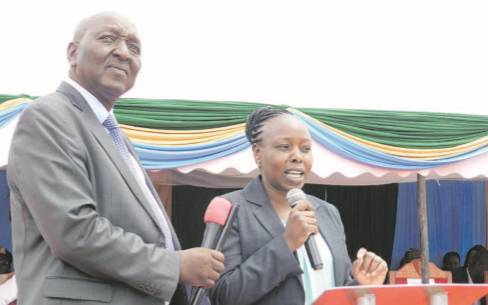 There are fears that farmers may lose hundreds of their dairy cows in the dairy-rich Nyandarua County following an outbreak of foot and mouth disease two weeks ago, which has already led to the death of three cows.
County officials said the disease first broke out in Kiriko village, Kanjuiri Ward, where it is estimated that over 200 animals have been infected by type 31 of the viral disease, which has also hit Kanyiriri village in the same ward.
The disease, which is said to be a transboundary infection from the neighbouring Nakuru County, is hitting Nyandarua for the second time in the last two months. In August, type O of the disease hit Mirangine and Kinangop Sub-Counties but was noticed in time and quickly contained. There are five types of foot and mouth disease, including A, O and 31 and 32.
Type O is the most common in Kenya. The disease, which attacks the mouth, feet and sometimes udder is not a killer disease, but also has no cure. Some types also affect the heart muscles which is the main cause of death in the affected animals. Nyandarua County CEC for Agriculture, Dr James Karitu, however, has assured the county and the country that there is no cause for alarm as things have been put under control. "Through surveillance we have mapped the area and done ring vaccination where 800 cows have so far been vaccinated," he said.
Experts are on high alert given that type 31 which has hit Kanjuiri resulted to deaths. "The type 31 one we had there before was rare to cause death, not the type 31we are seeing now," Nyandarua county director for Veterinary Services, Dr Rose Oyolo said.
Oyolo said in the last five years there has not been a single case of foot and mouth in Nyandarua as her department has put strategic preventive measures through vaccination timed to strategically to prevent infections and control the spread in case of infection. She cited poor farmers turn out during vaccination campaigns, a severe shortage of vaccine and inadequate allocation of funds for disease control and prevention as obstacles.
Oyolo said vaccination is the main way of preventing foot and mouth disease which has affected many parts of the country. But there is a severe shortage of supply from the Kenya Veterinary Vaccine Production Institute, which is the only manufacturer in the country.
The other method which helps to prevent and control foot and mouth is control of animal movement. This she said portends a national disaster in case of major outbreak. She said apart from prevention which is done strategically, prompt vaccination is required.
"But when you don't have a vaccine which is the main method of preventing, you have the thing spreading without control. It can be a disaster. I can say specifically for our case, sometimes we had to sit like lame duck because the vaccine is not there," she said.
Unlike other livestock diseases including anthrax, lumpy skin disease, and Rift Valley fever among other diseases where there are other manufacturers, KEVEVAPI is the only manufacturer of foot and mouth vaccine in the country which makes it difficult to avail if orders are not made in time.
Experts say the institute may not be in a position to produce and stock because the self-life of foot and mouth vaccine is short hence need to be used as is produced. Nyandarua orders its stock early and always deposit some money with the institute to ensure priority in case of need.
The farmers, however, do not take their animals for vaccination in time as required. In August, when type O hit Mirangine, farmers in Kanjuiri, which is also in Mirangine Sub-County, did not take their animals for vaccination.
Lack of adequate funding for disease control and prevention in Nyandarua County is also a challenge. It is estimated that Nyandarua has 345,000 animals. At least 70 percent of this animal population, about 220,000 animals need to be vaccinated against various diseases for the county to be reasonably safe.
This would require about Sh44 million for vaccine alone, yet currently, the department has been allocated only Sh4 million for disease prevention and control.