The dying towns of Mt Kenya region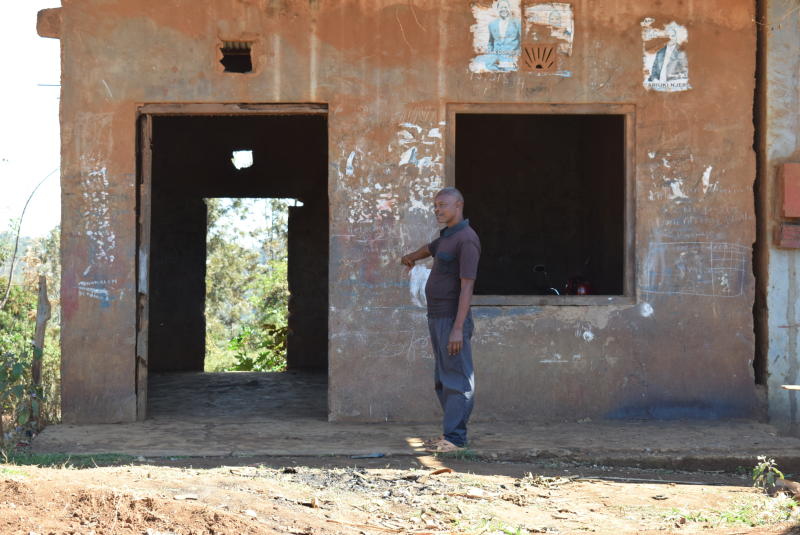 Standing 15 kilometres from President Uhuru Kenyatta's rural home in Gatundu is Makwa shopping centre.
In the 1990s and after the turn of the century, this rural shopping centre teemed with humanity, with traders making a kill from successful ventures.
Today, it is a ghost town.
A few county boundaries away in Meru, Mitheru used to be one of the most vibrant markets in the 1960s, 1970s and 1980s. Its reputation outdid the present day Chuka and Chogoria townships.
But that was then!
Today, the shopping centre a collection off run-down structures that once used to drive the local economy. The heavily leaning shops are a signature of the centre's lost prosperity.
It is hard to believe that on any ordinary day years back, a cacophony of frenzied shouting from traders, bargaining buyers and residents going about their business made Mitheru one of the busiest shopping centres in the larger rural Meru.
Collapse of tea and coffee sector
Rows of shells that were once shops leave no doubt that Mitheru was a once a major commercial hub.
But that was then.
Back in Nyeri, there was once a market called Mutwewathi that was the centre of the local economy back then. Today, the effervescent atmosphere created by exuberant business people still seems to haunt its derelict structures.
A stone throw away from Retired President Mwai Kibaki's rural home in Othaya, stands Gatuyaini shopping Centre.
Those who knew it in its heyday confess that it was once a vibrant trading centre with a market, well stocked shops and a beehive of activity.
That was in the 1980s. Today, Gatuyaini is a pale shadow of its former self.
But may be a large part of rural Central Kenya is a pale shadow of rural central of the 60s, 70s and 1980s.
The region is dotted with ghost shopping centres that were once beacons of a thriving economy and future prospects.
Most of the traders who used to run shops in these centres have since moved on.
Residents attribute the death of rural shopping centres to the collapse of tea and coffee sector the engines of rural economies in in central Kenya.
They recall with nostalgia days when coffee and tea cash flowed in the dingiest corner of today's ghost towns.
But things have drastically changed for the worse.
With the collapse of tea and coffee sectors, as well as the dairy sector, came the slow death of once vibrant shopping centres.
Back to Makwa in Gatundu North, apart from weather-beaten shops with their barred doors and windows, and shells of abandoned stalls, there is no sign that the centre was once a vibrant.
It was.
"People would travel from as far as Gatundu South, Ruiru, Juja, Githunguri, Thika and Gatanga to come and buy and sell goods here," says Peter Kariuki.
Then coffee farming died, and Makwa died with it.
"Money used to flow here, the town started dying in mid 1990s when coffee prices started to go down. The town is gone,"says Kariuki, with a tinge of nostalgia.
With the exit of traders, criminals and illicit brew traders have taken over the empty structures.
In March last year, Interior Cabinet Secretary Fred Matiang'i and Kiambu Governor Ferdinand Waititu launched a countrywide crackdown of illicit brews and drugs at Makwa, perhaps signalling how deep the menace had become in the town.
Residents say the town's revival can only happen if coffee, tea and dairy farming, which are the main economic activities in the area, are revived.
"Looking at Makwa town today, one wonders whether it is the same town where business worth millions of shillings used to be transacted 30 to 40 years ago," says Margaret Wambui.
Back to Nyeri's Mutwewathi in Mukurweini Sub-county-a once vibrant shopping centre with large shops lining the road into the village.
At the height of the coffee boom, farmers with deep pockets would descend on the shopping centre and paint it red.
There were entertainment joints throbbing with life, dressmakers shops with colourful ready-made clothes hanging from the windows and several shops overflowing with everything-from foodstuff to gleaming household utensils.
Spate of robberies
Now 24 years later, only one shop remains open at Mutwewathi. The rest have since fallen into disrepair; abandoned and empty.
Nicholas Wanjau, who own the last shop standing, says a spate of robberies drove the last of the traders out of down.
"Before I opened my shop in 2008, this centre was deserted," he says.
He cuts a lonely figure inside his shop. It takes him three days to sell 20 loaves of bread and he often has to spend cold nights inside the shop to keep thieves at bay.
"Most of my customers are coffee farmers. With their dwindling earnings, I have to sell them items on credit. They earn too little, but I am determined to remain open," he explained.
Jennifer Mwangi, a dairy farmer in the area, said if it wasn't for her cows, she would not afford anything at the only shop left standing leave alone setting up one herself.
"Here survival is key. If it was not for the little we get from dairy farming and coffee, most people would not afford a daily meal, we do not have extra money to set up business at the shopping centre," she says.
In the Meru case, old Mitheru market was, like most of Meru, served by dedicated workhorses that were Land Rover, trucks bringing in produce, traders and buyers on rough earth roads from the hinterland.
Today the former slaughter house has since collapsed, so have the animal skins depot and the wattle bark store.
The former market square has since given way to the National Cereals and Produce Board,Tharaka Nithi depot.
Around this are more collapsing buildings with their former wooden doors and windows ripped off.
Mugambi Njeru, 54, who runs a hardware store in the old market showed took The Standard to an old Overland Transport Company (OTC) bus terminus in the market.
According to Njeru, who has seen the old market in its heydays, the town's descent to dereliction started as soon as the British-funded Thuci – Nkubu stretch of the Nairobi-Meru highway was completed in 1983.
Change of route to blame
A change of route meant that the old market was 300 metres off the highway. Even the most recent road project has not come with a tarmacked connection to the market.
"Old Mitheru was cut off from civilisation. No motorist will drive 300 metres though the rough road to the market," he said.
The old market started getting competition from upstart shopping centres along the highway such as Magundu and Giampompo.
Eventually, the ingenious traders including one who run a small roast house in the market, were quick to spot the opportunities. By 1990s, they had purchased plots off the highway but outside the gazetted market and build their own premises.
"These eventually became the popular nyama choma stopovers that new Mitheru has become synonymous with," said Njeru.
A full shop at the old market with a small backroom now goes for Sh3,000 rent- the same price as a 10 by 10 feet kiosk at the new market where a bigger shop at the rear of a building is let at between Sh8,000 and Sh10,000.
"Only an institution such as a busy hospital can revive this market because it would keep the flow of visitors constant. We also require all-weather roads and floodlights," Njeru summed it up.
A kilometre from Chogoria on the circuitous route to Marimba, Kithirune, and Githongo to Meru town lies another desolate market.
Kabeche market also had its hey days in the 1950, 1960s and 1970s. Then it faded into obscurity.
But the fate of Kabeche was sealed by Chogoria across a small stream and its famous Presbyterian Church of East Africa (PCEA) Mission Hospital.
An old Thames Trader Truck smack in the centre of Kabeche market yard is perhaps a testimony of the better days residents here enjoyed.
The market that was the centre of commerce for the Mwimbi community ironically has many sad reminders that modernisation does not always bring development: Even the new tarmac road dissecting it by half has failed to revive its fortunes.
In its heyday, Kabeche had two banks and a vibrant open air market every Wednesday. Traders from as far as Tharaka would bring mats, baskets, brooms and livestock and buy bananas, peas, sugar and cooking fat.
But Kabeche has slowly lost its allure to Chogoria, which was once a mere stopover for the mission hospital and the nearby famous girls' high school.
Dunstan Murunja, who owns plot number 17, which once hosted his father's famous shop:Francis Murunja and Sons, with shops at the front and one room at the back, said things got even more muddied for the Kabeche when road contractors cut off many shops with a steep embankment.
These left many old business premises weathering away, brick after brick.
The story is similar rural Kirinyaga County, whose fortunes have continued to plummet due to the fall of the agricultural sector.
Markets such as Kiamwenja, Mukarara, Kianjege, Ithareini and Kiamichiri were once vibrant economic hubs.
But that is history.
Kiamwenja used to attract hordes of visitors for its reputation as the centre for the best Gikuyu traditional brew: Muratina or Karubu.
The proprietor of the liquor business, Kiranga Wacaragu, made the market one of the busiest in the region with his guaranteed 24-hours supply of high quality brew.
Wacaragu is long dead, and so is Kiamwenia.
Still, the nostalgia lingers on.
"I recall those days when anyone who wanted to sell his or her parcel of land, Wacaragu would always be at hand to pay for such property with ease and on cash basis," said Harrison Njaamburi, a local resident.
Njaamburi, now in his 80s, witnessed both the rapid growth and the death of Kiamwenia.
[Reporting by Wainaina Ndung'u, Lydia Nyawira, Kamau Maichuhie and Munene Kamau]