Asthma cases rise due to road dust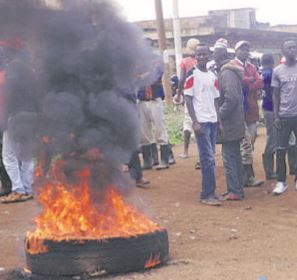 The heavy clouds of dust emanating from the deplorable roads in parts of Thika East, is causing an increase in asthma cases, residents have said.
The locals from Munyu, Komo, Githima and Muguga areas said that chest pains and asthma is increasingly affecting them especially children and the elderly.
The locals who have been picketing for three days (pictured) demanding rehabilitation of the Komo-Githima-Munyu-Kang'oki road blamed the poor state of the road for the dust that has found its way into their homes.
"Visits to the local dispensary have become the norm of the day. Hardly a day passes without rushing one of my kids to the facility for checkup.
Most children here have contracted asthma due to the dust emanating to the potholes-ridden roads. We need urgent help from the relevant authorities," said resident Margaret Mueni.