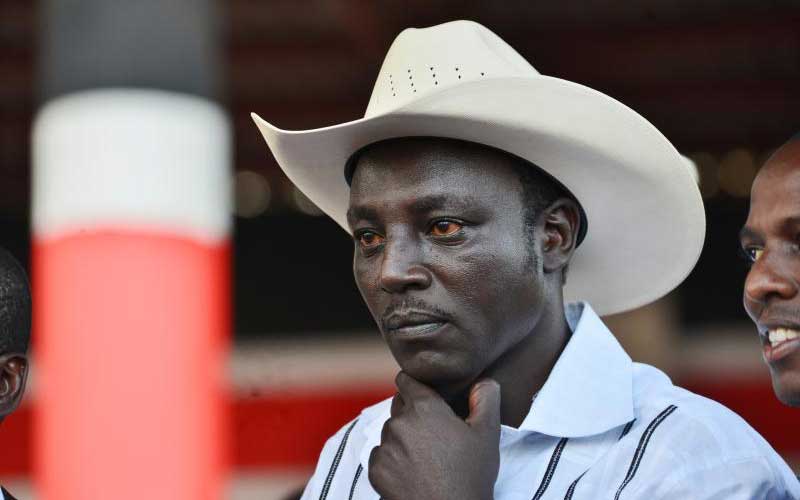 Like most musicians, the story of Benga Musician John De'Mathew (pictured) can be told through his music, right up to the manner of his death. His critically acclaimed song
'Peris Nduku'
which won him hearts of Kikuyu music lovers, ends in the tragic death of his muse Nduku, through a road accident on a hill in Limuru. If the lyrics
garii ti cia ma na itiíhokekaga
(vehicles are not to be trusted), did not stand out then, they do now more than ever for the poetic manner of DeMathew's, born John Mwangi Ng'ang'a, own death. The father of eight, also referred to as Baba Shiko, died in an accident near Blue Post on Thika Road last Sunday.
Muthenya wakwa wakinya nongagukora
(we will meet when my time comes)
,
he laments in the song, referring to the certainty of death. In his other commercially successful song
Njata Yakwa
, arguably his biggest hit, the musician sings
"jiguaga njiganiire wega, ona ngaigua maisha me mega"
which loosely translates to 'I feel very satisfied because my life is good'.
SEE ALSO: Omondi Long'lilo, another benga star, dies
The 52-year-old was part of the second generation of the Stetson wearing, guitar strumming musicians from Central Kenya that are slowly being overtaken by an emerging younger generation. While his staple were love songs, the singer often dabbled in the murky political world, releasing polarising music to rally support for politicians he favoured.
Top hits
In 2013, the song
Mwaka wa Hiti
(The Year of the Hyena) had him arraigned in court for hate speech, although he was later acquitted. The controversies notwithstanding, with his death DeMathew places into the annals of great vernacular musicians alongside Musa Juma, Ayub Ogada, Jacob Luseno and Joseph Kamaru, who died last October. For his impressive discography that contains 375 songs among them
Ngoro Gitina
and
Tucemanagie Bara
, DeMathew had a favourite song, says
Kameme
TV presenter Njogu wa Njoroge who had a long standing relationship with the deceased. "Whenever he was at a function and he was requested to perform a song, it was almost always
PIN number
because he loved it and the crowds responded so well," Njogu said.
SEE ALSO: 'Mano Kasinde' Ohangla hitmaker Abenny Jachiga dead
DeMathew is said to have started music at the age of 13. "Whenever his classmates were making noise, he was making his with a home made guitar," Njogu says. His brother Evans Mburu is part of his Mbogo-ini Stars Band while his sister and other brother David Nganga have a few songs under their belts