Domestic violence: He beat me up and burnt my thighs, back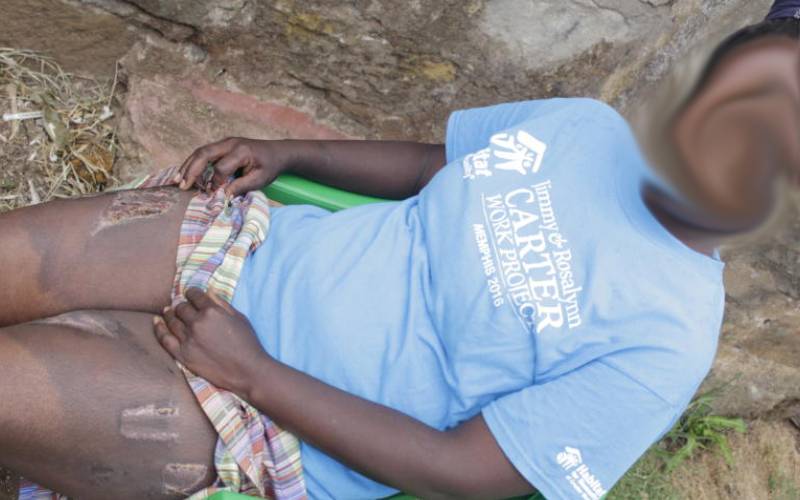 Every time Wangui, 30, looks at her wounds, she gets depressed.
Wangui and her partner, a single father of two, had been cohabiting for about two years at Ngarariga in Kiambu County, where they sold second-hand clothes.
Theirs was an on and off relationship because Wangui would often run away citing her partner's violent behaviour.
She recalls the man returning home drunk on April 4 at about 1.30am. He asked for a matchbox and she told him there was none.
He insisted on being given a matchbox, saying he needed to light a cigarette. She told him to search for it in his pockets.
In reaction, Wangui said she was slapped. Her partner accused her of denying him food.
"I asked him to hand over the matchbox he had so I could light the gas cooker and warm the food for him," said Wangui.
Stripped naked
She said he started beating her in the kitchen. They eventually ended up in the bedroom where her partner stripped her naked and tied her hands to the window.
There he continued to beat her. He then lit up the gas cooker to heat a machete and seared her thighs and back.
"He would put the machete on the fire, make sure it is red hot before placing it on my skin. The pain was excruciating," said Wangui.
She added: "I screamed for help but no one came to my rescue. Our children woke up but they were afraid to come close to him."
Wangui finally broke free and disappeared into the dark.
She luckily ended up in a neighbour's compound. The neighbour was at first hesitant to open the door. She had to first explain to the neighbour what was happening.
"I told her I needed help and asked her to switch on the security light so that she could see the state I was in. She finally let me in," said Wangui.
The following day she was taken to hospital. She then reported the incident at Tigoni Police Station, and had it recorded in the occurrence book.
"The police officer at the station asked for Sh1,000 before agreeing to give me a P3 form and arresting my husband, but I did not have it," said Wangui.
She noted that while she was at the station, the officer called her partner asking him to turn himself in, but he refused and told the police to go for him themselves.
Wangui said it was not the first time her lover was physically abusing her. She always thought he loved her.
Scars all over
The woman has scars on her mouth, hands and right palm. The one on the palm, she said, was a stab she got during a previous brawl.
She said she had been holding on, hoping that the man would change.
Wangui now fears for her life because her partner has threatened to kill her.
In a telephone conversation, her partner denied that he burned Wangui, but admitted to beating her. He accused her of cheating on him several times.
"I get provoked because she hurts me emotionally and it's so sad that I hurt her physically," he said.
Wangui said his family was aware of his violent behaviour but was hesitant to help.