Couple says 'I do' at maternity ward days after surgery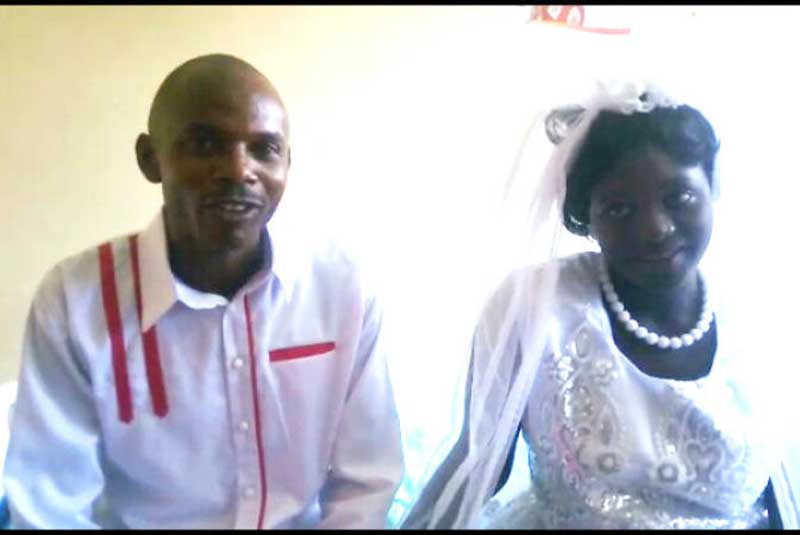 Francis Mungai and his bride Veronica Kaniu were looking forward to exchanging their marriage vows last Saturday at PCEA Kiganjo Church in Thika.
The couple was keen to have a perfect and memorable wedding and therefore left nothing to chance as they put everything in place to make it one of its kind.
By last Wednesday, almost all the plans were finalised and they were bubbling with excitement.
However, as fate would have it, the wedding would not happen at the church as they had earlier planned and envisaged. The bride, who was pregnant, developed labour pains and got admitted to Thika Level Five Hospital.
After examining her, doctors recommended a caesarean section and on Thursday, Ms Kaniu delivered a bouncing baby boy.
Determined to ensure their wedding goes on as planned, the couple sought to have Kaniu discharged, a request that was rejected.
Stuck between a hard place and a rock, the groom called a crisis meeting comprising relatives and friends and they resolved to go ahead with the wedding but only change the venue.
They approached both the hospital management and the church to seek a green light to hold the wedding at the hospital.
The couple got the nod from both, paving the way for a wedding at a maternity ward.
"We had no alternative but to do our wedding here at the hospital. The doctors told me that my wife was not in a position to go home for the wedding and so I requested them to permit us go ahead with our plans here," an ecstatic Mungai told The Standard.
It was, therefore, double blessings for the couple when they summed up the joy of welcoming a newborn baby boy with the exchange of their marriage vows at the hospital.
There was a light moment at the hospital as some staff — doctors and nurses — became part of the brief wedding.
Kaniu who could not hide her joy thanked God for the double blessings saying the wedding came to her as a surprise as she had already lost hope.
"I have no words to express my joy and happiness since I never expected the wedding would go on. I don't have enough words to thank God for what he has done to us as a family. I am very happy that I delivered safely and we have now crowned the joy of welcoming our newborn son with exchanging our wedding vows," she said.
After the wedding, the groom, other maids, relatives and friend proceeded for the reception at the church. The couple has no immediate plans for a honeymoon.