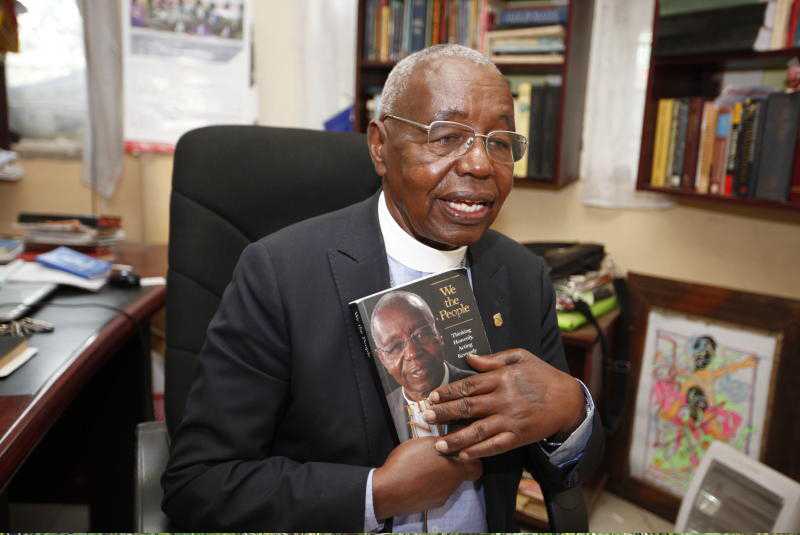 Retired PCEA cleric Reverend Timothy Njoya has filed fresh evidence in a Nyeri court to evict a woman who claims to be his stepmother from a four-acre piece of land.
Rev Njoya avers Mary Wangui is a trespasser on the plot registered as LR No.Muhitu/Thiha/324 in Mukurweini constituency.
He argues he is the registered proprietor following a certificate of confirmation of grant issued by the Nairobi High Court in 2004.
Initially, the land was registered in the name of his father, Njoya son of Murere, who died in 1996 of prostate cancer.
He produced in court a copy of the land's title deed.
Read More
In his witness statement on Thursday, the cleric said Wangui was his father's house help.
Her services were terminated in 1990 following a discovery that he had prostate cancer and needed specialised medical care.
In February 2014, Njoya filed an application at the Nyeri High Court, under a certificate of urgency, asking the court to hear the case in which he sought to evict the woman pursuant to an earlier ruling by a magistrate's court.
Through Lawyer Gibson Kamau Kuria, the cleric is laying claim on the land which he says was inherited in 1997, a year after his father's death.
Wangui had been living on the land, which she originally claimed belonged to her by virtue of having been married to Njoya's late father in 1977 through cohabitation.
She had contended that she had legitimately been living on the land with her four children, two of whom she claims to have had with the late Njoya's father.
Rev Njoya is accusing Wangui and her two children, Nellious Muthoni and Maingi Wangu, of disobeying the eviction order issued by the chief magistrate court in Nyeri on April 28, 2005.
The magistrate's court had ruled that the land rightfully belonged to Njoya and ordered the three out of it.
He had told the court that he had earmarked the contentious land for sale and even entered into a sale agreement with a coffee miller.
According to court papers, Njoya signed the sale agreement with Thika Coffee Mills on May 7, 2003, but could not sell the land as the woman and her children refused to move.
Wangui, on the other hand, accused the cleric of attempting to dispossess her of her land through underhand methods, which would leave her family desolate.
She told the court of how she allegedly moved in with Njoya's late father through a marriage legitimised by village elders.
Wangui accused the cleric and his siblings of cruelty and perpetually condemning her as an intruder even when she was allegedly living well with their father.
But Njoya, in his affidavit, said his father would never have married Wangui, having had a nasty experience with another woman he had married after the death of his wife and had vowed never to marry again.