Man, 84, climbs Mt Kenya again in honour of Matiba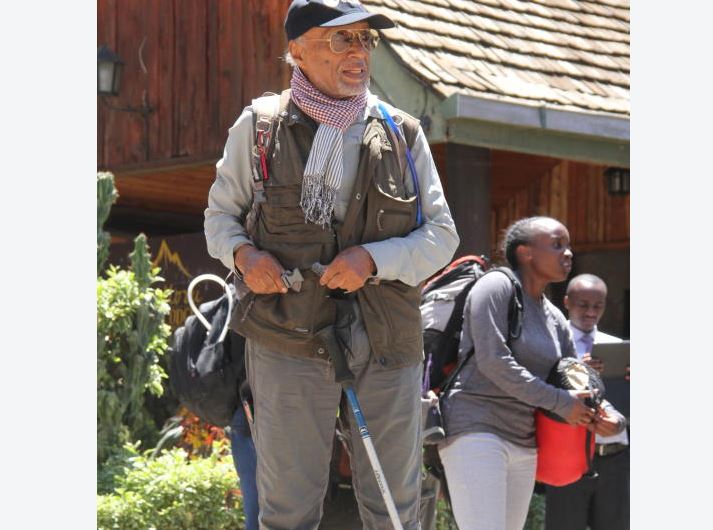 Although he is modest enough not to admit it, Naigzy Gebremedhin, 84, is a beater of odds.
Many people dream of living to his age, and the majority of those who do must contend with physical frailties.
But not Mr Gebremedhin - while his age mates struggle with different age-related challenges, he has been busy scaling Mt Kenya.
The Ethiopia-born American mountaineering enthusiast told The Standard he is guided by an Amharic proverb - sitting is being crippled.
The proverb, which encourages people to be more physically active, has driven him to take on the second tallest mountain in Africa.
And after 27 gruelling hours of walking through tough terrain in extreme cold, Gebremedhin successfully climbed the 5,199-metre-high mountain - for the third time in four years.
He could actually hold the record for being the oldest man to climb Mt Kenya, but Gebremedhin casually disregards any talk of breaking records.
Veteran politician
As far as he is concerned, the most important thing about the trek is that he did it to honour veteran politician Kenneth Matiba, who died on April 15 aged 85.
"Records do not mean much to me. Has anyone ever kept a record of everyone who ever climbed up there? So calling me the oldest man to do so would be making a lot of assumptions," he said at the Naro Moru River Lodge in Nyeri County.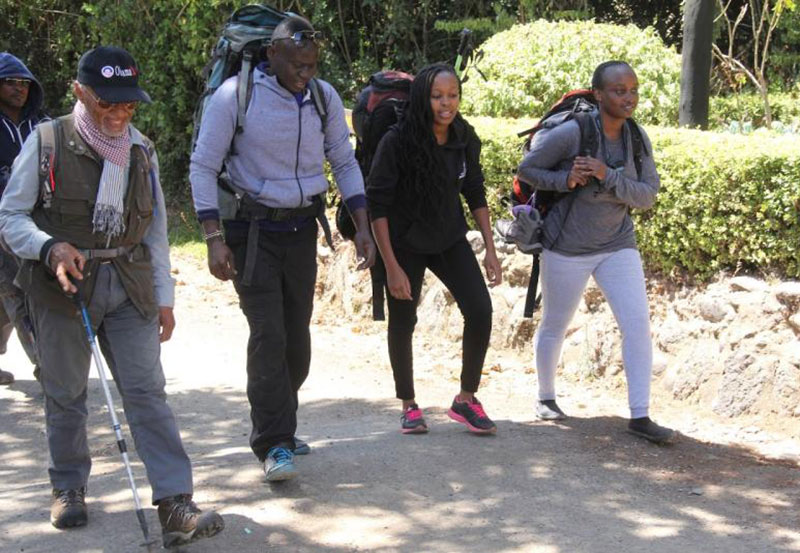 It was his 13th successful climb up the mountain, and over that time he has come to know it like the back of his hand.
He did however admit that climbing had become more challenging with the passing years.
"I get tired easily and need longer rests. I will take it slower and take longer rests. I have a slight problem with my knees," he said on Friday before he set off on the climb.
When he arrived back at the hotel on Sunday night, Gebremedhin looked haggard and needed help to climb down from the van. One could tell the two-day hike had taken a toll on him.
"The body has been battered even for an 84-year-old man. I'll have to admit that this time, it was very difficult. What I need most is a hot shower," he said with a wry smile.
The hike coincided with his 84th birthday, but you can hardly tell his age due to the energy he exhibits.
After completing the 35km hike in 2016, Gebremedhin said it would be his last. Yet, perhaps as a testament of his unyielding spirit, he was at it again.
And he had to do something, especially in honour of a friend.
"I will do it again if God allows. However, when you are my age you have already entered the departure lounge and your flight might be called before you can do anything else. So hopefully, I will do it again," said Gebremedhin.
Lenana Peak
In 2015 and 2016, he climbed Lenana Peak to celebrate Matiba, who was indisposed.
Matiba was also an avid mountain climber and is the one who inspired Gebremedhin to take it up.
Mountain climbing is not a measure of swiftness but endurance. So despite the time it took Gebremedhin to climb Mt Kenya, his was no mean feat.
Out of about a dozen hikers and guides who left the lodge on Friday afternoon, only half made it up to Lenana Peak.
Among those who were unable to complete the hike were a man and woman in their mid-20s.
"It can take a toll on you if you are not acclimatised as I am. I have no major difficulties," Gebremedhin said.
One of the reasons the climb was difficult was because one of the routes was closed and they had to use an alternative that took an hour and a half longer.
The team drove up to Sirimon Gate where they took the walk up to Met Station and Teleki's Valley before resting at Makinder's Lodge. They then headed to Lenana Peak.
With every step, Gebremedhin said he came face to face with the adverse effects of climate change.
The former employee of the United Nations Environment Programme in Nairobi said the glacier was melting rapidly, and this also made the hike challenging.
"The vegetation used to be beautiful. We would pick flowers on our way up. However, these flowers are no longer there after the vegetation was destroyed," he said.
"There was a point we would reach and all we saw was ice. But the snow cover is now almost gone."