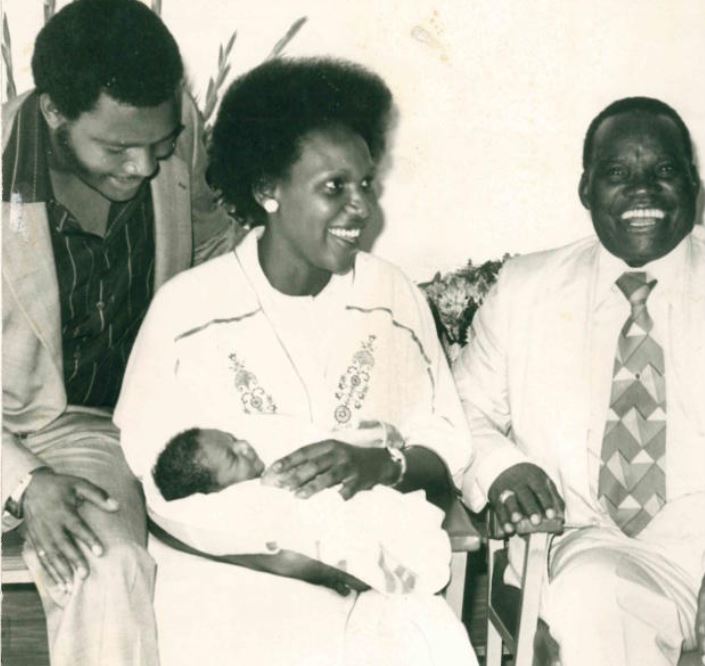 A cousin of President Uhuru Kenyatta won back his inheritance after a protracted legal battle that culminated at the Court of Appeal earlier this month.
Peter Mugo, born to Elizabeth Mumbi and Jomo Kenyatta's brother James Ngengi Muigai, had been left out of his father's will. Also left out was his brother Peter Nyoike.
But before Mugo and Nyoike were born, Mumbi had borne Ngengi four other children (Daniel Ngengi, Eunice Wanjiku, Beatrice Thumbi and Margaret Wanjiru).
Unfortunately, the relationship soured and she left for her parents' home in 1942 while she was pregnant with Mugo
She walked out because Ngengi, who had invested heavily in farming, real estate and the oil industry, had married Minnie Ngina under Kikuyu customary law as a second wife three years earlier.
Read More
While at her parents' home, Mumbi gave birth to Mugo in 1943 and Nyoike in 1948.
Ngengi died of cardiac arrest in July 1995, leaving behind a will that has seen Mugo and Nyoike wage a 20-year battle in court on whether they are entitled to a share of his multi-billion-shilling estate.
In his will, Ngengi only recognised Eunice, Beatrice, Margaret and his late son Daniel's widow.
Sh10m in bank
At the time of his death, Ngengi owned farms such as Muiri Coffee Estate, Surrey, Ngungugu and 10 acres in Ichaweri. He also had a house on Kitale Lane, a petrol station, land in Kimunyu and two Mercedes Benzes, as well as Sh10 million in the bank.
His second marriage to Ngina was blessed with the following eight children - Beth Wambui, Pauline Njeri, Ngengi Muigai, Josephat Mathia, Samuel Kungu, Andrew Kibathi, Jane Wangui and Catherine Wanjiru.
However, nine months after his death, Mumbi and Eunice petitioned for letters of administration, an application that was supported by Beatrice and Margaret.
The younger Ngengi and Josephat, who had been appointed as executors of his will, applied for grant of probate three months after Mumbi had filed her application.
In the absence of any objection, Ngengi and his brother sought for confirmation of the letters of grant in November 1998 but were opposed by Mumbi and her children.
Mumbi claimed in 2003 that the will filed by her step-sons was not genuine and the High Court filed consent from the two parties that the grant be set aside for oral evidence to be taken.
Then High Court judge Martha Koome heard the testimonies of 17 witnesses who included family members and experts before delivering her ruling on April 21, 2005.
The major issues of determination were whether the deceased was possessed with mental and physical ability or capacity to write the will on April 1994, and whether the will was a forgery.
In her testimony, Mumbi told the court she left her husband due to his cruelty, and because he had brought a second wife to her house.
The court was told that despite Ngengi and Mumbi officially divorcing in 1975, he did not leave her with any property and it was therefore her wish to have his estate shared equally between the two houses.
The court heard that Ngengi could not have written the will that left out her two sons (Mugo and Nyoike) because he was bedridden and was suffering from a myriad of ailments.
Nyoike testified that he was born on January 6, 1948 and brought up by his mother in Dagoretti, although he only obtained a certificate of birth in February 1993, showing that Ngengi was his father.
Giving a lengthy account of his life, Nyoike said he got married in 1972 but his father did not participate in the wedding ceremony. He added that he later moved to the US and did not attend Ngengi's funeral.
In defence of his father's will, the younger Ngengi testified that his father had disowned Nyoike and Mugo in the divorce proceedings.
He narrated to the court how he started looking after his father in 1993 as a result of poor health. In December the same year, his father gave him power of attorney that was signed before Kirti Chunilal Shah Advocate's firm. The document gave Ngengi the authority to attend to all his father's businesses such as coffee farms.
"I asked him whether he had made a will and he said he did not want to make a will and he would leave all his assets to me and then I would divide among my brothers what I wanted to give them and the rest would pass to my first son as per the Kikuyu customary way. This he repeated and I persuaded him to write a will," Ngengi said.
He sought help from a family priest, Rt Rev John Gitau, who managed to convince him to write the document.
Knowing the document could spark off court battles, he asked his doctor identified as Prof Gitau, who was also a lecturer at the University of Nairobi's Faculty of Medicine, to be present during the signing of the papers prepared by Pabary Advocates firm.
Ngengi said his father was of sound mind when he signed the document using his green pen.
"He knew all his children up to the day and date and time of their birth. He had a good memory; he knew all their stars. My father worked in Karura Forest in 1939 and he could remember about eight species of trees by their botanic name. He could remember the first 15 students of Alliance High School where he was the first student. There is no way my father could have forgotten two of his children," he added.
Pabary, who had retired as an advocate at the time of giving his testimony, said a draft of the will was prepared and the deceased made corrections as required by the law.
Alliance High
"The deceased was coherent. He spoke to me about his old days at Alliance High School. He was perfectly normal and his mind was strong and steady. I refer to the signature on the document by the deceased. The signature is signed by green pen and I signed as witness and gave my address. Prof Gitau was called by Ngengi Muigai. He came and signed the document in my presence," Pabary said.
Forensic expert Antipus Nyanjwa, who was attached to the Criminal Investigations Department, said he received instructions to investigate whether the will was a forgery.
"I have examined and compared the questioned signature in green ink on page three of the will marked A, with the known holder's signature on the exhibits marked B1 – B2. The signatures are in my opinion written by the same hand," he said.
In the ruling, the High Court found that the deceased was possessed with the requisite mental capacity to make a testamentary disposition on 28th April, 1994 when he signed the will.
However, Judge Koome said Mugo, who was born eight months after his mother left her matrimonial home in Gatundu, passed as the deceased's son.
The judge awarded Mumbi and her two sons a house in Runda Estate and 10 acres of land in Ichaweri.
Aggrieved by the decision, two appeals were filed by the parties and the files consolidated by then appellate justices Philip Tunoi, Joseph Nyamu and Emmanuel O'Kubasu.
In the succession matter that has seen more than 15 judges hear the case, justices Philip Waki, Patrick Kiage and Kathurima M'inoti overturned part of the High Court ruling in the judgment delivered on June 8 this year.
Given that Mumbi had passed on and Nyoike was not entitled to any property in the estate in question, the judges ordered that Mugo be given only five acres of land in Ichaweri and the Runda property.
"Ultimately, Nyoike migrated to the United States, without involving the deceased in his plans, where he resides permanently. He never even attended his funeral. The bottom line is that there was no evidence that Nyoike was financially or otherwise supported by the deceased immediately before his death to warrant a positive finding," read the judgment.