Why Nyeri home owners have moved into hotels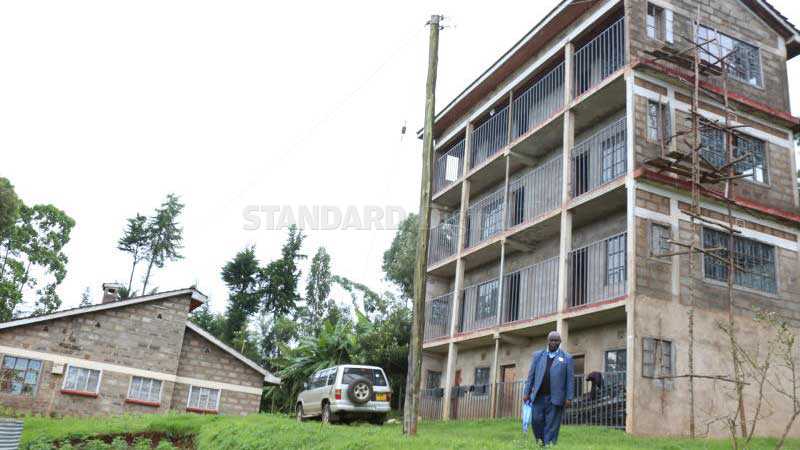 When Wanjau Githae completed his Sh15 million bungalow in Karatina, it was a dream come true.
The red-roofed house was a land mark in the village and everything went according to script to the Githaes..
The tranquility of Giakabii village on the outskirts of Karatina town complemented Mr Wanjau's intention of living far away from the hustle and bustle of the city.
But little did he know that the ambience he yearned for would be ruined, sending him back to the chaotic urban centres he was running away from.
Increased cases of armed robbery in Karatina and surrounding areas have since seen Wanjau and other families abandon their posh homes for rental apartments in town.
Wanjau's tribulations reflect the plight of scores of families that have moved out of their dream houses to look for shelter in more populated areas.
As a result, properties worth millions of shillings in Mathira constituency have been abandoned as the owners opt out of the comfort of their homes.
Abandoned homes
All of the houses are storeyed buildings; one is located a few kilometres from Karatina town on the way to Ragati. The first gate opens onto a 50-metre driveway that leads to the main gate into the home.
The house itself is a magnificent two-storey building painted green, with tiled roofing and a front-facing balcony.
Another is also located on the outskirts of Karatina, but on the road leading to Sagana State Lodge. It stands on a small compound beside a muddy stretch of road. It is the most noteworthy building in the area.
Carjackings, break-ins and robberies are reaching epidemic proportions and driving people out of homes they have built but now cannot live in.
Those who are not in rented flats have opted for hotel rooms. The brave ones who stay on are living in fear that they are the next victims of an audacious gang targeting businessmen in the county.
Wanjau has been living in a hotel since December 2017. During an interview with The Standard, he said he was wary of his safety in his house. When he built his house in 1994, it cost him Sh4 million. It is now valued at Sh15 million.
"I thought when I retired I would move back home and share my knowledge and skills with the people," he said poignantly.
Pinned to Mr Wanjau's jacket is a badge with the words: "Jesus is coming soon, are you ready?"
Devout Christian
While Wanjau, a devout Christian, might be ready for the second coming of the Messiah, he is not so ready to move back to his home - at least not anytime soon.
He is among about 20 families that have been held at gunpoint in their own homes for hours as gun toting gangs carted away what they could and sometimes even prepared a meal.
Those targeted by the gangs are business owners, lecturers, doctors and even a former county government employee who is now an MCA.
"There were three hooded men and one of them had an AK-47 and the other a pistol," he said of the robbers who broke into his home at around 8pm on December 9.
The same gang had attacked his neighbour's home days before, he said. The thugs made away with electronic appliances and withdrew money from his phone. They used his car to move the stolen property and returned it after several hours.
"When I told them I didn't have money they asked me how I could have such a house but no money," he said.
After terrorising him all night, they managed to get Sh20,000 from his M-Pesa accounts. They left at dawn.
Wanjau was in the process of converting an adjacent building into a hostel for Karatina University students, a project he has now abandoned.
There is a pattern to the attacks that seems to suggest the victims are profiled.
They are men in the prime of their careers and businesses, who live in secluded homes on the outskirts of the town and who come home after dark. They are ambushed in the early evening as they make their way home.
Some of the houses are within walking distance from each other and most are storeyed buildings.
The criminals' style is also similar in all the incidents – a group of men invades the home, binds and gags the occupants and terrorises them for hours. Sometimes, they even go as far as sexual assault or murder.
One businessman who did not wish to be named spoke of a break-in at his house last June. Since the incident, the businessman has installed a tight security system, highlighting the fear he has about his own well-being.
He has employed a watchman, installed about 20 security cameras, put up an electric gate, electric fence and razor wire.
Two of his vehicles were stolen but later recovered. Property worth millions of shillings has also been stolen.
"Every evening before I drive home, I check the surveillance footage to ensure that everything is okay," he said.
He does this again once he is settled at home - at 3am when the rest of the family is sound asleep.
The security systems are meant to seal any loopholes used by the six men who broke into his home and any other gangs that might subject his family to another attack.
Nyumba Kumi chairperson Nyamu Kang'eri confirmed that three people had been attacked in separate but similar incidents, and that one of the homes had been attacked twice.
"These incidents have become too common. The Government needs to give more support to community policing.
"This is something that we have told the chief and police," Mr Kang'eri said.
Maina Mugo of Futa Magendo Action Network, a civil rights group in Nyeri, said he had received reports from some of the affected people and recommended that police should increase their patrols.
Rural town
"We cannot say that we can keep people safe when in a small rural town such as Karatina people cannot live in peace," he said.
In recent days, there have been massive transfers of police officers in Nyeri County.
At least 70 police officers have been moved in one of the widest-reaching moves in the police service. Among those transferred was Mathira East OCPD Mathew Gwiyo, who was replaced with James Barasa.
But the victims believe that more needs to be done.
"As much as the police have been changed, they need to assure the public that everything is okay. We are not comfortable living in our home when there are gun-toting criminals on the loose," said Wanjau.
Mr Barasa is however confident that the spate of robberies have ended.
"There haven't been any other cases recently. No one should be afraid of living in their own home because there are police officers around and they are working," he said.