Governor Anne Waiguru seeks Uhuru help over land tussle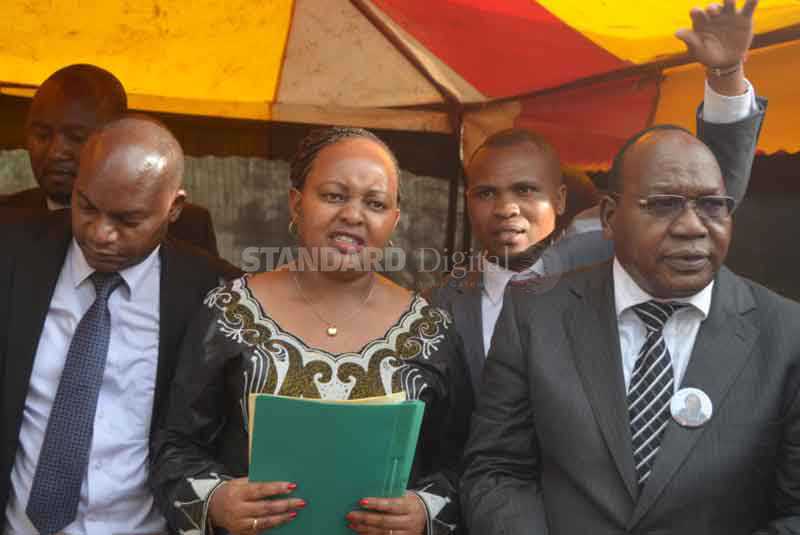 The county government wants President Uhuru Kenyatta to urgently form a commission to address the controversy at Mwea Trust Land within 90 days.
Governor Anne Waiguru said this was the only way to avert further bloodshed over ownership of the 54,000-acre property.
In a statement, Ms Waiguru said the status quo should be maintained as a lasting solution was sought through civilised means.
Bloody skirmishes erupted after new settlers attempted to kick out those who have been living on the land, following the recent controversial sub-division and allocation.
Those who have been living on the land have blamed the Embu County Government for the volatile situation.
Waiguru said the ownership controversy stemmed from historical injustices after administrative boundaries interfered with the land Kirinyaga people had set aside exclusively for grazing their livestock.
Yesterday, she declared the sub-division and subsequent allocation to new settlers null and void, noting there was still an active case involving the land pending in court.
"For the time being, let no one attempt to move and settle until the commission we have called for is appointed and completes its findings and recommendations as to who should benefit from the land," she said.
Consulted her
The governor said her Embu counterpart, Martin Wambora, should have consulted her before the sub-division was done since Kirinyaga residents claimed part of the land.
In 1978, similar skirmishes were witnessed when a section of the land was sub-divided and allocated.
Kirinyaga was allocated 1,001 slots. Out of these, 101 residents were kicked out and have been landless to date. Mwea MP Kabinga Wachira said these people should have been given priority in the fresh allocation.
In 1995, then Kirinyaga Kanu Chairman Philip Ndegwa sought the intervention of former President Daniel arap Moi regarding the dispute.
Mr Moi responded by appointing then Chief Justice Zacchaeus Chesoni, who held a day-long session with elders from Kirinyaga.
He was told by former area senator Romano Njaamumo (now deceased) that chiefs Njagi wa Muthangato (Embu), Kombo Munyiri (Mbeere) and Njega wa Gioko (Kirinyaga) were meant to take an oath over the land but both Muthangato and Munyiri declined for fear of reprisals as the land belonged to Kirinyaga.
Both Ndegwa and Chesoni died in 1996 without making their reports public. But yesterday, Kabinga said Moi should be consulted to give direction on the matter.
He also said those who had sub-divided and allocated the land should be arrested for contempt of court.
The case is coming up for hearing at the High Court's Environment and Land Division in Kerugoya on May 14.