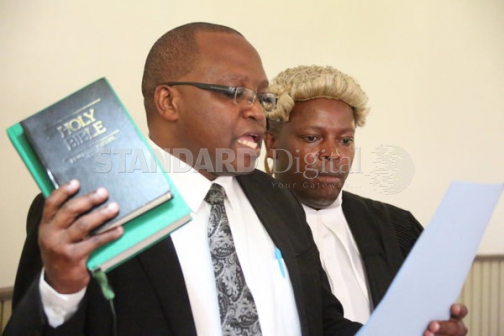 Just days after the burial of Nderitu Gachagua, the man who took over from him has announced that he will defend the seat in the August 8 polls.
New Nyeri Governor Samuel Wamathai yesterday said he had submitted his application to the Jubilee Party.
The governor is headed for a confrontation with members of the county assembly (MCAs) for swearing in six members of the county executive (CEC) who were serving in Gachagua's administration.
Also sworn in was County Secretary Alice Wachira, who had been rejected by the assembly.
The MCAs had vowed to reject Gachagua's Cabinet, saying it had failed to deliver.
Read More
But Wamathai said he was heeding the legal advice of Attorney General Githu Muigai, which stated that the CECs do not require to be vetted afresh by the assembly if they were reappointed to office.
"I had already reappointed them last week. However, they are taking their oath of office as per the advice of the AG, who is the legal adviser of the national government," Wamathai said.
He dismissed claims by the MCAs that the CECs must undergo vetting.
"The AG was clear; as long as I have confidence in the CECs there is no need to present them to the assembly for vetting as they had already been vetted when they were coming into office," Wamathai said.
The governor also said that according to the law, the executives must take a new oath of office as they would be serving under a new administration.
The six executives were sworn in at a Nyeri hotel in the presence of Wahome Gikonyo, the legal counsel for the executive, and Governor Wamathai.
Apart from Ms Wachira, the others who were sworn in were: Charles Githinji (Health), Erastus Muriuki (Education), Robert Thuo (Agriculture), Stanley Miano (Tourism), Lucy Wanyitu (Special Programmes), and Timothy Ngunyangi (Environment).
Wamathai said in the next one month he would start the process of recruiting four more county executives to fill the positions left vacant after the former governor dismissed their holders. Four executives are in an acting capacity in departments whose positions have been vacant for the past year.
"Once we settle down, we shall kick-start the process of identifying individuals who can take over the four departments - Roads, Physical Planning , Energy, and Finance," Wamathai pointed out.
He said he was ready to take on the MCAs over a stalemate over a supplementary budget.
"I am not afraid of facing off with MCAs. There is nothing political about the budget. I am waiting for them to pass it," he said.
A tough-talking Wamathai dared the MCAs into a political duel, saying he was up to the challenge.