Kenha blames Kirinyaga county for encroachment of road reserves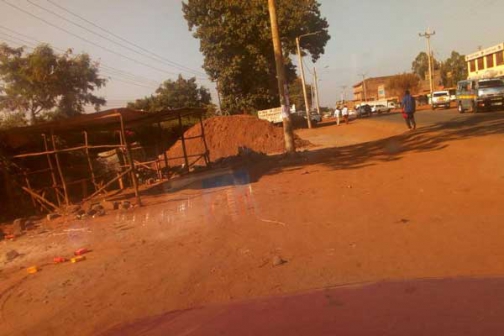 The Kenya National Highways Authority (Kenha) has accused the county government of allowing traders to encroach on road reserves.
Mr Joseph Kaburi, the Kenha central regional manager, said the devolved unit was frustrating efforts to remove traders who were operating on road reserves.
"As you drive through Kutus town, you can hardly steer your vehicle due to the many informal traders who have encroached on sections of the highway," he said.
He added that one can hardly find a place to park one's vehicle as fruit vendors and other small-scale traders have occupied all spaces.
The official said some traders had even stocked building materials while others were selling manure along the Kutus-Embu road.
"To make it worse other unscrupulous traders have even put up semi-permanent kiosks on the encroached road reserve and continue to conduct their business as the county enforcement team watches from a distance, thereby making our work difficult," the official said.
But in a swift rejoinder, the county Transport and Infrastructure executive, Mr Joseph Muthike, said his office was working on a permanent solution.
"This being an election season, some of the officers, MCAs, and ward administrators seeking political favours could be behind the illegal allocation of the road reserves to gain political mileage," he said.
Mr Muthike warned those in breach of the law of unspecified consequences. He advised traders operating on road reserves to leave or risk having their premises demolished.
He assured Kenha of the county government's cooperation.
The most affected affected roads are Karatina-Kerugoya, Sagana-Kagio, Kutus-Embu, and Embu-Mwea.
Last year, more than 2,000 traders in Makueni county suffered losses when Kenha brought down their businesses. The authority carried out a mass clearance of kiosks and other buildings along the Mombasa highway after the notice it had given expired.
"The local leadership courted the eviction by misadvising those affected to continue 'hanging around' against the law," said Mbooni MP Kisoi Munyao. He termed the demolition painful in terms of loss of livelihoods and property.