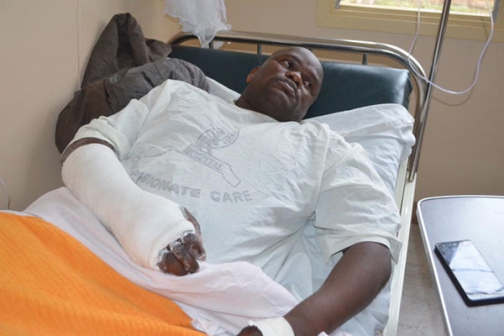 THIKA: A Kirinyaga trader has been admitted to hospital with serious injuries after four police officers allegedly forcibly hounded him out of his vehicle on Sunday night in Thika.
The trader, Ephantus Mwangi Gathua had to undergo surgery on Tuesday on his right hand at a private hospital in Mwea.
He was picked from the Thika police cells on Monday morning after his relatives paid a cash bail of Sh20,000 for allegedly causing obstruction and resisting arrest last Sunday night pending a court appearance.
Speaking from his hospital bed on Thursday, Mwangi said he had just stopped within the Thika town Central Business District at about 10:30pm on the material day to drop a friend.
''Just as my friend alighted, I heard someone knocking at my car's door ordering me to lower the windscreen of which I complied on realising he was in police uniform,'' Mwangi said.
Read More
He said the officer then snatched the car's ignition key and hounded him out with force flooring him down with a thud.
''After falling on the tarmac with such a force, I heard my right hand bone clicking and felt a sharp pain and pleaded with the officer to stop brutalising me as I had already sustained a broken hand, but in vain,'' he said.
The trader said there were three officer and their official vehicle which was parked in front to ensure he could not flee.
He said a police woman who was in the company of the three colleagues kept on pleading with the aggressor to stop but he didn't.
Mwangi was later handcuffed and bundled into the police vehicle and booked at the station.
Thika Officer Commanding Police Division (OCPD) Erastus Muthamia exonerated his police officers from blame claiming it was Mwangi who provoked them to assault him.
According to Muthamia, the police spotted Mwangi's car parked under a tree near Thika School for The Blind at around 2am on Sunday as they were making night patrols and decided to find out what the vehicle was doing there in such odd hours.
"On reaching at the car, the police officers found a man and a woman in an uncompromising situation. When the policemen knocked at the door, the man furiously came out of the car and bite one of the police officer on his left thumb thus occasioning the beating as the police tried to defend themselves," said Mr Muthamia.
The OCPD said the couple were later both arrested and taken to the police station where they were spent the night. The Police boss said investigations to ascertain what had really transpired has been launched.
He did not however say whether the police officer who was allegedly bitten by Mwangi sought any medical assistance over the injuries inflicted.
Mwangi's car is still being held at the Thika police station after being towed on Sunday.