Port issues that dominate dockers' race for May polls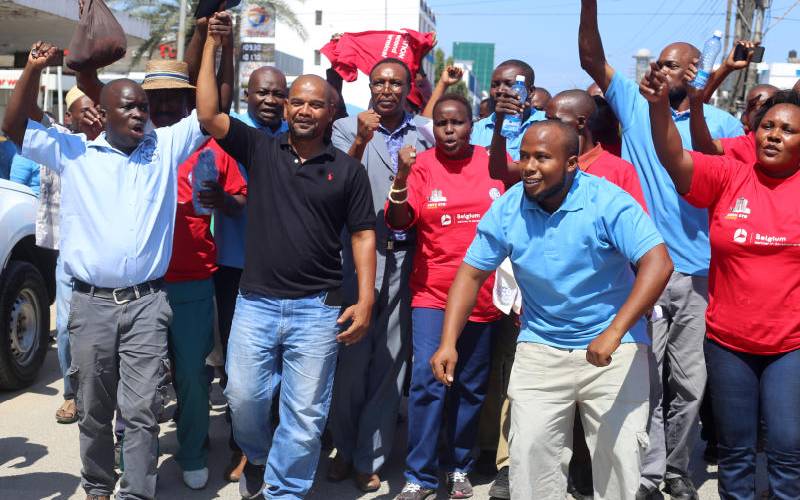 From slashed overtime to privatisation of some operations, unionisable dockworkers at the Port of Mombasa are yearning for change as they scout for a strong representative in the forthcoming elections.
One of the issues that have dominated the campaigns for next month's polls is the plan by the government to place container terminal 2 under a private operator.
Twenty aspirants are seeking to unseat Simon Sang from the post of general secretary, which he has held for the last 15 years. The aspirants say the union has lost its sting due to a divided leadership and a failed 2015 strike.
The elections were first fixed for April 15 before it was moved to May 13. However, the union's National Executive Committee is planning another date because Idd Ul Fitr will fall on May 13.
Apart from the position of general secretary, dockers will also elect the chairperson, deputy chairperson, deputy general secretary, treasurer, assistant treasurer and gender representative.
The 4,400 members have since last year been restricted to 30 per cent of their salaries as the maximum overtime allowance they can be paid in a month, and this has provided fodder for the campaigns.
Sang and his rivals have all promised that they would tackle the issue of overtime and ensure port workers are compensated for all the extra hours worked.
Asked whether the just concluded Collective Bargaining Agreement (CBA) for dockers tackled the overtime issue, Sang said it will be addressed in the next phase.
"It will be addressed in phase two in May. We have dealt with basic salary only. This is only five per cent of CBA. We have 95 per cent issues to be dealt with, including medical, disciplinary and condition of service," he said.
Kenya Ports Authority (KPA) acting Managing Director Rashid Salim also recently said the issue of overtime will be addressed.
In the polls, Sang will face off with former DWU assistant general secretaries Alex Ndege, Ezra Okong'o and Abubakar Mohamed, as well as Mikindani MCA and former chief shop steward Renson Thoya.
Also interested in the position are Fatuma Mbule, Siyat Abdullahi, Harry Arigi, Omar Masumbuko, Harrison Lusigi and Alphaeus Aluoch.
Others are Moses Abebe, Edward Opiyo, Kanga Maganga, Athman Athman, Mohamed Mabanda, Majengo Warrah, Mohamed Ibrahim, Adenan Ondieki and Said Chande.
Low morale
The candidates have complained of low morale among port workers, leading to a recent head count in a bid to flush out ghost workers and raise performance. The contenders have also talked of reports of increased interdictions at the port.
Talk of cartels and State and corporate operatives trying to influence the outcome of the polls has also emerged in the campaigns.
Thoya claimed the union has failed to tackle the issue of reduced overtime because of wrangles that have weakened the workers' body.
"There is need to inject new blood in the union's leadership because it has failed to address issues of interest such as overtime," he said.
Thoya was sacked by KPA for allegedly participating in an illegal strike in 2015. He said if elected, he will ensure the 28 union officials sacked with him are reinstated.
Opiyo, a former head of container operations at KPA who also wants Sang's position, said overtime was important to raise the level of port performance.
"The 30 per cent overtime capping stands out as a barrier to achieving high levels of port productivity. The best way to raise performance is to motivate workers through compensation for extra hours worked," he said.
Opiyo dismissed the latest CBA award, saying it was peanuts and should be enhanced. "I am also opposed to the conclusion of the CBA close to the election because it influences members to vote for incumbents," he said.
Abubakar said apart from the sticky issue of overtime, outsourcing of services, particularly at the civil engineering section and in verification of containers, posed a threat to job opportunities.
"We need to act as a union to address the workers' rights and protect jobs that are lost because of outsourcing. I lost my job at the port for defending members' interests and this should be the way," said Abubakar, who was among the 28 sacked.
Sang said the contention over capping of overtime has emerged every time a new board of directors or top managers come to the port.
He said currently the overtime capping is 51 hours per month, even for departments like operations, which have overtime in all the four weeks of the month.
"This is unrealistic," he said, vowing to fix the problem if elected for a fourth term.
Sang said he would continue fighting privatisation plans at the port, including the government's arrangement to invite a shipping line through the Kenya National Shipping Line (KNSL) to run the Sh30 billion container terminal 2. He said such a deal could lead to loss of jobs at the port.
Instead, Sang urged the government to ensure KNSL partners with all the shipping lines that handle Kenya's imports and exports.
He said he was opposed to the government's arrangement with Mediterranean Shipping Company (MSC) to operate the second container terminal.
"We want the national government to allow KNSL to partner with all the shipping lines that handle Kenya's imports and exports," said Sang.
Frosty relationship
He now claims cartels pushing for privatisation of sections of the port have sponsored some of the aspirants to oust him in the forthcoming polls.
"The members are aware of this plan and I am sure this will fail. I am prepared to fight privatisation even as an ordinary Kenyan," Sang said.
The general secretary has had a frosty relationship with most union management members, including Chairman Mohamed Sheria. This worsened with the sacking of 28 members of his team in July 2015, following which Sang has been branded a lone ranger.
Sheria said they differed with Sang on several matters, including the claim on privatisation of the port and possible loss of 3,500 jobs, because it has turned out to be his strategy to win election when his popularity is fading.
"Job losses have not happened for years now. It is his strategy to win back the trust of port workers," Sheria said.
But Sang said he revamped and democratised the union when he was elected in 2006 and ensured it fought hazardous privatisation and "casaulisation" at the port.
He claimed the team led by Sheria weakened the union when it sided with the government to oppose his efforts to save the port from privatisation.
"To date DWU is known internationally as the only union in the whole world, which has tamed haphazard privatisation in the KPA. No other union has made this kind of achievement anywhere in the whole world in the recent past," he said.
He also said his tenure has seen change of terms of 3,225 casual workers of KPA to permanent and pensionable.