Uhuru unveils Sh100 billion credit line in youth job creation drive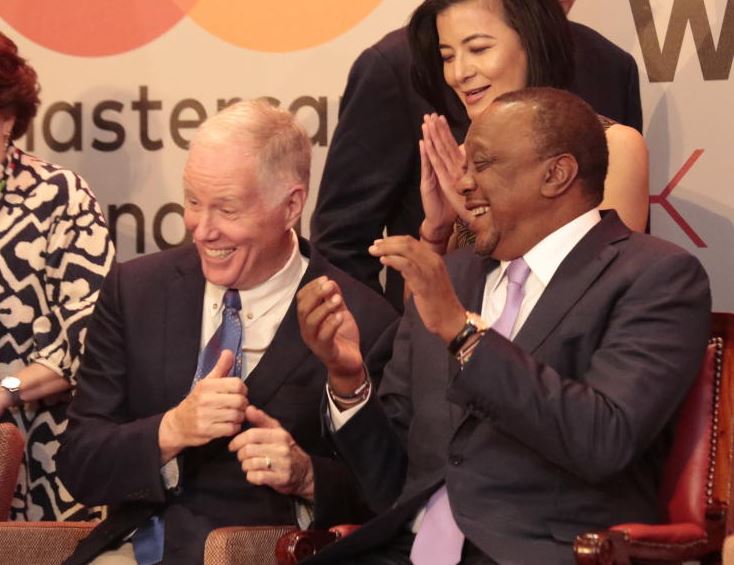 President Uhuru Kenyatta yesterday inked a deal with the private sector that will see Sh100 billion made available to support job creation.
The public-private partnership will target medium, small and micro-enterprises (MSMEs) mostly involved in agriculture, manufacturing, housing and health care.
The initiative, which is under the Young Africa Works Kenya platform, will see five million youth mentored, trained in business development and digital literacy and offered market linkages over the next five years.
The partnership is between the Government of Kenya, Mastercard Foundation, Kenya Commercial Bank (KCB) Foundation and Equity Bank.
The President said that KCB had committed Sh50 billion, Equity Sh32 billion while Mastercard Foundation pledged Sh30 billion.
Mastercard Foundation is the main driver of the initiative that has been rolled out in 10 African countries, and which targets to put 30 million youth to work by 2030.
President Kenyatta said that his Government was working tirelessly to make it easier for youth to start businesses and access capital.
He lamented that financial institutions were "extorting" the youth, adding that some had been forced to turn to loan sharks who were charging 15 per cent interest per month.
"One of the things that we are working very strongly for is to remove some of those barriers that have resulted in people finding it very difficult, for example, to start a company.
"In the meeting we were having this morning, we got banks to come together and work with government with the view of making credit more readily available, and to stop the kind of extortion that small businesses are forced to in order to access credit," Uhuru said.
Credit facility
The President hailed Stawi as one of his achievements in lowering the cost of credit to small businesses. Stawi is a credit facility recently launched in partnership with Kenyan banks.
"We are able to give people credit at nine per cent per annum, which is now more reasonable and acceptable. You can access that credit through your app," Uhuru said.
He continued, "You also have the dignity of not necessarily having to queue … it is you and your business proposal that gives you the ability to borrow that money. This is what Mastercard is also joining to be able to make it easier for young people to start and do business."
The President said the benefits of such a partnership would create a ripple effect and generate employment for others.
"When small firms and entrepreneurs access financial services, they obtain the resources they require to grow, expand into new markets and opportunities, create jobs and establish inter-generational wealth."
Uhuru said that over the five-year period, MasterCard will provide Sh10 billion to KCB against their contribution of Sh50 billion, and Sh7.2 billion to Equity Group against their contribution of Sh32 billion.
Mastercard CEO Reeta Roy said that the initiative would be aligned to Kenya's economic agenda by targeting industries that are 'work destinations' for a skilled workforce, grow the private sector especially entrepreneurs and small businesses, and partner with the educational system and leverage on technology.
"Across the continent there is an insatiable appetite for young people with the right digital skills and this demand will only grow," Ms Roy said.
She said the reasons for implementing the Young Africa Works in Kenya initiative were because of the Government's drive to create an enabling environment for businesses, the country's entrepreneurial spirit especially in the digital space, and the fact that the firm's programmes had benefited two million people in the country. "We intend to enable five million young Kenyans to find dignifying and fulfilling work. Initially, the Foundation has committed Sh30 billion to implement the strategy," she said.
Mastercard Foundation Manager, Programme Communications Kristy Tomkinson said youth who want to access the loans should get in touch with the two banks.
"We are taking existing systems and infrastructure and taking it to scale. Interested individuals can reach out to KCB and Equity directly. With Young Africa Works in Kenya initiative, it will now be easier to access finance," she told The Standard.
KCB CEO Joshua Oigara said the programme would be "holistic that builds businesses within an ecosystem". "We have committed up to Sh50 billion in the next five years to run and support these enterprises in addition to business development, training, mentorship and market linkages."
Informal sector
Equity CEO James Mwangi said they would help support 600,000 MSMEs especially in the informal sector to ensure that they formalise their businesses.
"This will help us integrate the informal and formal sectors so that the divide that has always been in this country gets scrapped slowly," Mr Mwangi said.
The CEO said in the first 18 months, Equity had set a target of funding 140,000 small and medium enterprises (SMEs). "There is Sh100 billion funding that will catalyse the SMEs to create five new jobs each."
Mwangi said that after about three-and-a-half years, the bank would target another 140,000 entrepreneurs who will be supported by a funding of Sh320 billion.
"In total, the Equity Group will be providing Sh420 billion over five years to that segment of SMEs and supporting them in business development services and market linkages."