Storm as agents jostle for lucrative port terminal job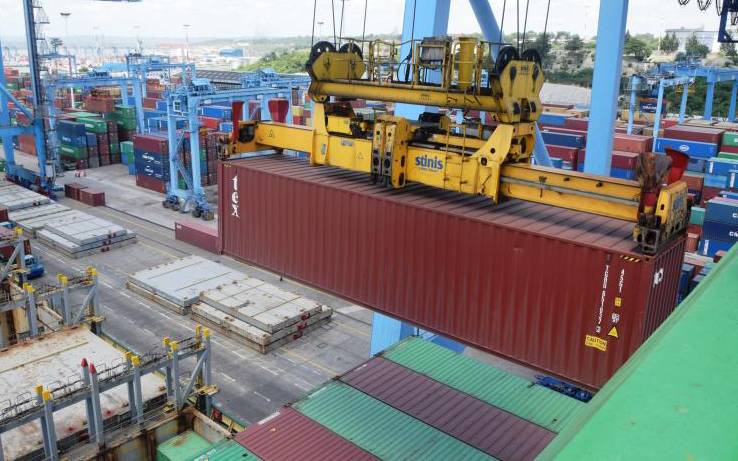 Behind-the-scenes lobbying by global operators angling for cargo handling business at the Port of Mombasa has intensified following reports that the State is keen to lease it out.
Reports indicate that the State wants to hand over the running of the second container terminal and one berth to the Kenya National Shipping Line (KNSL), which is partly owned by private firms.
But campaigns by global port operators through their local agents is in top gear and they want to paint KNSL as 'inept' or unable to run the terminal. They prefer a concessionaire from outside the country.
The opponents of the KNSL deal also allege that this will give Mediterranean Shipping Company (MSC), second largest shipping line for Mombasa trade, undue advantage against rivals.
Seek legal redress
The Maersk Shipping Line which controls at least 40 per cent of cargo passing through Mombasa was also angling for the national liner but was elbowed out by MSC.
MSC has about 20 per cent shares in KNSL and in August last year, it signed a Memorandum of Understanding (MoU) with the Ministry of Transport to revive of the moribund KNSL
Proponents of the KNSL deal say it will catapult the nascent local blue economy given MSC signed an MoU with the government to offer jobs to thousands of locals.
But critics warn that if the deal is handled haphazardly some shipping lines or their agents may seek legal redress.
According to the Ministry of Transport, a revived KNSL would create 10,000 jobs in the Coast region and save Kenya Sh300 billion annually, which is spent to ship goods into the country.
Therefore, as part of the recovery strategy, the State plans to give the company a sole mandate to handle cargo at the second container terminal. It will also handle cargo consolidation.
Dock Workers Union General Secretary Simon Sang said he has written to Kenya Ports Authority (KPA) to question the deal and seek clarification on how it will be executed.
Sang, who is opposed to the deal alleges that KPA will accord MSC "monopoly" of sorts if KNSL expressly operates the multi-billion shilling second container terminal.
But we have also established that DWU is split in the middle over the deal with the Sang axis rooting for either Dubai Port World (DPW) or the Port of Singapore Authority (PSA).
Another group led by DWU national chairman Mohamed Sheria and Seafarers Union of Kenya (SUK) is opposed to Sang and are rooting for KNSL and by extension MSC.
Sang argues KNSL functions do not include running of a terminal adding that the only arrangement is to give the national line a dedicated berths for "berthing priority".
"The fact that KNSL is smaller than KPA and lacks resources raises a lot of questions. We want the port to remain efficient and run professionally," Sang said.
One of the conditions by the Japanese government -- which financed the Sh27 billion three phased second container terminal at the port -- was that it will be run by a private firm.
In February 2015, Kenya Ports Authority (KPA) opened bids for phase one of the 1.2 million Twenty Equivalent Units (Teus) but stopped the process after it was hit by legal tussles.
Court battles
Twelve firms, among them top world terminal operators were shortlisted from a list of 19 that submitted their bid.
In a gazette notice dated April 10, 2015, the shortlisted companies were China-based China Merchant Holdings, Netherlands-based APM Terminals BV and Dubai-based DP World Ltd.
Some companies submitted joint bids between regional and local firms.
They included Cosco Pacific Ltd, Bollore Logistics, Toyota, Kamigumi Company Ltd, Group Maritim TCB, S.L, Mitsubishi Corporation and Freight Forwarders Kenya.
The tender for the 25-year concession for the terminal which has capacity of 450,000 Teus however hit a snag after three firms moved to the procurement tribunal alleging discrimination. The KPA was ordered to re-evaluate the technical bids afresh but the port operator decided to run the facility fearing court battles that could have delayed its use.
According to the initial plan, the terminal operator was expected to pay the KPA a standing annual fee of $18.4 million (Sh1.7billion) plus a commission based on volumes of cargo.
A source in the Ministry of Transport said the deal is being fine-tuned in boardrooms to hand over the berth to KNSL whose capacity and efficiency has been questionable.
A Mombasa-based maritime consultant said those opposed to KNSL deal were fronting interest of international firms. He said KNSL can efficiently run the terminal.
"It is best practice all over the world that any (private) entity that supports a government programme gets some concessions," said the consultant on alleged MSC undue advantage.
The consultant who requested anonymity cited Egypt where he said several liners have been accorded 'handsome deals' because they have undertaken to employee the locals.
"KNSL is the one supposed to operate part of the port and not a foreign shipping line as claimed.
"But again, a foreign line which supports a government programme such as offering employment to nationals can enjoy certain favorable treatment," he explains.
Sang further argues that handing over the second container terminal to KNSL will be illegal given Section 16 of the Merchant Shipping Act prohibits liners from running port terminals.
Meanwhile, Seafarers Union of Kenya national chairman Daud Haji and his general secretary Stephen Owaki have accused Sang of inciting some seafarers to derail ongoing recruitment of seafarers that will benefit from MSC.
Last month, MSC employed 16 Kenyan seafarers on its fleet of ships.