Criminal gangs taking advantage of curfew hours to steal livestock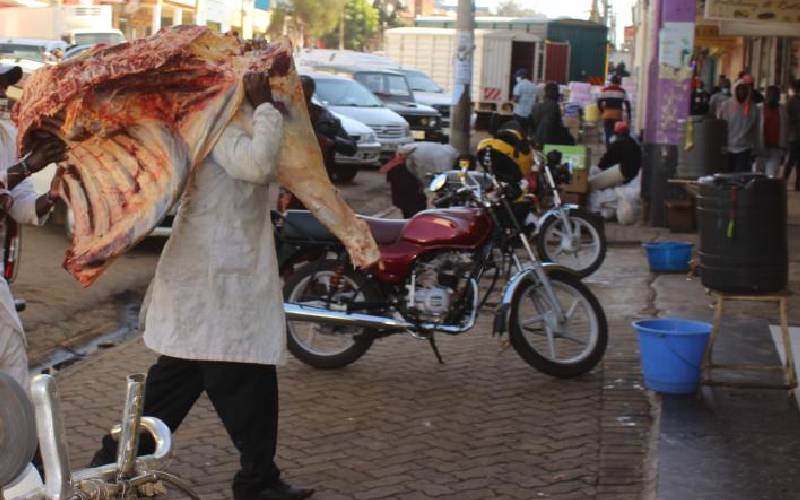 As dusk sets in, residents rush to beat the 7pm curfew imposed on Western and Nyanza counties following a spike in cases of Covid-19.
But the spike in infections is just one of their challenges. In most cases, people are being forced to sleep in the same house with their livestock. Reason? There are organised gangs on the loose and their target, according to residents of Kakamega, Bungoma, Busia, and Vihiga counties, is livestock.
The thieves reportedly slaughter the animals and sell the meat cheaply to local butcheries and hotels, according to residents and police sources.
Residents of the four counties who The Standard spoke to said they have not been able to sleep over the past five months due to rampant theft of cows, goats, pigs, and sheep. To catch any sleep, family members have to sleep in turns as others watch over the animals.
Reports indicate that the criminal gangs could be taking advantage of the enhanced curfew hours to raid homes and steal livestock. Residents cannot pursue the thieves after curfew for fear of being arrested. And even then, the gangs are said to be ruthless, injuring and maiming anyone who dares stand in their way.
The thieves ferry the stolen livestock in waiting lorries, tuktuks, pick-ups, and even motorcycles, residents said.
Investigations by The Standard established most of the stolen livestock is slaughtered in sugarcane plantations, bushes, or houses belonging to the criminals or their accomplices and the meat sold at throwaway prices.
The stolen animals are sometimes transported to far-off places where the gangs are said to have active networks.
Sub-counties hardest hit by theft of livestock in Kakamega are Shinyalu, Khwisero, Malava, Butere, and Matungu. In Siaya, Ugenya and Gem are the worst affected while Butula is the hardest hit in Busia County.
In May alone, at least five suspected cattle thieves were lynched by residents at the border of Siaya and Kakamega.
Residents of Emusunguri and Shikunga villages in Butere also lynched four suspected cattle thieves in the same month of May. This was after 15 stolen cows were found in the home of one of the suspects.
More than 200 cows have been stolen in Butere Sub-county alone within the last three months, according to residents.
One of the residents, Patrick Were, said at least two animals are stolen in the area every week.
Joseph Ashibende, from Marama North, said the situation was getting out of hand.
"The government must intervene before residents of Butere start taking the law into their own hands," said Ashibende.
Malava, Shinyalu, Lurambi and Ikolomani constituencies have also witnessed increased cases of theft of animals.
And residents have pointed an accusing finger at young men they said are aged between 15 and 30.
One week ago, at least 30 cows and several pigs and goats were stolen at Shimanyiro in Lurambi Constituency. The animals have not been recovered.
Ernest Lukongu is among those who lost his animals. He told The Standard on Wednesday that the gang is ruthless as it attacks whoever crosses its path.
"Many people have been left with severe injuries after they were attacked by members of the gang," he said.
He added: "Three days ago, the gang came with a lorry and went away with over 20 cows. One of the cows appears to have caused them trouble. We found it strangled."
He accused the police of doing little to arrest the problem. "We have always reported cases of livestock theft, but nothing is done."
"Some of the thieves are known; they live among us. However, those who dare report them to the police are threatened with attacks and even death. We do it in confidence and we do not know why police officers reveal identities of those reporting the crime to the gangs," Lukongu said.
According to Victorinah Nechesa, who lost three cows recently, some local youth could be working with the gangs, surveying and mapping homesteads that have livestock.
"Many butcheries in Kakamega town are selling meat from stolen cows. We suspect some butchery owners could be accomplices," said Nechesa.
Robert Alukungu said: "Maybe the time has come for residents to arm themselves and protect their animals in the wake of these raids. Let's forget about the police, Nyumba Kumi, chiefs, and their assistants. They are all unable to arrest the theft of cattle. We are on our own."
Police in Kakamega are investigating claims some butcheries in Shinyalu, Malava, Lubao and Kambiri may be selling meat from stolen cows.
Theft of cows at the border of Kakamega and Nandi counties, in most cases, take place on Wednesday nights. The criminals transport the animals pretending they belong to them and that they are taking them to Lubao, where the market days are on Thursdays.
"Several people were attacked in Ingolomosio and Bulovi and their animals stolen. The animals were later taken to Chesero forest where they were slaughtered and the meat supplied to butcheries and hotels in Malava and Shinyalu towns as well as Kambiri and Lubao markets," said a police officer who did not wish to be named because he is not authorised to give official information to the media.
He said the theft of livestock was an intricate web that involves senior police officers, chiefs and their assistants, butcheries and hotel owners.
"People are becoming instant millionaires through this illicit trade," the officer said.
He added: "Before the animals are stolen, our bosses are notified. This way, they will ensure the areas the gangs are raiding are not patrolled. Every Wednesday and Friday, after the raids, our bosses get their share of the loot. Even if we arrest the gang members, the cases never reach the courts. Yet we always provide exhibits. Even the sub-county police commander is part of the problem. And any junior officer who tries to pursue the criminals is subjected to disciplinary action," claimed the officer.
The Standard could not, however, independently corroborate the claims by the police officer.
Moses Wafubwa, a resident, claimed sometimes, stolen cows disappear again after being recovered.
Robert Makau, the Shinyalu Sub-county police commander, said he was not aware of reports of escalating cases of livestock thefts. He said no one has reported any such incidents to him.
Similarly, Kakamega County Police Commander Hassan Barua said he was not aware of any incidents of cattle theft as no reports have reached his office.
"I can only comment on something I have the evidence for. Let people come up and tell me about the incidents that were reported and no action was taken," said Barua.