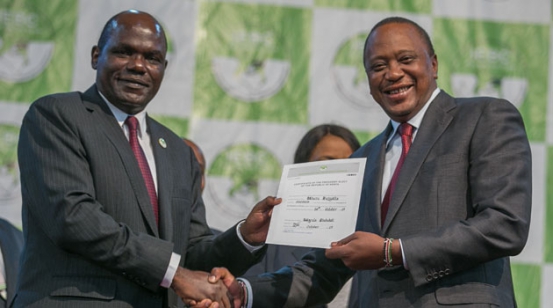 The Kenyan shilling strengthened, the Eurobond rallied and the stock market remained cagey after the Supreme Court upheld President Uhuru Kenyatta's win on Monday morning.
Reuters quoted the shilling at 103.60/80 per dollar after the unanimous verdict was delivered, from 103.80/90, where it was trading earlier.
Analysts say that the Eurobond rates rose marginally indicating the attractiveness of Kenyan debt.
"I think the market is looking at the potential of uncertainty falling out of the equation as that they can focus on the fundamentals," Stanbic regional economist Jibran Qureishi said.
Mr Qureishi said that the stocks market calm may be explained by the fact that investors have already priced stocks according to the third quarter performance but sees the equities market rising in the next couple of weeks.
Read More
"The equities market position is based on the financial results that have been coming in, but I think that in the next couple of weeks when the uncertainty is offloaded it will start looking attractive," he said.
NSE chief executive Geoffrey Odundo said that Nairobi Securities Exchange will withstand political shock and emerge stronger reiterating that Kenya's stock market resilience and its ability to recover much faster from such shocks.
"We're hopeful that our own political issues will be put to bed soon. We are looking at a couple of IPOs next year and the government is also looking at ways to restart the privatisation programme. We believe that if we get two companies from the infrastructure and energy sectors, interest from the corporate side will spark and this will help in market recovery," he said.
Mr Odundo was speaking at the 7th Annual EFG Hermes London Conference, where opportunities in the Nairobi Securities Exchange were discussed on-stage with a large gathering of global investors, fund managers and financial institutions.