Kisumu's rental prices now rival Nairobi's as lakeside city grows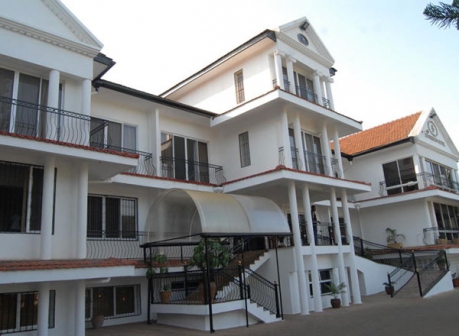 32-room Sovereign Hotel, Kisumu. The town lacks high end accommodation facilities.
For the last five years getting a commercial or residential house to let in Kisumu has not been easy. Hundreds of business executives and professionals deployed to work in and around the city, prompted the scramble for the few vacant houses.
This in turn led to a hike in rental prices while briefcase real estate agents, brokers, came up in droves. Home & Away established that some brokers charge between Sh500 and Sh2,000 for viewing vacant houses.
Others rent the houses for even three months and then later re-advertised them asking for what they call ''goodwill'' from prospective tenants.
It is in the goodwill package, where they mint money, especially for commercial houses, where they ask for a tenancy fee ranging from Sh300,000 to Sh800,000 before one can rent a premise. On the residential front, landlords charge as high as Sh10,000 for a bedsitter. One bedroom units attract anything between Sh15,000 and Sh20,000 depending on the neighbourhood. Maurice Oloo, a Kisumu landlord, says they could be forced to review the prices downwards to ease the burden on tenants.
Analysts are, however, saying the situation could be coming to an end as a construction boom is seeing more houses being poured into the market for sale and rental. This could see the cost of buying a house or renting decline.
Abel Odhiambo, a Director of Kisumu Property Market Ltd, says that the demand for housing is on the rise and could trigger better pricing and revenue returns.
But he is cagey on whether the increase in property boom will cause an increase or decline in rent prices.
Evans Asiyo, an architect claims that people are moving to the suburbs because the towns are crowded. He says there is still need for more houses because Kisumu is growing.
the style of construction is also changing with more people embracing storeyed structures. Michael Adede of Victoria Gardens says many people are putting up apartments and flats at the foot and on top of the hill.
And unlike in the past, these people investors are now putting up storey buildings to make maximum use of space. Asiyo says this is primarily to cover the cost of exorbitant charges levied on the plots.
the authorities are also paying attention to the construction boom. Last year, the Kisumu County government launched an e-construction permit. Now, real estate developers have to apply for construction permits online, an initiative which earned Kisumu praise in World Bank's 2016 survey.
Designing for privacy
Modern lifestyles have elevated our gardens from a space for lawns and flowers to an outdoor living space for family and visitors.