Murang'a battles heated property market as demand for land rises
Boniface Gikandi
After years of neglect and disinterest, investors are now scrambling for property within Murang'a town and its neighbourhoods.
This sudden interest has seen property value drastically rise and a frenzy of land subdivisions as more landowners change their agricultural land to commercial. Behind this boom in the town 89 kilometres from Nairobi, is a crop of current and retired civil servants and businessmen from neighbouring towns. Their goal is to acquire land and establishing both owner-occupied and rental houses.
This frenzied interest has seen the cost of land shoot up with an average plot measuring 50 by 100 feet going for between Sh800,000 to Sh1 million as opposed to last year's range of between Sh200,000 and Sh400,000.
Many rental buildings are fast being transformed into hostels to house an ever-growing population of college students within the area. Majority of these students are from the neighbouring Kenya Medical Training School, Murang'a College of Technology, and Murang'a Institute of Science.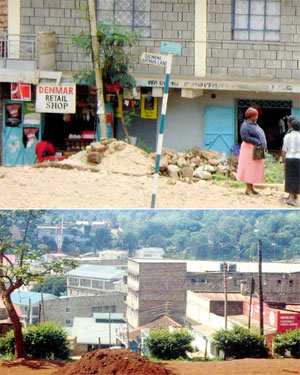 Views of Murang'a Central Business where there is stiff competition for premises to establish business

While one could have easily landed a two bed-roomed house at a monthly charge of Sh2,000 in 2003, it is now going for almost Sh4,000. An average business premise at a vantage point is going at Sh8,000 up from a paltry Sh3,500. A single room in middle-income estates is going at Sh3,000 up from last year's Sh2,000.

However, a major worry for the investors is the emergence of bogus land surveyors and unscrupulous property brokers who through their activities are causing confusion in the market. Some plots have also been constructed in undesignated parcels of land especially in Milimani area, making selling of property a nightmare.

Improved security

Area District Commissioner George Natembeya has since put on notice, "all crooks infiltrating the property market in the area to cease their operations otherwise we will deal with them firmly".

He says: "We are experiencing a very vibrant property market within this region and it is encouraging to have new investors buying land and putting up modern residential and commercial buildings. It is our duty to ensure that no element of market distortion is given a chance to prevail."

Natembeya says new estates are popping up by the day as older ones get a breathe of freshness as dilapidated houses are refurbished.

He attributes the scenario to improved security in the area, upgraded infrastructure as well as affordable raw materials readily available in nearby quarries. The area has at least 12 quarries manned by locals. Also contributing to this boom is uplifted quality of living owing to rapid growth of the tea, horticultural and dairy sectors, the major economic activities here.

Steep terrain

"Quality of life has gradually improved and savings have gone up, affording many to invest in the sector," he says. Testimony to improved earnings in the region, he says, is the fact that major banks that had closed shop in the town following the 1990's economic crunch have trooped back.

He says talks are on with the banks to extend friendly mortgage loans for the area civil servants and farmers.

"It is only fair that these banks reciprocate the locals' support by extending affordable loans to them so that they are not left out in the ongoing scramble for property," the DC says.

The steep terrain of the area is another challenge investors have to contend with. This leads to high cost of developing new houses and infrastructure, which in turn gives way to high rents and property costs.

Planning models

This scramble has seen the area land's board hard pressed to arbitrate on land and property disputes as the local law courts tackle numerous cases of property fraud. Also on the spot is the area Municipal Council that is being challenged to come up with proper planning models for rapid urbanisation. George Githuka, an investor wishing to put up a residential estate within the area says: "The Council lacks a master plan for urbanisation.

There is no coordinated development plan and this is a serious impediment to investors who nowadays are in fear of incurring losses if they develop the wrong areas."

The Council acknowledges this challenge and in a paper that it has prepared to guide urbanisation in the area, it cites numerous challenges dogging the property market.

Town Clerk, Sammy Njogu says intense land subdivision is leading to uneconomical land parcels due to lack of spatial framework to guide development.

"Yes, it is a challenge and we are doing all in our power to address the situation. We are in the process of preparing a spatial framework to guide and control the vibrant developments being experienced in the region," he says.

In response to both residents' and investors' complaints that the town lacks proper solid waste collection points and plans for their establishment, Njogu says the Council would soon announce these points and that resources will be pumped into establishing sewerage disposal infrastructure.

"This will be after we harmonise and reconcile Local Government and Physical Planning Acts governing the sector," he says.

He adds that the flourishing developments might pose a danger if his inspectorate department sleeps on the job of ensuring the Building Code is adhered to.

"We have to enforce to the letter the Physical Planning Act Cap 286 especially on building plans and other development applications," he says.

Bureaucracy

Municipal Work's Officer John Mugi says his department is in the process of harmonising existing by-laws that hinder rapid development and will soon announce measures that will boost new investments.

Mugi says identification of urban and peri-urban land for the development of housing for low-income groups through public-private partnerships will be fast tracked.

"We will also review by-laws, as well as take administrative actions to eliminate bureaucracy on housing development and approval processes," he says.

He adds that the council will liaise with the relevant government agencies for the acceleration and automation of land registry, registration of titles, foreclosure and approvals of building plans by local authorities and National Environmental Management Authority.

The DC says the town will also adhere to the Central Government's Economic Vision 2030 that has housing development as a key pillar towards rapid urbanisation of non-developed areas.

In this, he says housing incentives will be extended to all those seeking to invest in the region.

Tax holiday

He says budgetary allocation for the provision of infrastructure to urban and peri-urban land through public-private partnerships in the region is on cause.

He also says the Public Work's department will offer guarantees and concessions to private local and foreign investors to develop housing. The area will embrace the 10-year tax holiday for developers and investors of a minimum of 100 housing units or serviced plots of equivalent amount for low-income households within a period not exceeding 24 months in urban and peri-urban areas of the region, as per the ministry's directive.