Suspected suicide bomber blows self up in Kisumu, kills elderly couple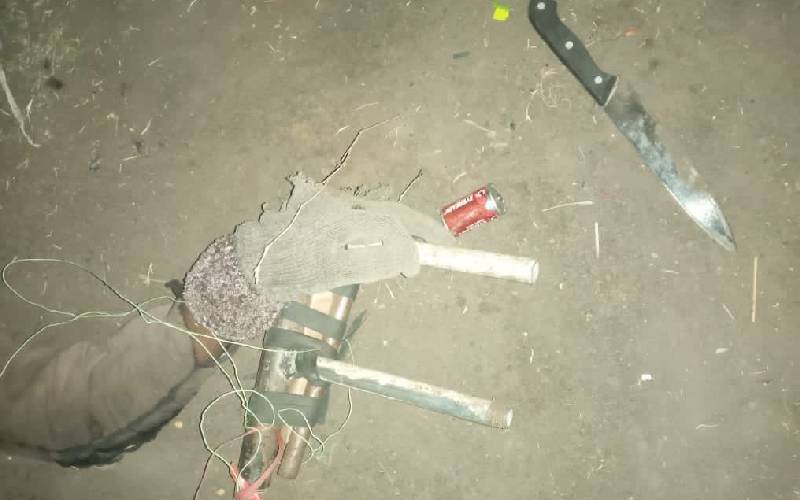 An elderly couple was killed after a suspected suicide bomber detonated an improvised explosive device (IED) at their home in Awach in Katito, Kisumu County, yesterday.
The couple's 13-year old daughter escaped with serious injuries. She is undergoing treatment at a Kisumu hospital.
The police said the suspected terrorist, identified as John Odhiambo, had been on their watchlist since last year and they are trying to establish the motive of the attack.
Detectives are also trying to establish how the terror suspect sneaked into the home and committed the heinous act.
It emerged that a relative of the dead couple owed him Sh30,000 from the sale of a parcel of land.
The police described the incident as an act of terror with preliminary investigations indicating that the suspect wore a suicide vest.
Charles Owino, whose brother died in the attack, was lucky.
"Moments before the explosion, the suspected terrorist sent for me. He wanted me to join them in a meeting but I declined. I told the person he sent to tell him I was not at home," said Owino.
"I did not know his intentions. He had invited us to the home and even asked for more chairs to be brought. Minutes later, a loud explosion reverberated through the quiet Kamloma village in Nyakach."
And when the dust had settled, Petro Onyango and his wife Mary Atieno lay dead. Next to them was the suspect.
Loud screams followed as residents rushed to the scene to find out what had happened.
The village was in shock with reports that the suspect had attempted to carry out a similar attack in December last year.
Edwin Odhiambo, a former schoolmate of the suspect, said he dropped out in Class Five.
"We have not seen him for long. Last year, he tried to kill his girlfriend at Katito," Odhiambo claimed.
Authorities said they believe the suspect may have joined a terror cell where he learnt how to make IEDs.
"From our investigations, the suspect had placed the device on his waist," an investigator told The Standard.
"It was a small bomb, that is why it did not affect the house."
According to Nyakach OCPD Daniel Chacha, the suspect died instantly alongside the couple after detonating the IED.
"The suspect went to the home of the couple, engaged them in conversation, then detonated the device," said Chacha.
The OCPD said the suspect had been on their watchlist in connection with an explosion in Katito township last year.
It is said he attempted to kill his girlfriend by detonating an explosive device on December 20, 2020.
Nyanza police boss Karanja Muiruri said experts are handling the matter which he termed an act of terrorism.
Other police sources said the bomber was a member of Al-Shabaab terror group who had returned home.