Anxiety in Kisumu as Nyong'o orders demolitions of buildings on sewer lines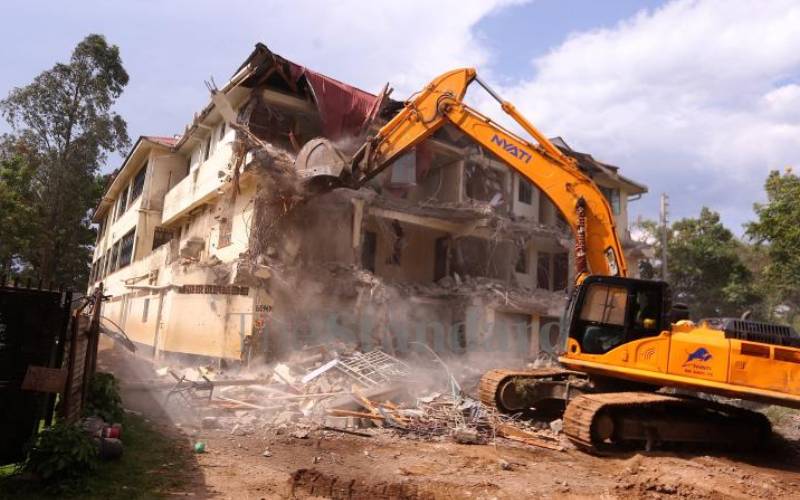 Residents of Kisumu are living in anxiety after Governor Anyang'Nyong'os administration ordered another wave of demolitions targeting buildings and structures erected on sewer lines.
The demolitions which began on Tuesday, April 20 have left several property owners including politicians counting huge losses.
Those earmarked for demolitions include those located at Migosi estate with 64 units of one and two-bedroom houses.
Prior to the demolitions, tenants had vacated the house after county officials informed them of the intentions to demolition the building.
The residents who were in shock as the demolitions began questioned the timing of the demolitions claiming they have already been victims of previous demolitions where they lost their sources of livelihoods.
Joseph Ouko, a resident described the demolitions as inhumane and said that residents should have been given more time.
"Everyone is now living in fear because you do not know if your place of work or where you live will be targeted," he said.
He noted that many people are going to lose their sources of livelihoods and places of living with the fresh demolitions.
A few meters from where the demolitions began, several houses have been marked for demolitions including business premises.
A spot check across the area also reveals that several estates have been marked for demolition.
Some of the houses include those that were built several decades ago with their owners claiming that the defunct municipal council approved the constructions.
Samuel Ominde, a resident of Migosi estate however admitted that some people had also encroached drainage systems and sewer lines.
"Some buildings built on sewer lines. It is the reason we are having problems with drainage," said Ominde.
The county government however defends the move and claims it is part of a strategy to address poor drainage and sewer network.
In a notice issued by City Manager Abala Wanga last week, the officer directed the owners of the premises they had identified to vacate with immediate effect.
"In case of non-compliance, the city of Kisumu shall move and remove them on its own," said Wanga.
The development comes at a time when hundreds of families whose houses were demolished by Kenya Railways are still spending cold nights in a temporary camp at Kibos.