Solicitor General backs Epra boss in dispute over new term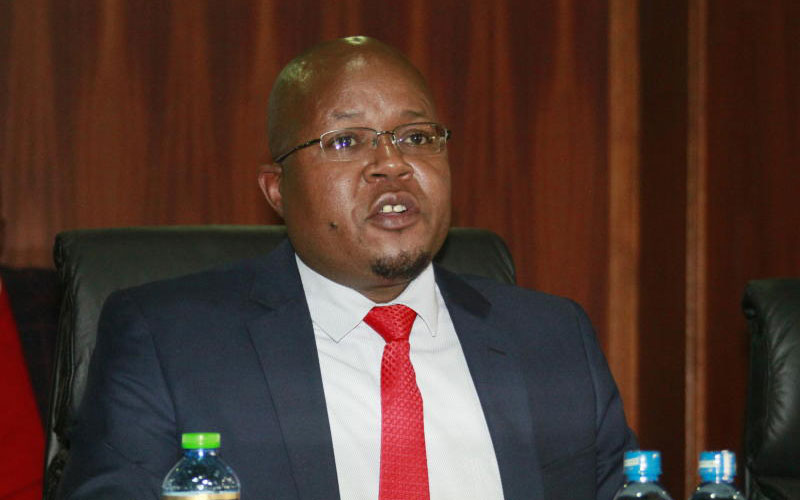 The State Law Office has dismissed a court order requiring the embattled director general of the Energy and Petroleum Regulatory Authority (Epra) to step aside pending the hearing of a case to determine whether he was reappointed irregularly.
Solicitor General Kennedy Ogeto said the reappointment of Pavel Oimeke had already taken place long before the court issued the order, which hence cannot be enforced.
In a letter to the Energy Cabinet Secretary, Mr Ogeto also faulted Epra's board for complying with the court order and asking the director general to step aside as the court order was based on an "ineffective premise".
"It is our considered opinion that the decision by the board to require the first respondent (Oimeke) to step aside from his role as director general of Epra is blatantly erroneous, based as it is on an ineffective premise – namely, an unenforceable court order," he said.
The court early last month blocked the reappointment of Mr Oimeke following a suit by Emmanuel Wanjala challenging the renewal of his term, with the plaintiff arguing that the reappointment should not be automatic but a competitive process.
Oimeke sought a contract renewal and on March 25 this year, after which the board met and recommended extension of his tenure.
He was reappointed on May 7 by Energy CS Charles Keter, acting on the recommendation by the board.
Mr Wanjala claimed in documents submitted in court that taxpayers had lost billions of shillings as a result of how Oimeke had been running the regulatory body, alleging massive spillage of petroleum products, faulty electricity meters and corruption.
The judge barred the Ministry of Energy and Epra's board from discussing Oimeke's contract renewal pending the hearing and determination of the case.
Following the orders, the Epra board met on August 14 and agreed to have Oimeke step aside.
"A plain reading of the court order of August 11, 2020 therefore reveals that the actions sought to be restrained thereby (namely, deliberation, renewal and, or extension), had already in fact been performed long before the issuance of the said order," said Ogeto in the letter.
He said the order is unenforceable because it sought to restrain the carrying out of actions, which had "in reality, already been carried out as at the date of issuance of the court order".
"We are of the firm view that the action by the board to require the director general to step aside in purported compliance with the said court order was, with respect, ill-advised and an attempt to undo previous actions that had already been performed by the board and the Cabinet secretary," said the Solicitor General.