Demand for SGR cargo haulage service rises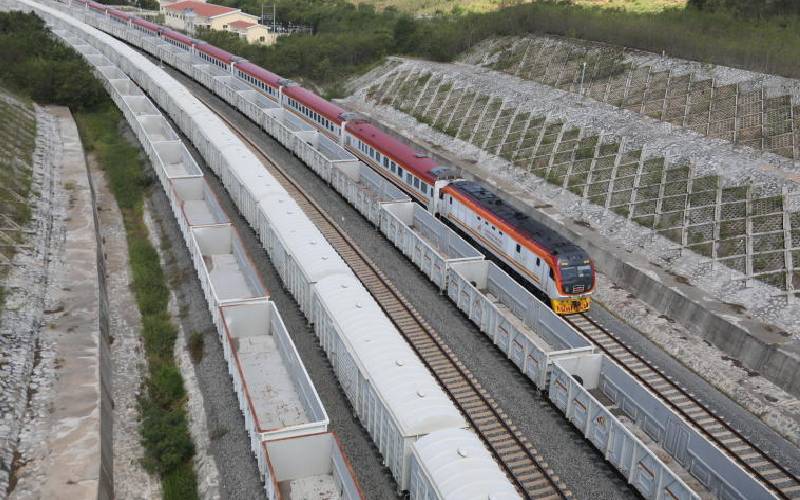 Rail freight demand from the Naivasha and Nairobi Inland Container Depots (ICD) to the Port of Mombasa has increased significantly
The Standard Gauge Railway (SGR) operator Africa Star Railway Operation Company (Afristar) and Kenya Railway Corporation (KRC) said that in July, 168 trains railed 1,715 twenty equivalent units (TEUs) from the two ICDs.
"There has been an increase in the demand for freight services from both the Nairobi and Naivasha ICD. In July, 168 loaded trains left the dry ports to Mombasa," said KRC and Afristar in a joint statement.
The Naivasha ICD has positioned itself as a key dry port for cargo destined for Uganda, Rwanda, South Sudan, Ethiopia and Burundi.
It has de-congested Mombasa port and Nairobi ICD, as well as eased clearance of cargo and container handling.
Analysts say the Naivasha facility cuts cargo transit distance to neighbouring States by 570km, a move that has made SGR attractive to importers.
Data from KRC indicate that since the SGR was launched, 948,800 TEUs and 4.37 million passengers have been transported via the new railway line.
KRC and Afristar said there was increased demand for the SGR freight services with 38,764 TEUs hauled by 448 trains between Mombasa and the ICDs in July. "By August 27, 31,856 TEUs were transported on 381 trains, this includes 22,048 empty containers," the two entities said.
The SGR operates average of 13 trains daily. KRC and Afristar have also partnered with stakeholders to ensure the efficient transportation of cargo to and from the port and the ICDs in Nairobi and Naivasha.
The figures reveal that between January and August 27, the SGR trains hauled 264, 696 containers between Mombasa and the Nairobi and Naivasha ICDs.
Stakeholders were by last week trying to solve delays in the movement of cargo at ICDs after Kenya Ports Authority crane operators went on go-slow, protesting the abolition of the overtime and meal allowances.