Revival of old railway line to spring new life in counties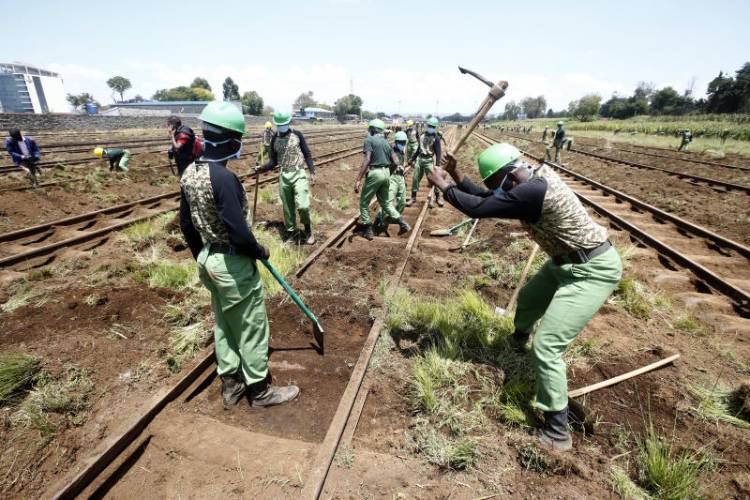 The collapse of transport on the Metre Gauge Railway (MGR) on the Nairobi-Kisumu line for the past two decades was a big blow to many counties.
The most affected were those whose economies majorly depend on agriculture and were trading in produce that is highly perishable, bulky or with slim profit margins necessitating cheap mode of transport.
For three decades the Nakuru-Kisumu railway line has been sinking deeper into oblivion as heaps of soil collect above it and lush green grass grew on top of it. But now there is hope.
The Kenya Railways Corporation has embarked on an ambitious Sh3.8 billion project under the Presidential Delivery Unit (PDU) that will see a revival of the 217-kilometre Nakuru-Kisumu line.
Already, repairs have started on its adjoining 78km Gilgil-Nyahururu line, which will run concurrently at an estimated cost of Sh500 million.
In the past two weeks, National Youth Service (NYS) servicemen have been busy on site working on the railway project being championed by Kenya Defence Forces (KDF) Engineers Brigade.
Cheap transport
The revamping of the railway network has shone a ray of hope to the agricultural counties that were forced to turn to road transport, which is costly and unreliable especially during harsh weather.
Some of the counties set to benefit include Nakuru, Nyandarua and Laikipia that have massive agricultural wealth.
According to Laikipia Governor Ndiritu Mureithi, more than 4,000 animals are transported to Nairobi from the county every month by road, a means that has been eating into farmers' profit margins.
"As a county we sell at least 1,000 cows and 3,000 sheep and goats to the Kenya Meat Commission and Burma Market in Nairobi monthly. These are transported by road which is costly to farmers," said Mureithi.
He pointed out that the county also produces 100,000 litres of milk every month which is marketed across the country through the New Kenya Co-operative Creamaries (KCC).
"We have an annual production of at least 1,000 metric tonnes of potatoes and other products such as maize and wheat, which are set to be transported by rail. All farmers have a reason to smile as this railway line comes back to life," said Mureithi.
Nyandarua Governor Francis Kimemia said his county produces 100,000 litres of milk daily, 9,000 metric tonnes of potatoes annually, and 100,000 metric tonnes of vegetables annually.
"We have procured road construction machines to improve our road network. Reviving the railway line will help the county cut down the cost of roads maintenance and enhance their durability," said Kimemia.
Nakuru Deputy Governor Eric Korir noted that the revival of railway transport will boost other industries that closed shop in Nakuru town a decade ago.
"As we look forward to attain city status, the railway line will help in jobs creation for thousands of residents. Transport costs will be reduced by half and this will encourage more industries to set up their bases here," said Korir.
He added that this will be a big win for farmers who have suffered millions of shillings through post harvest losses.
"Our farm products will not rot on the farms anymore. Farmers have already made their first Hass avocado harvest. Depending on where the market is, the railway line will be the cheapest and most reliable transport option," said Korir.
The railway line will not only serve the countries but also be a major boost to international trade among the Eastern Africa countries.
This is according to Defence Chief Administrative Secretary (CAS) Peter Odoyo who said the revival of the railway was in line with already set up ports in Kisumu, Uganda and Tanzania.
"Governments of the three countries set up ports at the sidelines of Lake Victoria. The Nakuru-Kisumu railway line is the main route. Cargo will be picked from Mombasa, Nairobi and Naivasha," said Odoyo.
He added that failure to repair the 217 kilometre stretch will turn the three multi-billion ports into white elephants.
The project manager, Major Wanjau Karanja, said the government projected the revival to be complete in eight months and see the first cargo trains flagged off.
"All is set on our part and the rehabilitation works begins immediately. KDF will provide technical support while the Kenya Railways will provide the materials. We are committed to deliver this project within the set timelines," said Wanjau.
Kenya Railways Regional Engineer Veronicah Ngugi explained that the corporation was well prepared for the task ahead.
"We are looking at maximising the use of the railway line as it was in the past. Although the primary goal is cargo transport, we shall have several passenger trains plying the Nairobi-Kisumu line," said Ngugi.
On the flip side, the revival will be a blow to a section of businesses and individuals who had leased properties belonging to the corporation.
The tenants have been issued with notices to vacate the properties twice this year. The first one was issued in March and a recent one in June following President Uhuru Kenyatta's directive to the corporation.
"You are hereby given seven days to vacate Kenya Railways land or property to pave way for revitalisation of Nakuru-Kisumu railway line. Failure to comply will compel the corporation to forcefully evict you. We shall not bear any liability or loss," read the June 8 notice signed by Kenya Railways Managing Director Philip Mainga.
At the same time, the newly opened Inland Container Depot in Mai Mahiu, Naivasha has seen the volume of cargo collected from the facility rise from 20 to 45 per cent in the last three months.
With neighbouring countries preferring to collect the containers from the depot instead of Nairobi and Mombasa, the government has projected a 60 per cent cargo rise in the coming months.
The depot, located off the Mai Mahiu-Narok Road started its operations on May 7 and has so far received over 8,000 cargo containers.
According to Peter Masinde who is in charge of cargo at Kenya Ports Authority, the number of cargo collected on the facility was rising.
[Kennedy Gachuhi, James Munyeki and Anthony Gitonga]