Hope renewed as agency vows revived railway use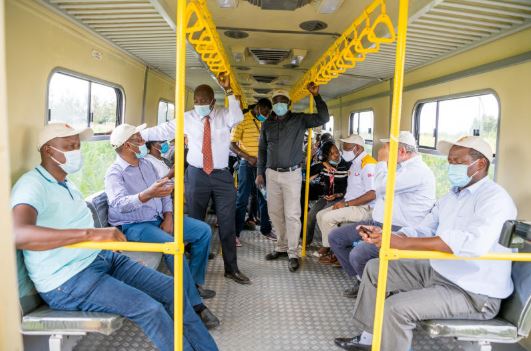 A team of technocrats and politicians commuting on a trial run on the Nairobi-Nanyuki railway escaped unhurt when their one coach train hit a car at a non-designated level crossing point.
The group of investors targeted to use train services, including officials from Kenya Railways, Laikipia Governor Ndiritu Muriithi, his deputy John Mwaniki and Kieni MP Kanini Kega, took a short trip from Nanyuki to Chaka.
Their train ripped off the car's passenger door at Kwa Jei point, which is between Narumoru and Chaka townships.
The car driver had opted for a shortcut across the railway line to join the Nairobi-Nanyuki highway, and apparently did not hear the train hoot or see it approach. The car was pushed to about 200 meters, damaging the co-driver's seat. The driver escaped unhurt.
The incident temporarily stopped the trip, but after deliberations, it continued.
The crash underlined the very odds, which the train operations will face when it resumes in two weeks after successful refurbishing of the old 178-km line. The railway agency is planning to connect the line to the Lamu Port-South Sudan-Ethiopia-Transport Corridor project.
The agency's MD Phillip Mainga guaranteed regularity of trips, starting with two daily ones for passengers and another five for cargo between Nairobi and Nanyuki in July.
Top on the list of the anchor clients will be Vivo Energy Company, which will use the line to ferry fuel from Nairobi to their depot in Nanyuki.
Genesio Mugo, the manager in charge of stakeholders and government relations at Vivo Energy, said the depot had a capacity to store 12 million litres of fuel, though they intended to increase supply to serve the entire northern frontier.
"We are looking at the economies of scale by using trains. It will also keep the flow running because we have enough petroleum fuel to supply to the region. The tank can supply to eight counties a month," he added.
Mugo said delivery of fuel via train would start in two weeks' time.
Kenya Railways has also engaged British Army Training Unit in Kenya (BATUK) to ferry military equipment from Mombasa to their Nanyuki unit through the train.
With much of their supplies coming from the UK, through the Mombasa port or JKIA, Colonel Finlay Bibby of BATUK said: "We are excited that the revival of the line will help us transport all manner of items in one trip... because we will not have to use roads to transport heavy training military-ware".
The meeting in Nanyuki brought together clients, including Laikipia Farmers Association (LFA) and logistic companies intending to use train services. They deliberated on price rates and other issues.
Central Region Economic Bloc CEO Ndirangu Gachunia said they were looking at rates that would motivate commercial clients to shift to trains. "The deliberations on price rates should be complete next week. The volumes of the supplies will guarantee better and fair prices," said Ndirangu, adding they were looking at reviving Kiganjo and Chaka towns as industrial and logistics hubs, especially with the setting up of a new station in the latter.
LFA chairperson Martin Evans said large-scale farmers dealing with wheat, sorghum, livestock and barley had been paying huge costs using middlemen to transport products to Nairobi for export.
Others in the meeting were Nyeri and Laikipia Trade executives, MCAs and representatives from business communities in various counties.
Local county governments now plan to repair feeder rods to ease accessibility of the train stations.