How coronavirus slashed trips to ATMs to an all-time low in April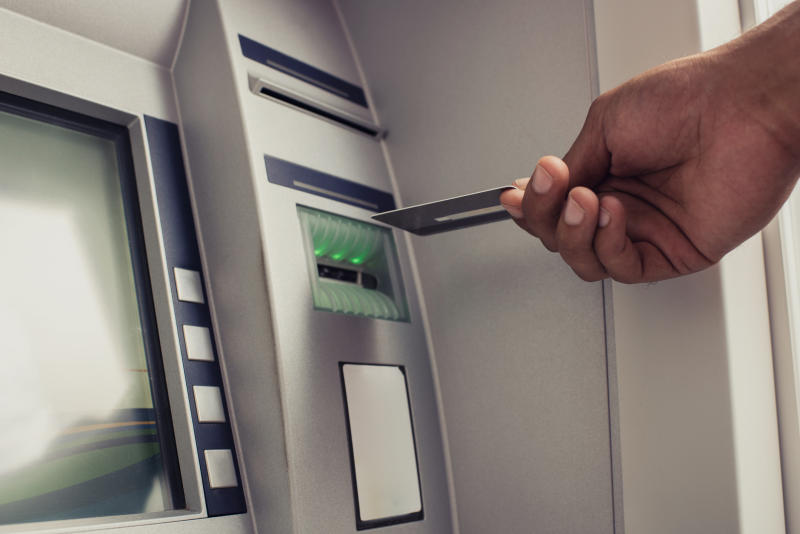 Often times, the speed of money is just like that of sound, loud under the cover of darkness but barely audible during the day.
Money can be nocturnal. It gets busy at night, seamlessly changing hands in pubs, nightclubs, brothels and keshas.
In Nairobi, money tends to pronounce its importance on Fridays after a hard-week's work when the sun begins its routine weary descent down the distant mountain peaks.
At this moment, those who find their way to estates enjoy a delicacy of peppered mutura before washing it down with a bottle of beer.
Those that opt to stay behind in downtown relish a bite of mishikaki or roasted goat meat as expensive whiskey bottles litter their tables.
Trips to the nearest automated teller machines (ATMs) can be as numerous as those to the bathrooms. And for those who love convenience, mobile money ensures the transactions continue unabated to the wee hours of the morning without a single trip to the ATM.
But it is not just across time that money moves, it also moves across space. Money is moved by weekend partygoers from Nairobi to Naivasha; by commuters on the Standard Gauge Railway (SGR) from the country's capital city to the public beaches in Mombasa County.
Some money is dropped by countryside-bound motorists along the highways to hawkers of mahindi choma like breadcrumbs from the high tables of the wealthy. Motels, petrol stations, garages and car wash boys also get a bite of this kitty on transit.
The money finally pours into the rural Kenya economy like a river ending a long journey into the expanse of the ocean through numerous get-to-together meetings, weddings, funerals or just handouts.
But the dusk-to-dawn curfew and the partial lockdown of four counties (Nairobi, Mombasa, Kwale and Kilifi) has curtailed the free flow of money in the past three months.
Yesterday, President Uhuru Kenyatta extended the nationwide curfew for 30 days and said the cessation of movement into and out of the Eastleigh Area of Nairobi and the Mombasa Old Town Area will lapse at 4am Sunday. He also eased movement restrictions in Kilifi and Kwale counties.
However, the ban on all gatherings has been extended for another 30 days, same with movement in and out of Nairobi, Mombasa and Mandera counties.
However, latest data from the Central Bank of Kenya (CBK) shows that trips to ATMs, which tend to increase in frequency as the day wears down, reduced to a record low in April. April was the first month that Kenyans lived under the stringent containment measures aimed at curbing the spread of Covid-19.
During this period, mobile money transactions also declined significantly as Kenyans stayed at home following the government directive.
The value of money transacted through debit cards, credit cards, point-of-sale (POS) machines like those used in supermarkets to read your debit or credit card, pre-paid cards declined by a third to Sh35.2 billion in April from Sh52.1 billion in March, according to CBK data. Year-on-year, this was a drop of 44.6 per cent compared to Sh63.6 billion that were transacted in April 2019.
There were 4.13 million transactions on these channels, a record low since CBK started putting together this data in July 2009.
The value of mobile money transactions dropped by 15 per cent from Sh364 billion in March to Sh308 billion in April.
There were 125 million transactions, the lowest since August 2017 when there were 120 million mobile transactions. However, in August 2017 there were only 35.3 million mobile money subscribers compared to 59.4 million in April 2020.
Also, transactions using a credit card, a sort of debt offered by a bank, were the record lowest at 41,278 in April.
Since coronavirus arrived here in March, over over a million people have been rendered jobless. The sectors hit hard by the containment measures include hotels, airlines, travel agencies, pubs, nightclubs and other entertainment joints and transport sectors.
The education sector, especially private schools, has also bled profusely following the close of all schools to prevent the spread of the disease in schools.
Churches have also been out of bounds to congregation, with President Kenyatta calling for a study on how they can be re-opened and operate within the social distance rules.
It is not that there was no money. If anything, banks are drowning in cash. Currency outside of banks and money in demand deposits accounts which can easily be withdrawn, technically known as M1, increased to Sh1.59 trillion in April 2020 compared to Sh1.5 trillion in April last year.
Total supply of money in the economy, M3, which includes all the money in banks, deposits by national and county governments, foreign deposits, long-term deposits, increased to Sh3.7 trillion in the period under review compared to Sh3.4 trillion in April last year.
That banks are swimming in cash can also be seen in the decline in interbank rate, the rate at which banks lend to each. As a result of government's payments and support from CBK, the interbank rate fell to 2.98 per cent on Friday, the lowest since November 15 last year when it was at 2.87 per cent.
In April this year, interbank rate was at an average 5.3 per cent, a slight increase from 3.4 per cent in April 2019.
Banks with insufficient cash reserves to, for example, to pay depositors their money, can now borrow cheaply overnight from those with surplus funds.
Unfortunately, this money is stuck in these bank accounts making the velocity of money, or the rate at which money is exchanged in an economy, to slow down. But that is because people were also not moving.
And as Gerrishon Ikiaria, an economics lecturer at the University of Nairobi, puts it, "economic activities are caused by people moving" from place to place.
The hospitality industry has been the hardest hit by containment measures after the country reported its first case on March 13.
By then, airlines and hotels were already feeling the weight of the pandemic that had already hammered economies in China and Europe.
Official travel figures reveal a grim picture that began to show in March with the number of visitors to Kenya through Jomo Kenyatta International Airport (JKIA) declining by 47 per cent.
April and May's numbers have not yet been released but they were certainly worse after Kenya restricted all international flights into and out of the country. This led to massive unemployment in the travel and hospitality industries as airlines and hotels shut down their businesses.
International travellers jetting into the country through JKIA reduced by 47 per cent to 128,313 in March this year compared to 241,359 in the same month in 2019.
Fewer passengers came into the country from the major airports such as Amsterdam, Dubai, Addis Ababa and Entebbe, affecting the hospitality industry and denying the country critical foreign exchange reserves.
Passengers from Europe, Kenya's main source of tourists, dropped from 46,067 to 24,549.
Passengers from Dubai reduced to 11,820 in the period under review compared to 25,473.
Towards the end of March, Kenya restricted all international passenger flights into and out of the country to curb spread of the respiratory disease.
Loss-making national carrier Kenya Airways was forced to cancel most of its trips even as its workers took a pay cut.
But movement of passengers on SGR was also negatively impacted. Standard Gauge Railways (SGR) passenger revenues in March tanked by 47 per cent after the government began to implement stringent measures aimed curbing the spread of Covid-19.
Latest data from the Kenya National Bureau of Statistics shows that income from passengers that travelled on the new railway in March dipped by to Sh92.1 million as movement of people around the country was restricted.
In March last year, Kenya Railways Corporation earned Sh175.7 million from passengers that used the SGR between Nairobi and Mombasa, as well as from Nairobi to Suswa.
Passenger numbers also dropped during this period with 89,109 people using the service in March compared to 121,237 in the same month last year.