From banks to farms, economy bleeding jobs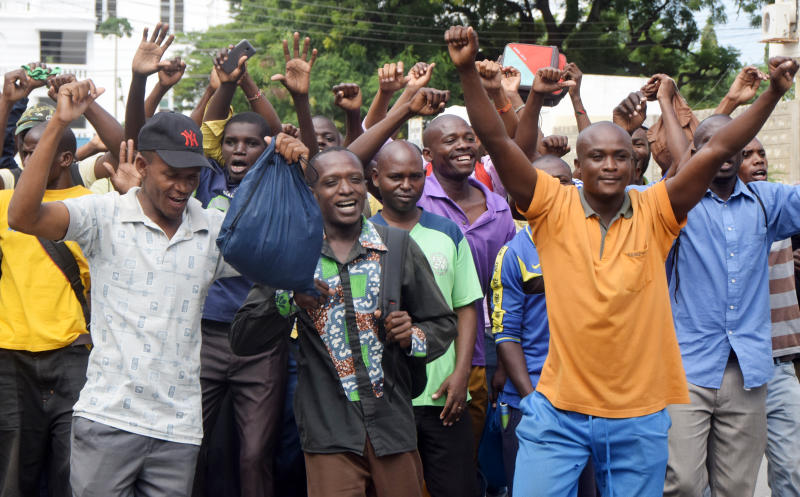 Thousands of people have lost their jobs as private firms either scale down operations or close shop entirely.
The situation has largely been blamed on a harsh economic and policy environment.
A Nairobi-based timber dealer became the latest addition to the long list of companies that have announced job cuts after it announced plans to send home a third of its 3,000-strong workforce.
And it is not just business enterprises that are struggling to retain their employees; non-governmental organisations have also had to resort to layoffs as funding taps run dry.
In the past one month alone, at least 1,000 redundancies have been declared by implementing partners of anti-HIV programmes, including the Liverpool Voluntary Counselling and Testing Centres, as President Donald Trump's protectionist policies take a toll on developing countries.
Slashed funding
The US government has slashed funding for the fight against HIV in Kenya, which has brought with it massive layoffs that are complicating an already precarious unemployment situation.
Through the President's Emergency Plan for Aids Relief (Pepfar), the US has been spending an estimated Sh120 billion a year, and employs an estimated 6,000 people to tackle the epidemic.
But now the sponsor believes the objective has been achieved, and Kenya should be more self-reliant after attaining lower middle-income status.
Partners for Health and Development in Africa (PHDA), an agency working with high-risk population groups such as sex workers, has also ended several programmes as funding taps dry up.
PHDA alone sent 40 workers home in the latest restructuring, as its operations in various towns were withdrawn, according to one of the affected employees.
Other donor-funded programmes have also sharply cut back on their operations and workforce.
Businesses, responding to policy changes and a tough business environment, have desperately restructured their operations to remain afloat, and for most of them, this has meant slashing production and firing workers.
While most of the macro-economic indicators have remained bright, the business environment has slowed down, with the value of what the country produces, or gross domestic product (GDP), in 2019 expected to dip as agriculture struggles.
Moreover, those who have been doing business with the 47 county governments are yet to be paid, with the latest report from the Controller of Budget showing that suppliers are owed Sh35 billion.
Officials at the Labour ministry, which keeps track of employment statistics, said the cut-back from development partners was presenting the biggest headache in this round of ongoing or planned redundancies.
"We have received huge redundancies from non-governmental organisations because the funding is a challenge, especially from the Trump administration," said Geoffrey Omondi, the Labour Commissioner.
Redundancies in donor-funded projects are amplifying the horror of widespread layoffs in the private sector, helped by a shift in Government policies and a tough operating environment.
Mr Omondi said unfair competition from cheap imports, some brought in fraudulently by evading taxes, was killing the local manufacturing sector and had been cited as the reason behind some of the redundancies.
Reasons given for the layoffs include the ban on logging, which has cut supply of the main raw material in the manufacture of wooden products. Cheap imports of furniture made from wood-like substitutes could also have informed the layoffs.
And in Mombasa, a recent guideline on cargo transport threatened to stall the economy of the city, which relies on business from the port, where tens of thousands are employed.
Already, the Ministry of Transport has been forced to withdraw an earlier directive requiring all imported cargo to be hauled straight to Nairobi on the Standard Gauge Railway, in the hope of pacifying Mombasa residents.
About 3,000 direct jobs were lost as a result, with several container freight stations (CFSs) folding up, as well as attendant businesses in cargo handling, which prompted a standoff in the port city.
In a study done by the University of Nairobi School of Business on the impact of moving cargo handling to Nairobi, it was additionally reported that Mombasa lost Sh17.4 billion over the past year.
Recover loans
In Nakuru County, the country's main horticulture hotbed, an estimated 8,300 workers have been laid off in recent months.
Some 6,000 of them were employed in three flower farms, including Oserian and Kongoni River, while another 1,000 working at the stalled Itare Dam have been rendered jobless after the contractor, CMC di Ravenna, went bankrupt.
Another 1,300 employees of two firms, dealing in timber, were rendered redundant following the logging ban enforced in 2018 that is intended to help in forest regeneration.
In western Kenya, all employees of the collapsed Mumias Sugar Company have been asked to go home after the miller was placed under receivership for defaulting on a Sh12.5 billion loan.
KCB, the miller's lender, intends to auction the plant and other assets to recover its loans after giving workers notice to keep off indefinitely, which could as well mean they have been rendered jobless.
And in the betting industry, a dispute over taxation culminated in Sportpesa announcing to its 362 employees that they would be out of their jobs at the end of October.
Betin, another betting giant, opted to bow out rather than stage a fight when the crackdown on the industry began in July. It laid off 400 employees in the process.
More workers are at various stages of being sent home in the corporate sector. East African Portland Cement Company (EAPCC) halted operations after it was unable to compete owing to its obsolete equipment.
And a decision taken by Kenya Railways Corporation to recover its land left at least 50 workers of what was formerly Tilapia Beach Hotel in Kisumu in the cold. Many others who worked for smaller restaurants in the area are yet to figure out where to move next.
Other firms that have declared redundancies include Telkom Kenya, which plans to slash jobs ahead of a planned merger with Airtel; Securex, a security company that recently announced it would lay off more than 200 workers; and Stanbic Bank.
Jacqueline Mugo, the executive director of the Federation of Kenya Employers, termed the retrenchment wave as unfortunate.
"… there are many other enterprises being forced to reduce staff because of the unique business circumstances they find themselves in. The sectors deeply affected are the timber industry, mining sector, manufacturing and the security sector," she said.
Wasted generation
Ms Mugo added that the business environment was not conducive enough to promote the growth of business and create employment, but was actually toxic to existing formal jobs.
"We cannot have a business environment that encourages companies to produce from outside the country and sell products in Kenya," she said.
FKE, added the director, does not support popular and simplistic policies that destroy businesses, a reference to the crackdown by the State on various sectors.
She said the growing rate of unemployment was likely to brew frustration, leading to what she described as a "wasted generation" of well-educated, energetic and ambitious men and women "if we continue down the path we are witnessing, where policymakers are disregarding the voice of employers".
Richard Ngatia, the president of the Kenya National Chamber of Commerce and Industry (KNCCI) – the lobby for businesses – said the Government should create a supporting environment for trade.
Among his proposals are ensuring the private sector has access to financing and the State paying promptly for goods and services procured to ensure businesses are not starved of operating capital.
"We must look at providing solutions for SMEs by addressing their concerns to create and sustain employment. Other governments have managed to support businesses," Mr Ngatia said.
Official data indicates that most of the new jobs created over the years are within the informal economy and small enterprises, which sadly have been worst hit by a lack of credit.