Cotu tussles with State over cement firm's land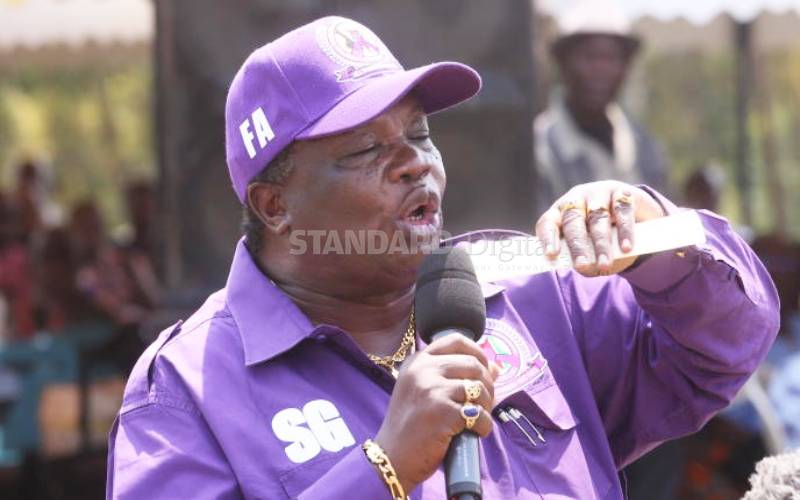 A trade union has opposed the Government's plan to compulsorily acquire 4,272 acres belonging to East African Portland Cement Company (EAPCC).
While detailing reasons for opposing the plan, Central Organisation of Trade Unions (Cotu) said Kenyan workers, who are the majority shareholders at Portland Cement, will be stripped of an important asset.
According to Cotu, the workers own the cement maker through the National Social Security Fund (NSSF).
The Government has said the land in Athi River is marked for two 'Big Four Agenda' projects - affordable housing and manufacturing.
In a letter dated July 11 this year, Lands Principal Secretary Nicholas Muraguri instructed Edwin Kinyua, the Chairman of Portland Cement's board, to surrender title deeds to the land.
"In order to get adequate land for affordable housing development, the Government has identified Land Reference Number 10425 measuring 4,272 acres situated in Athi River," reads the letter seen by The Standard.
"Besides affordable housing, the Government will use part of this land for manufacturing and other urban uses as envisioned in the economic and macro pillar of Vision 2030."
Muraguri said from his ministry's records, the land was leased for a term of 945 years, beginning April 1, 1960, for agricultural use.
Exhausted mines
He argued that Portland Cement started using the land for mining purposes and since the lime stone mines were exhausted, it was time the Government took back the land.
"Government has noted that L.R No. 10425 among other holdings owned by EAPCC has become subject to illegal invasions and unplanned developments," the letter states.
"In this regard, State will team up with the EAPCC management to ensure that all parcels are secured and any plans EAPCC has on the same land are, in accordance with the law, regularised and realised in a coordinated fashion for the benefit of the corporation."
Suspicious decision
Responding to the demands, Cotu Secretary General Francis Atwoli said the decision to force EAPCC to surrender the land was suspicious.
Without providing evidence, Mr Atwoli said some Government honchos want to grab the land for their own use.
"NSSF as a majority shareholder in the cement company with 28 per cent shares was not consulted prior to the Government's decision to acquire the land," Atwoli said.
He noted that any attempts by State to forcibly acquire the land would be met with resistance from the courts.