Cash for elderly going to the rich, says World Bank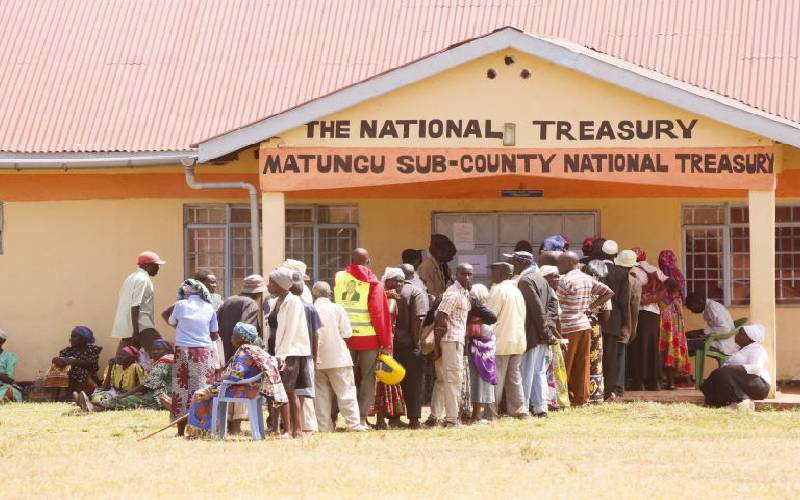 The Government's cash transfer programme to the elderly has been hijacked by the rich, the World Bank has said in a new report.
The Washington-based institution found that for every Sh1 spent on the programme, 73 cents go to the well-off, a situation that has consigned many elderly people to poverty.
"Analysis of administrative data also shows that the elderly in less poor areas were more likely to take up this universal benefit," says part of the Kenya Social Protection and Jobs Programmes Public Expenditure Review report, which was published last month.
The global lender noted that there was a negative correlation between the benefit take-up rate and the poverty rate at the county level.
Started in 2013, the direct transfers to the elderly were aimed at lifting older persons from poverty by giving them cash for basic commodities such as food.
Since its inception to the financial year ending June 2020, the Government has set aside Sh59.6 billion with the objective of cushioning vulnerable older persons against economic shocks.
But the World Bank noted that the cash transfer programme, which initially targeted all persons aged 70 years and above, has a low benefit-to-cost ratio.
The Government has since lowered the age bracket to 65 years, a situation that has seen the allocation increase more than two-fold from Sh7.9 billion in the 2017/18 financial year to Sh17.3 billion in the last financial year that ended in June.
Last year, the World Bank in a different report asked the Kenyan Government to revamp its social safety programmes which also include cash transfers to orphans and persons with disabilities. The Government also allocates some money for the rehabilitation of street families.
The study found that direct transfers had some effect on poverty and inequality.
"The Government of Kenya should consider further expanding direct cash transfer programmes," said the World Bank.
Spillover effect
The global lender has recommended to the Government to consider possible spillover effects of introducing new programmes on existing initiatives, including saving schemes for those who are self-employed.
"Currently a very small proportion, some 400,000, of the nearly 14.1 million self-employed and informal sector workers save in voluntary schemes. Well-designed and regulated savings schemes could help a greater proportion of those currently not covered by any insurance to self-insure," read the study.