Ruto, Raila jointly launch national export strategy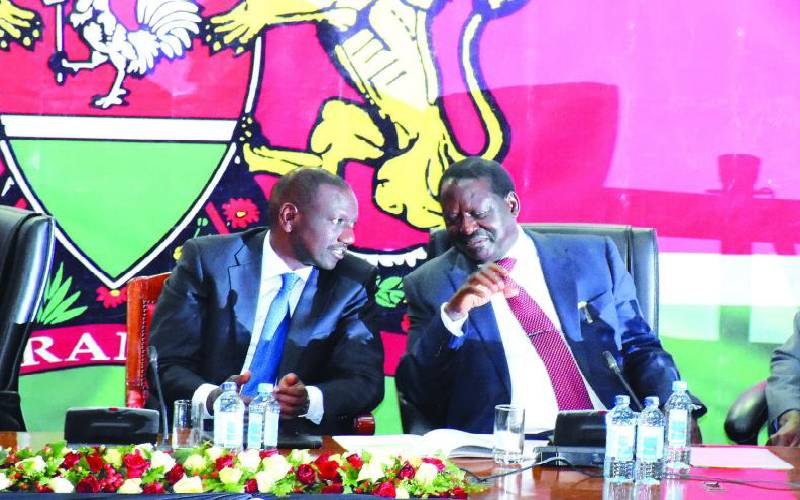 Deputy President William Ruto and Opposition chief Raila Odinga yesterday launched a national export strategy aimed at bridging Kenya's trade deficit.
In a rare public display of unity, the two political rivals sat side by side while launching the policy document dubbed The integrated national export development and promotion strategy.
The event was marked in Nairobi, where the Kenya Trade Week also started yesterday.
Dr Ruto said he was representing President Uhuru Kenyatta while Raila said he was attending in his capacity as Africa's infrastructure envoy.
Ruto expressed concerns about Kenya's trade deficit, saying the country lagged behind. "It is clear Kenya's export numbers are lagging behind; others in the global market," said Ruto, adding: "We need to solve this problem. Our trade deficit is close to a trillion shillings."
Ruto said the policy document would help grow the Kenyan export share as a percentage to the country's Gross Domestic Product from eight to 22 per cent.
Key areas
The strategy focuses on manufacturing, agriculture, livestock, fisheries, oil and gas and handicrafts.
"Let's implement this strategy with urgency and diligence and begin to grow Kenya's economic footprint," said Ruto.
Raila complained about Kenya's energy sector, saying it was hampering investment. He urged the Government to bring the cost of generating energy down.
He noted that value addition on minerals and other commodities could not be done with high power costs.
"To do value addition you need a lot of power. Energy costs currently are too high. When the cost stands at 16 cents per unit, you cannot compete effectively internationally. You cannot compete with someone who pays 3 cents for power," said Raila.
He pointed out the bureaucracy in the energy sector, saying it was chasing away private investors who wanted to generate power.
Little trade
"You've got here an animal called the energy and petroleum regulatory authority. I don't know what it is supposed to regulate. It is actually hampering energy generation in this country," said Raila.
He noted that African countries traded little with each other compared to countries in other continents, blaming the situation on poor infrastructure.
He said the African Union had identified intra-African highways and railways to link the continent and boost trade.