MPs shoot down Senate's request for Sh 25 billion for counties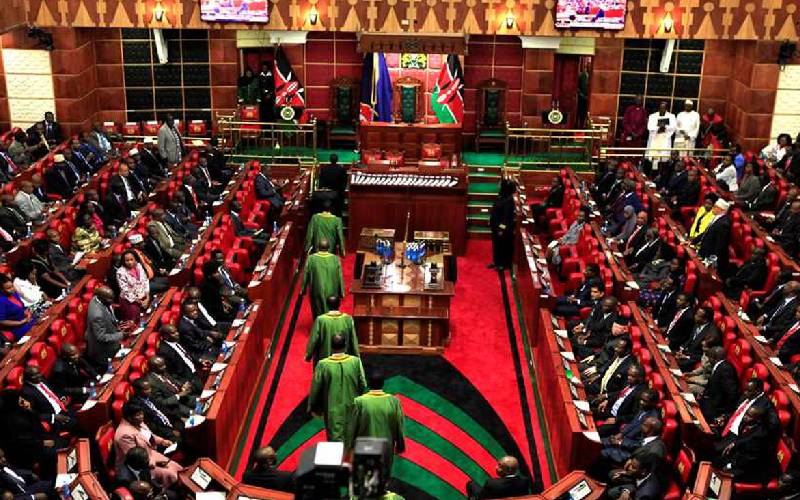 The National Assembly has shot down a proposal by the Senate to grant counties an extra Sh25 billion.
With the deadlock, the two Houses will now form a joint mediation team to hammer out a compromise version of the Division of Revenue Bill.
A standoff on the Bill delays consideration of another legislation that guides sharing of cash among counties and which may plunge devolved units into a financial crisis.
The National Assembly also rejected the amendments to the Division of Revenue Bill where senators want Sh6 billion set as a conditional allocation towards the controversially leased medical equipment.
The House warned that this could see the Government cited for a breach of contract that would be costly.
Devolved units
The Senate had considered the Bill passed to them from the National Assembly, which had pegged allocations to counties at Sh310 billion, but amended the same to have devolved units granted more money.
Additional funds would have raised the revenue to be shared among counties to Sh335 billion.
But yesterday, the National Assembly rejected the proposal even as MPs accused their counterparts of failing in basic principles of budgeting by not indicating where they wanted the extra Sh25 billion to be sourced from.
Budget and Appropriation Committee Chairman Kimani Ichungwa led the House in rejecting the proposed amendments by the Senate.
Ichungwa called on representatives of the two Houses to start mediation.
Reason together
"As much as we understand where the Senate is coming from, being the House tasked with protecting the interests of counties, we must reject these amendments and go for mediation so we can reason together. We will not be going to fight but to reason together," said Ichungwa.
Majority Leader Aden Duale said the budget is tied to the approved policy statement, which has already been passed by the House."Giving counties extra will cause a fiscal deficit."
Minority Leader John Mbadi argued that if the contractual agreement is not met, providers of the medical equipment could move to court and cite the Government for breach of contract, which may be expensive.
Only Kiminini MP Chris Wamalwa and Bomet Central's Ronald Tonui supported amendments made by the Senate.