This is Naushad Merali, tycoon conned Sh10 million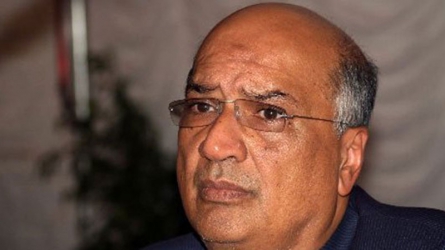 NAIROBI, KENYA: Kenyans woke up on Tuesday to a story, which took many by surprise.
The story was on how men mimicked President Uhuru Kenyatta to con city tycoon Naushad Merali upto Sh10 million
Milimani Senior Principal Magistrate Peter Ooko heard that Sameer Africa Chairman Naushad Merali got a call from 0722 208842 and the caller identified himself as President Uhuru Kenyatta.
The caller had the same voice and tenor as the President.
The court heard that the caller wanted Sameer chairman Merali to give facilitation fees so that 'State House' would assist in purchase of a piece of land.
Mr Merali was not in the country so he directed Sameer Africa Finance Director Akif Hamid Butt to process the money, not knowing that the caller was duping him.
Naushad Merali, an Asian Tycoon is not new to many Kenyans, he is a respected businessperson with interests cutting across many sectors.
An article carried in the standard in 2013 documents how Merali made Sh1.6 billion in an hour.
The story notes that since the days of KenCell, Airtel and Kenya Data Networks and SwiftGlobal, Merali has been able to get his timing right and make billions.
For instance, Merali owned 40 per cent of Airtel (then KenCell Communications), with French firm Vivendi owning 60 per cent in 2000. When his French partner decided to call it quits three years later, Merali used his pre-emption rights to play one of the smartest boardroom games in Kenya's corporate history, which pitted a number of telecom giants against each other for Vivendi's stake.
In one of Kenya's most fabled business coups, Merali convinced Vivendi to sell him its 60 per cent stake in KenCell for $230 million in 2004. An hour later, he flipped it to billionaire Mo Ibrahim's Africa-focused Celtel for $250 million.
In 2008, he sold half of his 40 per cent shareholding to Zain and later reduced it to five per cent, selling his 15 per cent stake in 2009. Zain in June 2010 sold its African interests to India's Bharti Airtel.
Merali also owned Kenya Data Networks through his investment vehicle Sameer ICT, which in 2008 owned 96 per cent of the firm while its former CEO, Kai Wulff, held a four per cent stake.
Altech bought a 51 per cent share in the company in a deal estimated to be worth Sh5.2 billion in the same year, before increasing its ownership to 60.8 per cent in 2009.
And early 2013 when South Africa's Altech announced that it had sold its 60.8 per cent stake in KDN and 51 per cent stake in Swift Global to Liquid Telecom, Merali also sold his shares, reducing his interest in the Kenyan IT sector significantly.
He ceded a 19.2 per cent stake in KDN, leaving Liquid Telecom with 80 per cent of the data carrier firm.
Merali, who held a 39.2 per cent stake, cut his ownership in the company he helped establish to 20 per cent for an undisclosed fee. He has also ceded a 49 per cent stake in ISP Swift Global for an undisclosed fee. Altech owned 51 per cent of Swift Global while Merali held the remaining share.
Liquid operates fibre infrastructure, primarily in southern and central Africa, and is majority owned by Econet Wireless, the company founded by Zimbabwean telecoms tycoon Strive Masiyiwa.
Masiyiwa is not new to Kenyans. He won the rights to launch the country's third mobile phone network in 2003 under Econet Kenya, and in 2008 sold his stake to India's conglomerate Essar, which launched yuMobile.