Tale of grain spaces leased out to private traders as neglect hurts food basket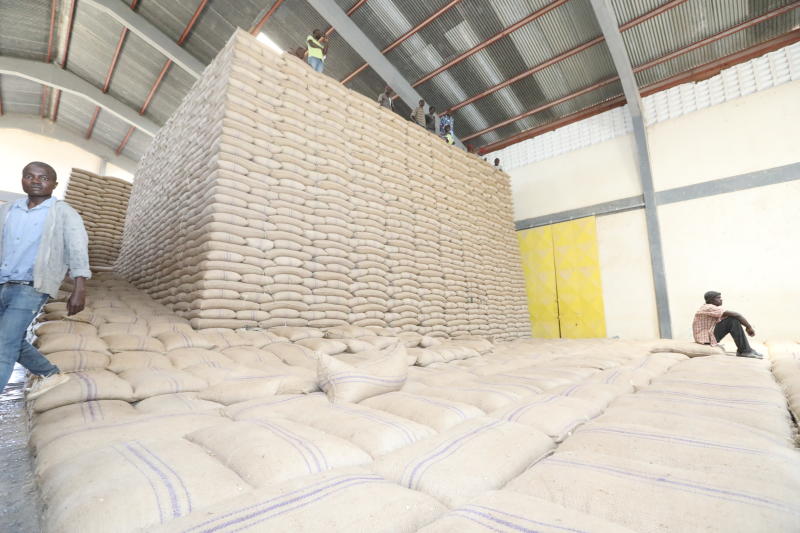 Grain storage facilities owned by the government and run by the National Cereals and Produce Board (NCPB) are in a deplorable state, with many of them falling apart due to years of neglect.
Roof leakages, poor ventilation and a general lack of care for the stores that house Kenya's strategic reserves have become an unwelcome hallmark for the facilities, Saturday Standard has established.
At full capacity, the stores can hold up to 1.6 billion kilogrammes of maize. But currently, the combined available space for storage stands at around 270 million kilogrammes, the rest of the space leased out to competing private grain handlers as well as other businessmen.
Unsuitable stores
In some instances, leased out warehouses have been turned into supermarkets by savvy businessmen who pay a monthly rent to the cereals body. Warehouses and stores still under NCPB use are in such bad condition, unsuitable for the longterm or short term storage of grain, compromising the quality of the maize and endangering the lives of Kenyans.
In our investigations, we have learned that about half of the space owned by NCPB had been leased out to individuals and businesses who are now using them for various activities such as supermarkets and schools.
Spot checks indicated that some facilities, built in the 1970s and 80s are in a sorry state of abandonment, with some leaking roofs posing great risk of food contamination.
Every year, millions of bags of maize go to waste as a result of the deplorable state of the storage facilities. Kenya Farmers Association Director Kipkorir Menjo says some NCPB depots in the North Rift region were the reason why farmers and the country incurred huge post-harvest losses. He says the stores and warehouses have been neglected since the 1990s.
"We live here, we know the stores have never had renovations or facelifts. What kind of government neglects its granaries and expect to have food security in the country?" asked Menjo.
According to NCPB Corporate Affairs Manager Titus Maiyo, there are about 18 stores in the country. They are in Nairobi, Maralal, Eldoret, Kisumu, Naivasha, Ol Kalau, Kakamega, Bungoma, Nakuru, Thika, Mombasa, Voi, Mosoriot, Migori and Kericho.
Othere are in Kisii, Moi's bridge, Kitale, Narok, Nakuru, Nyahururu and Embu, all with a capacity to hold nearly 19 million 90-kilograme bags.
"The silos in Nakuru, Eldoret, Nairobi, Kisumu, Moi's Bridge and Bungoma are temporary storage as maize and other cereals are not supposed to stay for more than six months given that they do not have a proper aeration at the facilities," said Maiyo.
The Saturday Standard has also notably learned that most of the stores do not have running, functional dryers, with maize easily going bad as NCPB officials watch.
Former Eldoret South MP Joseph Misoi hinted that the stores were last given a facelift more than two decades ago despite serving as the country's strategic food reservoirs.
"I have lived here for years but I have never seen the stores painted or given a face-lift. They have been neglected and yet they are stocked with thousands of bags of maize and other produce," said Dr Misoi.
Some facilities leased out are being used by business people dealing in grains as farmers incur heavy post-harvest losses due to lack of storage facilities. Majority of maize producers are currently staring at heavy losses as they embark on harvesting the current season's produce.
Huge stocks
NCPB did not mop up the entire maize harvest from the last season, leaving many maize farmers, majority of them large scale producers, with huge stocks in their stores.
As a result, farmers have had to sell off their produce to middlemen at throw away prizes to at least recover some of the money they invested during the planting season. Many farmers in Trans Nzoia County lack storage facilities, a situation that forces them to sell their grains at throw away prices to curb loses.
"Most farmers lack stores to stock their maize and wait for stable prices. We don't know why the board leased out the stores to private individuals instead of allowing farmers to use them," argued rights activist Kefa Were.