Governor Kingi, MPs call for disbandment of NLC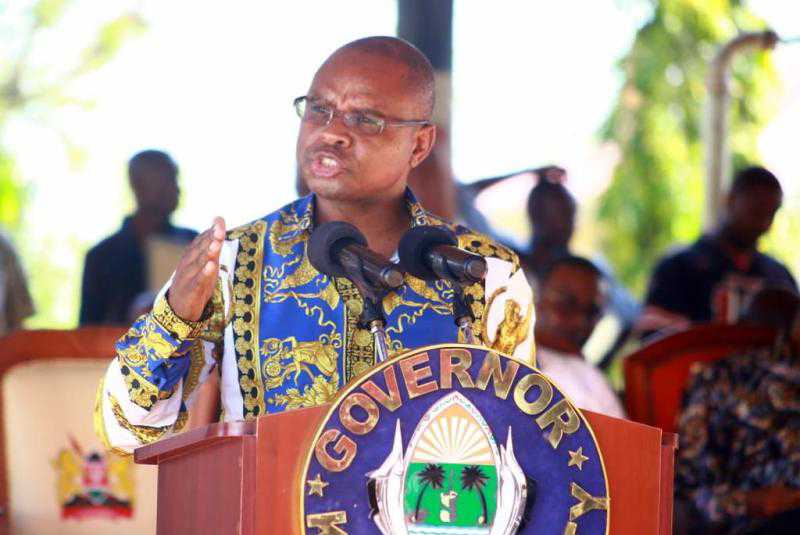 Governor Amason Kingi and some leaders from the Coast have said the land commission had turned to be a "frivolous entity" and should be disbanded.
Mr Kingi said the National Land Commission (NLC), which was formed in 2010 after the promulgation of the Constitution, had failed to tackle historical land injustices facing the Coast region.
In a scathing attack on the NLC whose chairman, Prof Muhammad Swazuri is facing corruption-related charges, the leaders said the commission lacked the zeal to fight land injustices.
Kingi is the proponent for the implementation of the Truth Justice and Reconciliation Commission (TJRC) report on land injustices.
"One of the reasons why Coast advocated and voted for the 2010 Constitution was because it had a clause that was dedicated to solving land disputes. But since the formation of NLC, there is absolutely nothing we can say it has achieved," said the governor, during the Mashujaa Day celebrations on Saturday.
He cited the 900 acres Agricultural Development Corporation land in Magarini where 40 residents and a member of the county assembly were arrested for invading the land as some of the cases it had forwarded to the NLC for amicable solution.
Kilifi, Mombasa, Kwale and Taita Taveta has in the recent past witnessed increased cases of land invasions by squatters claiming ancestral ownership.
Leaders now say the heightened tension across the region over the resource was a clear testimony that the NLC had failed.
County Commissioner Magu Mutundika called for the overhaul of NLC to enable it solve land injustices.
Kilifi North MP Owen Baya said land rights at the Coast had become evasive since independence, laying the blame on absentee landlords.
Mr Baya noted that absentee landlords own huge tracts of lands and it was high time the Government reverts the land back to the community.
"Our fight for land will not stop until our people get their own land. Why are we still fighting for land rights many tears after independence? Our people are still squatters," he said.
Kilifi Senator Stewart Madzayo threatened to name and shame prominent politicians who had he accused of grabbing land in the 900-acre ADC land.