How British fund shot itself in the foot in Sh14b ARM venture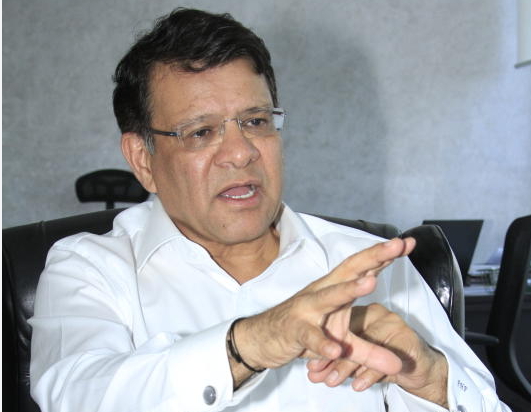 A development finance institution owned by the UK government through the Department for International Development was scouting for cement firms in Sub Saharan Africa when they came across Athi River Mining (ARM) in Kenya.
ARM had positioned itself for the regional market with a strategic clinker outfit in Tanga that would give the company leverage to sell raw materials in Kenya and the East Africa region including Rwanda, Burundi and the Democratic Republic of Congo.
"Tanga is a strategic investment 606km from Athi River which is where all the grinding plants are. It is 380 kilometres from Dar es Salaam where our other plant is and it is 178 kilometres from Mombasa market. Tanga itself has its own market which can supply the lake zone to the central part of Tanzania," said then ARM Managing Director Pradeep Paunrana.
"In this business, in the long term you can make a good margin if you are a clinker producer. We have already made that investment," he said.
The capacity of Tanga is 1.2 million tonnes of clinker. Kenya and Uganda between them imported 2.7 million tonnes of clinker in 2017 while Tanzania has banned clinker imports, giving it massive potential.
Thus, Commonwealth Development Corporation (CDC) decided to buy a 42 per cent stake in ARM in April 2016 for Sh14 billion when the company's shares were trading at Sh37, with a market capitalisation of Sh35 billion.
Challenges
What followed was strategic missteps, boardroom wrangles and unprecedented policy challenges that hit the Tanzanian business and sent ARM into administration just two years later.
In a steep descent, the share price hit a one-year low of Sh2.40 and was later suspended from trading at Sh5.50, with the firm's market capitalisation of Sh5.3 billion putting the CDC investment at about Sh2.2 billion.
In April 2018, the plan was to spend Sh11 billion to restructure debts and invest Sh3 billion in the business in capital expenditure, especially at the Tanga plant so that returns would flow back into the business.
CDC had even identified Kitui County as a potential location for a new plant as well as pursuing its interests in Ethiopia and Rwanda.
However, by October when the money came in, things changed.
CDC wanted to change the terms of a six-year convertible note from Nigeria's Africa Finance Corporation (AFC) which would translate to about 13.2 per cent equity and thus water down the CDC stake.
"CDC felt the 13.2 per cent was not good for their shareholders as it was akin to free equity so they asked AFC to give up their rights," Mr Paunrana told Weekend Business.
At the time, the AFC facility was Sh5 billion but jumped to Sh6 billion on penalties. So Sh2 billion of the CDC funds first went to AFC, leaving Sh12 billion.
"Whilst our debt was reduced by Sh14 billion from new share issue to CDC Group in September 2016, we began the last quarter of 2016 with a net debt of Sh25.5 billion. In the three months to December 2016, the net debt had decreased by Sh12.3 billion," the firm said in its annual report.
"We began the year 2017 with a net debt of Sh13.2 billion and net assets of Sh27.7 billion."
During the period Stanbic Bank had extended a Sh3 billion unsecured loan to ARM on expectations of the proceeds, and was now exposed. There was also no money to go into capital expenditure, improvement of plants or working capital.
Then ARM sought to engage a development finance institution (DFIs) to help it restructure the debts but the conditions were unpalatable to CDC.
"CDC wanted to do their own fundraising, but as time went we had the short repayment schedules piling," Paunrana said.
Banned imports
Tanzania banned coal imports and at the time there was only one coal mining plant in the country, which cut the supply of the crucial component and reduced the capacity of the Tanga operations.
"Cash flow deteriorated and working capital went down (such) that we could not pay Stanbic," said Paunrana.
In March this year, the management went back to CDC for support but the British firm was not willing to buy more equity so they urged ARM to go back to the DFIs.
Between May and June, the management put across a proposal for restructuring loans by cutting at least Sh5 billion and improving Tanzania's cash flows but the talks fell through in the second round.
In June, the cement maker defaulted on interest payment on a privately placed bond worth Sh389 million issued in 2015.
CDC then took matters into their own hands and decided to negotiate terms directly with the lenders, bring in new management and recover operations.
The firm had already brought in turnaround managers to save their investment that had shrunk over 90 per cent in just three years.
CDC had replaced Ketso Gordhan and Pepe Meijer with Sophia Bianchi and Rohit Anand in the board of directors.
"The replacement of two board nominees…bring in substantial experience in turnaround situations and financial restructuring in emerging markets," the board said in a notice.
Further changes saw Paunrana pushed out and former media executive and businessman Linus Gitahi take over as chairman.
Deputy Managing Director Surendra Bhatia had been primed for retirement and CDC also tapped ex-Lafarge executive Thierry Metro as a non-executive independent director to its board.
This capped the turmoil at the cement firm's boardroom which had seen long-serving executive director Rick Ashley - who was chairman and CEO at some point - resign in May this year, while company secretary Ramesh Vora also left in April after serving for more than 24 years.
Things looked to have turned a corner with a letter stating that the negotiations with the lenders had been successful.
Irked lenders
But that was just the calm before the storm. Apparently, the fine print of restructuring irked the lenders.
Under the terms, CDC would put in money but as a shareholder loan which they wanted to ring-fence, giving the facility a Super Senior Security status which would rank above the existing lenders.
"They had failed to agree on the terms and the lenders for the Kenyan debt - not the Tanzania debt - decided to call in an administrator, PricewaterhouseCoopers (PWC), to protect their investment under the Insolvency Act of 2015," said Paunrana.