How China is feeding off poor Africa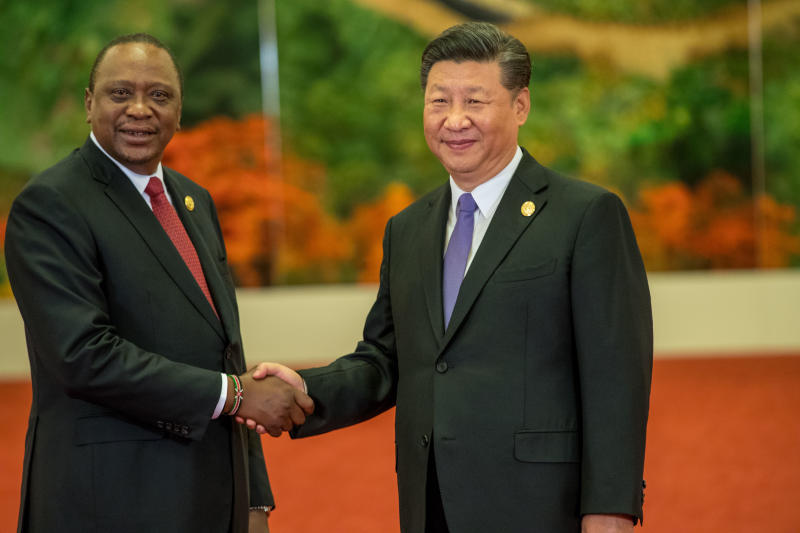 Last week marked a major milestone, or millstone - depending on where one's seat at the table is positioned - in the country's relationship with China's bank managers.
After the latest round of loan talks held in Beijing, Kenya's debt stock to China crossed the Sh1 trillion mark.
This could easily grow by another Sh200 billion should Chinese leader Xi Jinping sign off on President Uhuru Kenyatta's request to finance the Naivasha-Malaba railway line.
But not everything is rosy in this credit-fuelled affair. Kenya is the third biggest borrower from China in Africa and the strain of the mounting debt is showing.
In fact, public outcry is still reverberating following the Jubilee government's widely unpopular decision to impose a 16 per cent levy on petroleum products to fund the ballooning budget deficit.
China has been on a massive lending spree, gifting it an iron grip on Kenya and other African countries that collectively owe the Asian giant more than Sh20 trillion.
Benefits accrued from the extensive loans are massive, including a guaranteed market of a billion people and huge interest on the debt – which is often extended in kind rather than in cash.
World's factory
China has ensured jobs for its massive population - often referred to as the world's factory - who are engaged in manufacturing everything from toothpicks to, lately, aeroplanes.
Through debt, the economic giant has used its soft power to gain unfettered market access and craft predatory trade agreements that have encouraged importation from its factories at the expense of local industries.
And the debt burden lies crushingly heavy on Africa.
Kenya, for instance, will pay Sh122 billion - the equivalent of one-and-a-half-year's national healthcare spending, in interest between now and 2021.
Over that period, the actual loan repayment is only marginally different at Sh139 billion, confirming that China is assured of reaping big over the long term.
Faced with the reality that debt repayment is becoming unsustainable, Kenya has considered going slow on direct borrowing and opted for private-public partnerships (PPP).
National Treasury Principal Secretary Kamau Thugge told The Standard that the Government would create an enabling environment for private investors to put up mega projects on a build-operate-transfer structure.
Here, the investor will own the assets, including roads, for some years during which time they will charge users to recoup their investment.
Debt distress
"It is the only way we will avoid debt distress," Mr Thugge said.
Already, major concerns are emerging whether Africa can repay its loans and what would follow in the event of defaulting.
Djibouti, which is already in debt distress, is considering handing over several assets to China for a part waiver of loans that are equal to the tiny country's gross domestic product (GDP).
Surprisingly, despite the huge profits earned from lending to Africa's poorer countries, there are hardly any grants and donations from the world's second largest economy.
The United States remains the biggest donor to the continent, according to the China Africa Research Initiative (Cari), which analyses economic relations.
Cari reports that Angola has received more than Sh4.2 trillion in loans from China since 2000, with most of the funds invested in roads and railways.
After emerging from the civil war in 2002, China saw an opportunity to rebuild the war-ravaged southern African nation that still has huge crude oil reserves. Today, Angola remains the second largest exporter of crude oil to China, behind Russia.
China is the largest crude oil importer in the world at 8.4 million barrels a day, which indirectly gives it the power to determine pricing. A depressed market for crude oil has kept prices low and exposed petroleum-reliant countries, including Angola and Venezuela.
South Sudan President Salva Kiir is reported to have sought loans from China, in exchange for crude oil, to rebuild his fledgling country's tiny economy after emerging from years of ruin.
South Sudan
Already, South Sudan owes China nearly Sh19 billion despite being in existence since 2011. The nation could be borrowing a leaf from Ethiopia, whose economy has been fired up by Chinese loans, currently worth about Sh1.4 trillion.
Ethiopia is the second most indebted country to China in Africa, with billions invested in several major projects, including an electric railway line and power generation plants.
Her 100 million-plus population is the dividend that China is eyeing as a major market for its manufactured goods.
Then there is Kenya, which is also banking on its nascent crude oil production to lift it from economic doldrums in the near future.
However, economists are already warning that the country could be indebted to the Asian dragon for decades.
David Ndii, the managing director of Africa Economics, thinks the country is already in debt distress as there is no realistic means of repaying the loans, especially to "ruthless" China. His fears are premised on the widening funding gap where local revenues are only able to cover about two-thirds of the national budget.
New data compiled on the level of Chinese debt held by all African countries indicates China has grown the level of debt to the continent more than 30 times over the last 11 years.
Total value
In 2006, the total value of Chinese debt held by Africa stood at Sh500 billion. Last year, this figure rose to Sh14.3 trillion, raising concerns that African governments were shackling their citizens to crippling Yuan debt for generations to come.
And during last week's Forum on China-Africa Cooperation economic summit held in China, the Asian economic powerhouse pledged another Sh6 trillion in loans to African governments.
Uhuru, who signed on an additional Sh230 billion in loans and grants, sought to downplay the new loans, stating the funds would be disbursed through PPP concessions.
"The new partnerships will fast-track Kenya's desire to shift away from pure debt financing, with new emphasis being placed on PPPs and the need to explore innovative off-balance sheet financing for the country's infrastructure needs," he said.
The arrangements will see Chinese companies build major highways in north-eastern Kenya under the Government's roads annuity programme. These include the Modogashe-Habaswein-Samatar and Elwak-Rhamu roads, which are estimated to cost Sh15 billion.
Other projects lined up include a 30km expressway running from the Jomo Kenyatta International Airport to Westlands in Nairobi, and the development of the Dongo Kundu Industrial Special Economic Zone in Mombasa.
However, recent cases of countries having to surrender crucial infrastructure or making trade concessions with China in lieu of debt repayments have stirred debate about the underlying motives behind debt diplomacy with Africa.
A study by the Centre for Global Development found that 23 out of the 68 countries roped into China's Belt and Road Initiative are in significant debt distress.
"The primary concern is that an $8 trillion (Sh800 trillion) initiative will leave countries with debt 'overhangs' that will impede sound public investment and economic growth more generally," explains the study in part.
"There is also concern that debt problems will create an unfavourable degree of dependency on China as a creditor."
Industrial estate
Last year, Sri Lanka handed over the Hambantota Port and parts of the surrounding industrial estate built through opaque Chinese loans after the country was unable to make repayments.
An investigative report by the New York Times (NYT) found that former Sri Lankan President Mahinda Rajapaksa borrowed more than Sh100 billion from China despite feasibility studies indicating the port was not economically viable.
The investigation found that China further advanced funds to President Rajapaksa's re-election campaign with strict conditions.
"Initially, moderate terms for lending on the port project became more onerous as Sri Lankan officials asked to renegotiate the timeline and add more financing," reads the NYT report in part. "As Sri Lankan officials became desperate to get the debt off their books in recent years, the Chinese demands centered on handing over equity in the port rather than allowing any easing of terms."
The United States government has begun paying closer attention to China's debt windfall on the continent driven by the fear of the Asian dragon encroaching on the interests of American companies and security bases.
Last month, 16 senators wrote to the US secretaries of State and Treasury asking the government to leverage on its strategic influence through the International Monetary Fund (IMF) to counter China's growing influence.
"As financially strapped countries negotiate with China to free themselves of mounting debt, Beijing has extracted onerous concessions, including equity in strategically important assets," said the letter in part.
"Further, Beijing has repeatedly used economic pressure to affect foreign policy decisions."
The senators cite the example of Djibouti where Chinese loans amounting to more than Sh140 billion are now the equivalent of 75 per cent of the country's GDP, pushing the tiny country at risk of default.
"As Djibouti increases its dependence on China, there are fears that China will gain control of the Doraleh Container Terminal, further consolidating China's influence in the critically strategic region," said the senators.
They are now mulling over introducing new conditions to countries seeking IMF bail-outs to pay Chinese loans, a policy that would constrain the nations' cash flow and potentially limit uptake of additional Chinese debt.