President Uhuru Kenyatta bags Sh24b investment in US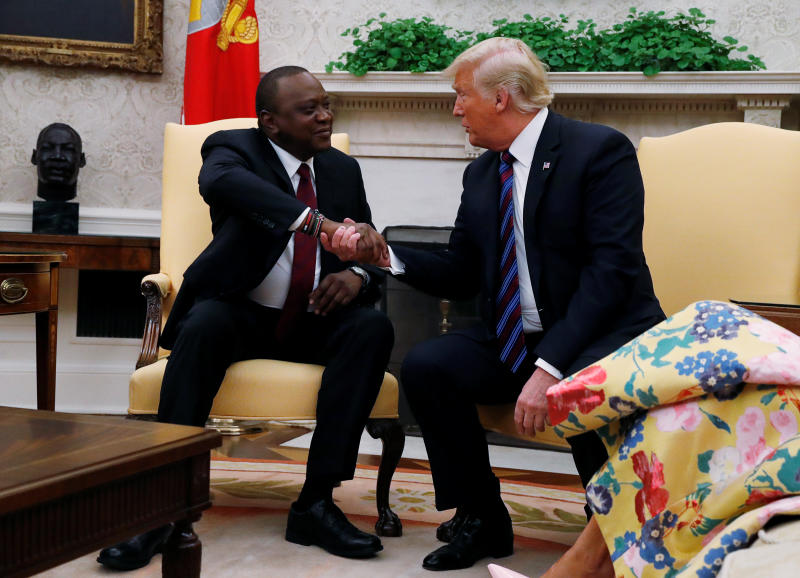 WASHINGTON,US: Two US companies have agreed to invest $238 million (Sh24 billion) worth of projects in Kenya targeting energy and food security even as US President Donald Trump hailed ties between the two countries as "tremendous."
Trump said the trade ties were getting "bigger" and some "excellent deals" for both countries were in the offing.
"We have a tremendous relationship with Kenya. We have terrorism, a lot of trade, getting bigger all the time we are working on a major infrastructure project, a massive roadway that will be record-setting. We are going to conclude a lot of things, we have the president's representative in the next room and we are going to be making some excellent deals for both countries," he said.
Trump was lobbying to have a US firm - Bechtel - to be awarded contract for the construction of Sh380 billion six-lane Mombasa-Nairobi expressway.
President Uhuru Kenyatta said his meeting with Trump would renew and further strengthen ties especially in trade and investment.
"Kenya and the United States have had strong solid relationships ever since our independence, we are here to renew that partnership and strengthen it," he said.
President Kenyatta said that the US had helped in the fight against terrorism.
"I believe we will have very fruitful discussions," said Kenyatta.
The US Overseas Private Investment Corporation (OPIC) and Kipeto Wind Energy Company closed a $232 million deal securing funds that will ensure a 100-megawatt grid connected wind power plant in Kajiado is set up and operationalised.
The plant is tipped to add a more reliable source of energy to the national grid.
The second agreement was signed President Kenyatta met business executives of top US companies under the umbrella of the Business Council for International Understanding (BCIU).
A $ 5 million letter of commitment in financing to expand the distribution network of Twiga Foods and improve food security and agricultural wages in Kenya.
It was signed between Twiga Foods and OPIC, a US government agency.
Dr Kenneth Namunje and Grant Brooke signed for Kipeto Energy and Twiga Foods respectively while Ray Washburne, the President and Chief Executive of OPIC signed on behalf of his organisation.
President Kenyatta reiterated his administrations' commitment to removing barriers impending their business operations in Kenya.
"Kenya is open for business and all we want to do is package our partnership in a way that it is mutually beneficial to you as a private sector and the people of Kenya," he said.
The President welcomed more US investors to set up shop in Kenya so as to benefit from the opportunities created by the infamous Big Four projects.