Eight directors implicated in Kenya Power scandal freed on bail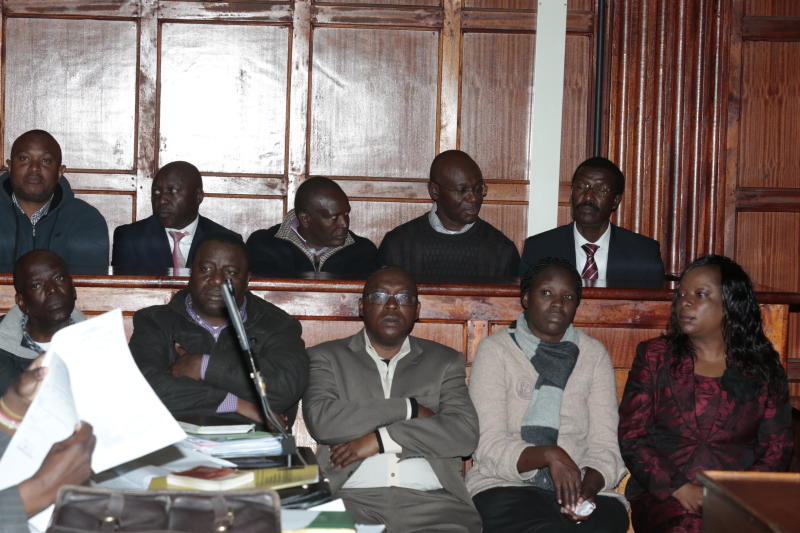 The second batch of directors of business enterprises accused of being part of the loot at Kenya Power have been charged.
The directors and their companies were charged with various counts of receiving millions of shillings from the power utility company through irregularly tenders for supply of labour and transport services.
Hillary Njaramba and his company Touchline Electrical Limited were accused of receiving the bulk of the amount where it was alleged that he fraudulently obtained over Sh8 million public properties.
"On diverse between April 12 2017 and June 12 2018 in Nairobi fraudulently obtained public funds of Sh8, 333,933 from Kenya Power and Lighting Company Limited having been irregularly prequalified for labour and transport services tender," read the charge sheet.
Petty Wanjiku and Francis Thuku and their company Mint Ventures Limited were the second to be charged for irregularly obtaining Sh1, 702,208 from Kenya Power for provision of Labour and Transport services.
The third company, Appenco Holding Limited through its directors Samuel Gichini and Charles Muthui were also in the list where it was alleged that they received Sh231, 107 from the power firm.
Jason Mwarara, Jeremiah Onduko, Jane Wanjiku, James Ogechi and their company Jake Building and Construction Limited also did not escape and faced charges of receiving Sh623, 960 through irregular tenders.
Stephen Njoroge, Alice Wanjiku, Raphael Matheri through their company Wachema Investment Limited were said to have received Sh623,960 while Catherine Wambui, Jackline Wanjiru, John Waweru and their company Kazimix Enterprises Limited received Sh1,413,492.
Also in the list were Catherine Wamarwa, Catherine Wanjiku, Christine Nyawara and Edwin Macharia and their company Millous Enterprises Ciompany Limited which received Sh1, 413,492. Susan Wanjiru, Linet Njeri and the company Petsus Investments Limited also received Sh112, 483.
The accused persons denied the charges before anti-corruption principal magistrate Lawrence Mugambi who released Njaramba on Sh800, 000 cash bail while the rest were granted Sh400, 000 cash bail.
They joined former KPLC Managing Directors and Chief Executive Officers Ken Tarus and Ben Chumo who were last week charged alongside other former senior officials with conspiracy to defraud over Sh750 million.
The senior officials faced other charges of abuse of office, wilful failure to comply with procurement rules and conferring benefit to companies that supplied sub-standard transformers.
The other top officials charged were then Commercial Services Manager K.P. Mungai, Finance Manager Joshua Mutua, ICT Manager Abubakar Swaleh, Regional Coordination Manager Samuel Ndirangu and Supply Chain Manager Stanley Mutwiri.
Others were General Manager Finance Harun Karisa, General Manager Network Management Eng Daniel Tare, Manager Network Management Noah Omondi, and Ag General Manager Supply Chain Daniel Ochieng, Manager Labour and Transport Project Eng John Mwaura, Chief Accountant James Muriuki, and Tender Opening Committee Members Bernard Githui, and Evelyne Amondi.