Groups clash over management of public toilets in Nairobi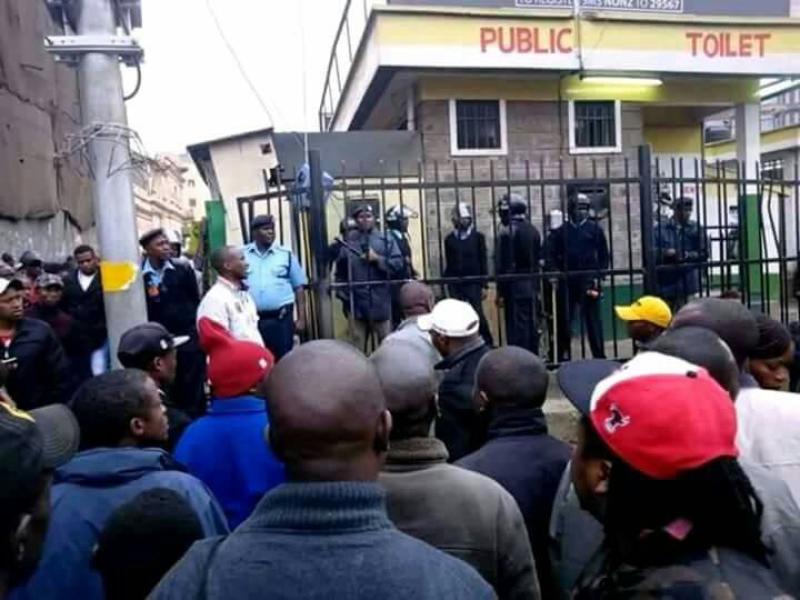 NAIROBI, KENYA: The scramble for a piece of the lucrative public toilets business in Nairobi County played out as operators clashed with youth groups over who should run the amenities.
Nairobians were on Wednesday unable to access the toilets in the CBD after armed police officers were deployed to prevent rowdy youth from accessing the facilities.
The officers locked down toilets in OTC, Muthurwa and Machakos country bus much to the furore of city residents.
Initially, the youth groups had taken over the running of the facilities but the operators went to court and obtained a court order ordering the police to ensure criminal gangs did not take over the facilities.
In a court order seen by The Standard, the high court ruled that the operators of the toilets who were identified as Alika designs and cleaning services limited, Twenty four seven ventures limited, Marafiki Sacco society limited, Chege Mwangi, Joseph Karanja and George Kariuki should regain full control of the amenities.
"It is ordered that officers commanding stations at central and police stations provide back up to the 1st defendants and effect the order by preventing criminal gangs from taking over the suit premises pending hearing and determination of the suit," read the court order in part.
Chairman of the Public Toilets Operators Association of Kenya, Tom Mkamale said that the youth had in the recent past forcefully taken over the toilets thus the move to seek legal redress.
"Goons took over the facilities illegally prompting us to move to court. The police were deployed to effect the court order by removing the gangs," he said.
The early morning incident had created confusion with many taking to social media where they speculated that the County Government had taken over all the 68 public toilets.
County Environment Executive, Larry Wambua however set the record straight, saying that city hall was not involved in the managerial wrangles.
"The conflict was between the operators and youth groups and the police were simply doing their job. We were not directly involved in the wrangles," added Wambua.
A fortnight ago, Governor Mike sonko threatened to repossess all 68 public toilets due to internal conflict among the operators.
He said that he would contract a firm to run the amenities consequently making the usage of the toilets free for city residents.
Mr Wambua confirmed that City Hall was in the final stages of contracting the firm and it would clearly inform Nairobians once the same was complete.