KQ to restart controversial fuel hedging policies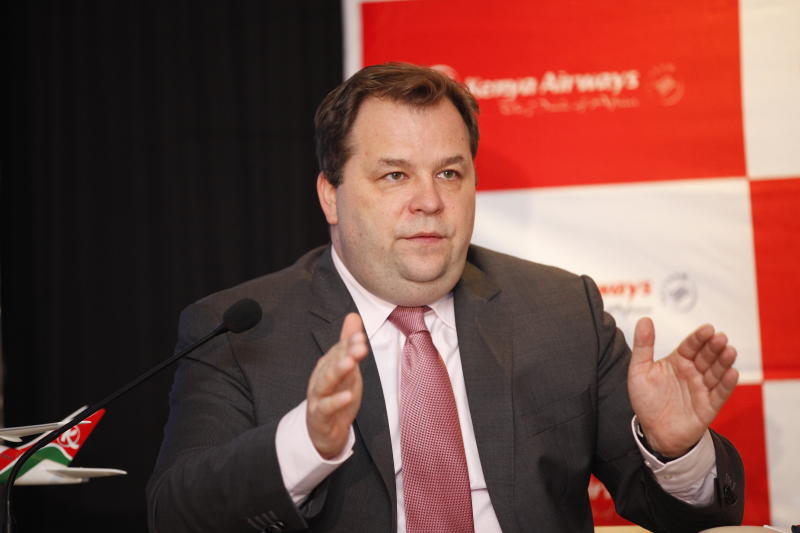 Kenya Airways will start implementing policies aimed at cushioning it against spikes in fuel prices.
The national carrier Friday said it would later this year start hedging against fuel prices, which it said would help reduce its exposure to rising cost of oil.
Global oil prices have been on a general upward trend over the recent past and is currently trading at a four year high of $74 per barrel.
Fuel price hedging is a contractual arrangement that heavy consumers of fuel get into with suppliers, guaranteeing supply at a particular price regardless of an increase or reduction in prices.
"We are looking at restarting our hedging policy. This is an issue already being discussed by the board and we have started making technical preparations… by the fourth quarter of this year, KQ will start opening hedge policies again," said Kenya Airways CEO Sebastian Mikosz, who spoke yesterday after the airline's Annual General Meeting with shareholders.
"Starting last year, the volatility of fuel prices has been tremendous. Last year, at a time like this, fuel prices were at about $52 and this morning, they had touched $72. This means that our fuel costs have gone up by 25 per cent."
KQ has in the past employed hedging techniques and experienced both gains and losses due to volatile oil prices.
It for instance lost Sh7.4 billion in the year to March 2015 to oil hedging contracts, which reduced to Sh4.1 billion in the year to March 2016.
This came after oil prices fell to under $30 per barrel in 2016. Before then it had made gains, with the highest gain in the recent past being in 2012 of Sh2.5 billion. After 2016, the firm put on hold fuel hedging but over the two-year period since then, oil prices have been on a steady climb.
Fuel is the largest cost component for the airline and accounts for between 25 and 30 per cent of its operating costs.
"Hedging should always be considered a cost and goes to guarantee us of fuel and at a stable price," said Mikosz.
"It is an emotional and sensitive issue in the airline industry because it is perceived as a gamble. For me, it is not gambling but a lean mean conservative policy of insuring our business against sudden rise in fuel prices. We are allocating proper techniques and money to protect ourselves."
At the same time, the airline said it is embarking on negotiations with the Kenya Airports Authority (KAA) on a proposal to jointly run the Jomo Kenyatta International Airport (JKIA).
KQ chairman Michael Joseph said following the Cabinet approval, officials from the airline and the airports' operator would now negotiate and structure a deal on how to manage the airport. He said in addition to responding to issues emerging at the airport fast, a partnership would enable KQ operate on a level field with some of its competitors that have similar arrangements with airports in their home countries. Such include Ethiopian Airways as well as Gulf carriers.
"The proposal has been approved by Cabinet and now we have to enter into negotiations with KAA. The reason we have proposed is because for KQ to grow, we need to compete on a level playing field with our competitors. With such a partnership, there are significant synergies and it would mean a stronger KQ and a better airport," said Joseph.