Wasted labour: Farmers lost over Sh150 billion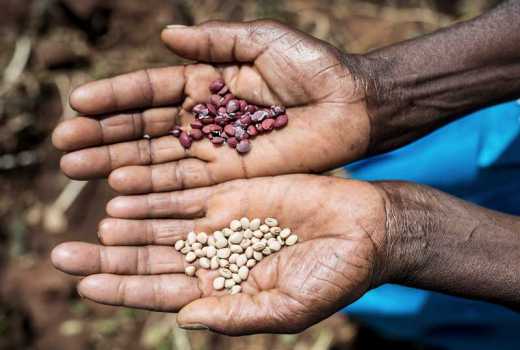 In 2017, Sh150 billion worth of food went to waste, tossed out or left to rot, a report that tries to track food waste has said.
According to the National Bureau of Statistics (KNBS), farmers lost earnings as they struggled to manage, store, and transport their produce to the market.
The growers lost over 1.9 million tonnes of food, even as millions of Kenyans grappled with starvation fuelled by debilitating drought.
Maize, Kenya's staple food, was the hardest hit, with farmers losing Sh29.6 billion to post-harvest wastage, including rodents and poor handling. The harvest was also affected by aflatoxin, a toxin produced by fungi due to exposure to moisture.
The volume of maize lost during this period - about six million bags - is the equivalent of what the country gets from the short rains of September to December, experts said.
Kenya imported maize worth 42 billion, using hard-to-come-by foreign currency to buy cereal it could easily produce.
Weevil invasion
Tonnes of green bananas were also lost, with farmers foregoing over Sh24 billion in a year when the food security situation in the country plunged to a 10-year low.
"We are the only country in the world where weevils compete with human beings in eating maize," said Bitange Ndemo, an associate professor at the University of Nairobi's Business School and a former permanent secretary in the Ministry of Information and Communication.
Other produce that went to waste due to poor storage and handling, transport, and fungi attack, according to data contained in the 2018 Economic Survey released last week, includes Irish potatoes (Sh19.7 billion), milk (Sh12.4 billion), beans (Sh11.5 billion), bananas (Sh5.6 billion), sweet potatoes (Sh3.5 billion), tomatoes (Sh2.4 billion), pineapples (Sh2.4 billion), sorghum (Sh1.9 billion), and millet (Sh1.6 billion).
Every year, the country loses about a third of its produce through post-harvest losses and food wastage by consumers who buy more than they need, explained Timothy Njagi, a research fellow at Tegemeo Institute, an agricultural think tank. This has an impact on the country's food security and reduces profitability for farmers.
The Government has estimated post-harvest losses at 20 per cent. As part of its Big Four agenda, the State plans to cut these losses to 15 per cent by 2022.
President Uhuru Kenyatta also plans to waive duty on costly cereal drying equipment, hematic bags, grain cocoons/silos, and feed to minimise post-harvest losses.
"The Government will also transform the Strategic Food Reserve by promoting investments in post-harvest handling through public private partnerships, and by contracting farmers and other commercial off-takers," said the National Treasury in the Budget Policy Statement for 2018.
Fish production, is also a casualty of post-harvest losses, has also been roped into the Government's development agenda. It is keen to establish commercialised feedlots for fish and offering incentives for post-harvest technologies.
Dr Njagi said post-harvest losses occurred through poor management, storage, and conveyance as the crop moves from the farm to the market.
Dr Ndemo, who put post-harvest losses and food waste at between 40 and 50 per cent, said there was a need to develop better supply chains so that farmers take their produce to market as fast as possible.
Njagi told of a case of the Japan International Corporation Agency, which had managed to reduce the quantity of rice normally lost through manual harvesting by over 30 per cent by simply introducing combined harvesting machines.
"Normally, rice farmers and many others, use the log and thrash method, where the rice is hit with a log," said Njagi, adding that the grain was rejected in the market because of impurities.
"The same thing happens with beans and green grams, where logs are used to remove the beans from the pods. Farmers sweep to recover the harvest, but they can't collect all of it," explained Njagi.
Even with a good storage facility, you need good management, said Njagi.
Ndemo said a commodity exchange should be created to save farmers from being exploited by brokers.
"We need to create aggregation centres or warehouse where a farmer in Murang'a, instead of taking two trays of eggs to Nairobi, can take them there and be given a receipt," said Ndemo.
The receipt can becomes a tradeable commodity, he explained, noting that fish farmers should also be provided with cold storage facilities so that they do not have to resort to panic selling.
"This way, they are able to quote their price and stay with their produce if they are not getting a better price," said Ndemo.
Njagi said the Kenya Agricultural Research Institute has introduced underground refrigerators where produce can be stored as it awaits collection.
Njagi said good storage facilities alone were not the solution. "While some maize farmers have good storage facilities, the way they store the grain exposes it to humidity and oxygen, thus leading to aflatoxin infection," said Njagi.
Cold storage trucks are ideal for transporting perishable produce such as tomatoes and milk, but they are expensive.
The experts called for scientific methods of determining post-harvest loss, complaining that most of the figures being thrown around were not scientifically determined, making it difficult for the authorities to take action.
Mangoes rotting
"You need to establish what loss is likely to occur and where so you can have an appropriate response," said Njagi.
He added that most large-scale farmers did not transport their crops using pit bags, instead using normal bags. Fruits and vegetables, particularly tomatoes, are transported in wooden boxes, resulting in losses
In eastern Kenya, mangoes rot because picky buyers reject them for insignificant reasons such as having spots. "It does not mean that they are not edible. They can be eaten, it is only that buyers tend to pick first grade and everything else goes to waste," Njagi said.
Such fruits can be blended into juice. Makueni County has set up a mango juice factory, which will go a long way in stemming losses.