Kenya, marketing new Eurobonds, angered by Moody's downgrade
NEWS
By Reuters | February 15th 2018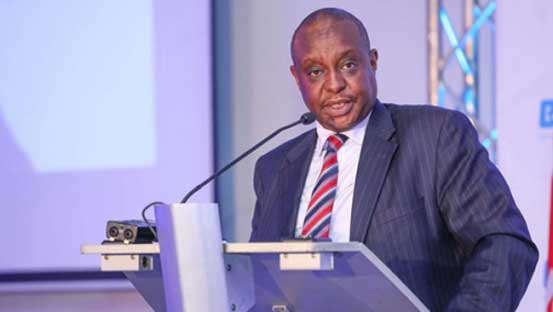 NAIROBI, KENYA: Kenya has questioned a decision by credit ratings agency Moody's to downgrade the East African country's debt at a time when senior officials are travelling abroad to market new dollar bonds.
Moody's downgraded Kenya's rating to "B2" from "B1" on Tuesday and assigned a "Stable" outlook. It cited concerns about a gaping fiscal deficit for the downgrade.
Its action came as the finance minister, Henry Rotich, leads a roadshow abroad for new Eurobonds to raise a minimum of $1.5 billion.
Moody's said it expected Kenya's government debt to increase as officials raise spending, while struggling to boost revenue and trying to cope with higher interest rate payments.
Kenya's total debt has risen to about 50 percent of GDP since 2013, as it borrowed locally and abroad to build new infrastructure projects like a modern rail line from Nairobi to the port of Mombasa.
Geoffrey Mwau, director general for budget, economic and fiscal affairs at the Treasury, said Moody's had not taken account of Kenya's positive economic fundamentals, with growth expected to rebound to 5.8 percent this year.
He said the fiscal deficit, which peaked at 8.9 percent of GDP in the 2016/17 (July-June) year, was set to fall to 7 percent at the end of this fiscal year, and to less than 5 percent in three years.
"This shows you how serious we are," he said.
Investors have however expressed scepticism at the plan and said the government will likely have to pay a premium for the new issues.
Kenya's 2019 issue is trading with a yield of 3.717 percent and the 2024 bond has a yield of 6.651 percent.
"Compared to their secondary market curve ... I would think they need to offer at least 40 to 50 basis points," said Sergey Dergachev, senior portfolio manager at Union Investment in Frankfurt.
Memories of last year's bitter presidential election contest, which ended with President Uhuru Kenyatta securing a second term, could also affect pricing of the issue.
Kenyatta's rival, opposition leader Raila Odinga, has accused the government of failing to account for $2 billion raised in the country's debut issues in 2014.
"I would price a decent room for risk," said Regis Chatellier, director, emerging markets sovereign credit strategy at Societe Generale in London.